Outdoor Kitchen Guide – Looking to Plan an Outside Kitchen Space? Don't Know Where to Begin?
Who doesn't enjoy spending a beautiful summer evening with friends and family, sipping cocktails and cooking outside? While many of us have just fantasized about having the perfect outdoor kitchen for cooking and entertaining, Cook Drink Decorate takes you step by step through the process of making that dream a reality throughout the articles on this site.
Complete Outdoor Living – How to Design an Outdoor Living Space?
The first stage is to create a clear picture of your desired outdoor living outcome. You can start with something simple, like a patio with a barbecue, while aiming for it to evolve into something spectacular over time. You can also start small and work your way up, constructing an intimate outdoor kitchen that exactly meets your needs.
When deciding what you desire, ask yourself the following two questions:
What are your plans for your outdoor kitchen?
Are you planning to use your outdoor kitchen all year, both during the week and on weekends? The more ambitious your cooking, the more space you'll need for organization, equipment, preparation, and, most importantly, lighting, seating and a place to relax while you wait for the food to cook.
What size and permanence do you require?
You'll also want to think about scale: maybe you want a huge DIY built-in kitchen with seating and cooking stations for visitors, as well as a larger dining and living space. It's also possible that your limited living space necessitates a free-standing grill station and a comfortable dining area. Or maybe you're in the middle, hoping for a built-in grill, a sink with a hose connection, and a basic electrical setup.
Each of these options has a distinct price tag attached to it.
Outdoor Kitchen Features
When it's time to build your outdoor kitchen, you'll want to take a practical approach that incorporates both form and function. This website is not a way to just line up pricey devices; it's a fantastic template for you to achieve effective outdoor cooking and entertaining.
Bring the party outside and create an area that is ideal for cooking and socializing. During the months when you want to transfer the heart of your home outside, built-in grills, outdoor kitchen island grills, and outdoor refrigerators all join together to create a stunning and useful area. Make the move easy by storing all of your pots and pans, dishes, and other kitchen and grill equipment in outdoor kitchen storage solutions. Outdoor pizza ovens, spice and juice racks, and pull-out cutting boards are just a few of the unusual and useful additions to your outdoor kitchen.
You'll always be ready to entertain with an outdoor kitchen. Keep your food and drinks cold, and your dining needs organized and out of sight. When all of the pieces for your outdoor dining scene are in place, you'll find that it's a place you'll want to return to time and time again.
When it comes to cooking, anything that can be done indoors can often be done better outside. Since the 1950s, the scents and flavors ofgrilled meals have made barbecuing a popular component of family life and entertaining.
Barbecuing has gone a long way since the postwar era of patio culture, when charcoal grills and hibachis were the norm. Higher-tech equipment, décor,  and more sophisticated components are now available in outdoor cooking centers, allowing for a more convenient and potentially elegant outdoor lifestyle.
When it comes to summer entertaining, dining al fresco at home is only half the pleasure. Preparation work is also made easier and more enjoyable with an outside kitchen. Aside from convenience, they can significantly improve the look of your backyard or patio living  area.
Just What Is An Outdoor Kitchen?
You'll find as many outdoor kitchen configurations and styles as you will find in an indoor kitchen. The standard home kitchen description (below) can be used to describe the outdoor variety, too. Some, or all, of the features of an indoor kitchen can be incorporated outside depending on entertaining style, needed functions and living space. The main benefit of an outdoor kitchen is that everything you need to dine and entertain outside, is right where you need it…outside.
A kitchen is a room or part of a room used for cooking and food preparation in a dwelling or in a commercial establishment. A modern middle-class residential kitchen is typically equipped with a stove, a sink with hot and cold running water, a refrigerator, and worktops and kitchen cabinets arranged according to a modular design. Many households have a microwave oven, a dishwasher, and other electric appliances. The main functions of a kitchen are to store, prepare and cook food (and to complete related tasks such as dish washing). The room or area may also be used for dining (or small meals such as breakfast), entertaining and laundry. The design and construction of kitchens is a huge market all over the world.
The main difference is durability in all kinds of weather.  Outdoor kitchen elements are heavy-duty, weatherproof and rust resistant.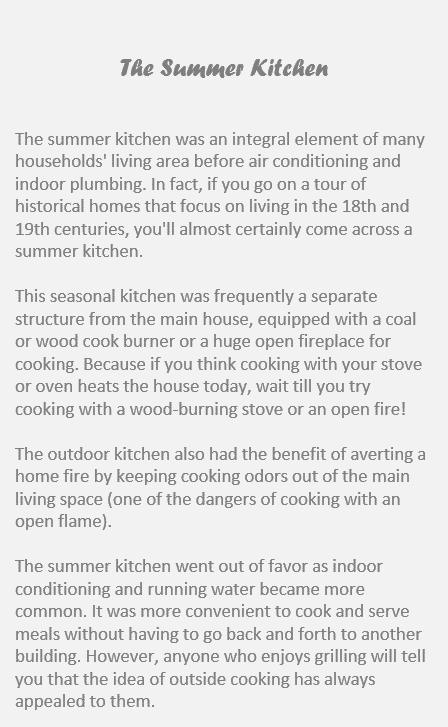 Today's outdoor kitchens have their roots in the summer kitchens of the 18th and 19th Centuries.  (see inset right)  Homeowners today have just elevated their outdoor kitchen design to mimic the style and functions of their indoor décor.
Looking for Outdoor Kitchen Ideas that are Practical?
Cooking outdoors is more fun and you'll find a different mixture of appliances such as outdoor pizza ovens and gas grills with more BTUs than you can shake a stick at.  There are outdoor smokers  and infrared griddles that would create a bit of an issue with your kitchen smoke detector but outside,  you can turn the dial all the way up.  Similarly, cooking outdoors keeps cooking odors outside.  Furthermore, cooking indoors only serves to increase the amount of heat in your home and drive up air conditioning costs.
Because of the lack of restricting walls, more people can participate in meal preparation that would normally fit in a normal-sized home kitchen.  As for cleanup, it's much easier out of doors.  When everything you need to cook and entertain is at your fingertips, an open air kitchen eliminates trips in and out of the house to get the tool or serving tray you need.  That saves steps and stress and opening doors which only serve to increase indoor temperature.
When thinking about your dream outdoor kitchen, you have the same type of decisions to make as when designing an indoor kitchen.  Grills, refrigerators, smokers, griddles and cabinetry all have hundreds of choices in size, shape and color.  On the patio, you can have appliances, your choice of outdoor countertops, outdoor stainless steel sinks and choice of wood finishes.  You can choose an outdoor island kitchen, u-shaped, or galley style, whatever suits your taste and patio size.
Are Outdoor Kitchens Worth the Money?
An outdoor kitchen space enables you to enjoy the natural world's joys. Your outdoor kitchen will provide you and your family with many hours of joy with its incomparable flavor, relaxing comfort of an al fresco setting, sweet smoke lingering in the air, and soft illumination from the candlelight.
Do Outdoor Kitchens Add Value to your Home?
Other than the intangible benefits of an outdoor kitchen, it is also comforting to know that there is a positive ROI for your outdoor living area investment.  This type of outdoor living space is highly prized among home buyers and can return up to 200% of your investment in some areas of the country.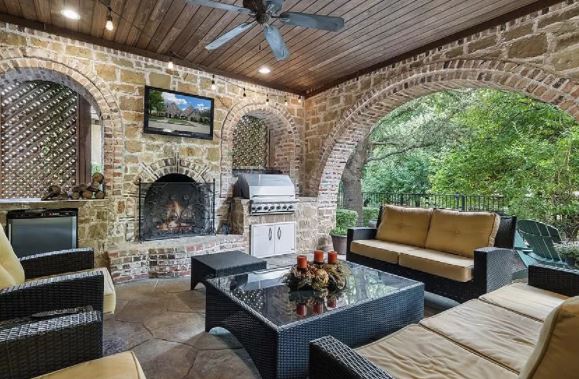 Elements of an Outdoor Kitchen
What goes in to your outdoor kitchen design is a strictly personal decision.  Your preferences and style of cooking and entertaining are the key factors you use to determine the size, style and configuration of your outdoor kitchen.
A great kitchen, outdoor or indoor, is made of of selected components.  A summary of the decision points for your outdoor kitchen starts below.  We have extensive resources for you in the linked articles from this site.
Discover Outdoor Kitchen Cabinets and Cabinetry that Complement Your Landscape
The great suburban migration of the mid-20th century produced outdoor kitchens equipped with modest grills and wooden picnic tables, but our standards and aspirations have developed into a desire for outdoor kitchens and dining areas that are attractive, stylish, functional, and high-performing.
Individual cabinets can be ganged together to produce an outdoor kitchen, or you can DIY build a surround for your appliances and make as many or as few storage openings in the base as you want, with or without doors. You can even add a pergola to define the space.
The major role of cabinets in an outdoor kitchen design is essentially architectural: they form the structure of the "room" by connecting the appliances as a whole. That's why an outdoor kitchen can be as simple as a freestanding grill or a built-in grill cabinet with merely a propane tank. This is the only cupboard in the outdoor kitchen that is truly required for proper operation.  Cabinetry can be installed in a straight run, l shaped, u shaped or island configuration.
Outdoor cabinets are available in stock and semicustom sizes, as well as a variety of materials.  You can design a unique surround for your built-in outdoor kitchen appliances  or professionally built out of stainless steel, HDPE, cedar wood or acrylic. Modular kitchens are also available.
Masonry elements, such as brick or block,  can be covered with stucco or other materials are examples of alternative materials for cabinet bases.  Other options are cement board covered in stone, tile, or other weatherproof materials. You can also buy cabinets to join side by side to make unique kitchen islands, or you can buy already assembled islands with storage, appliances, and a variety of other features.
Selecting Outside Kitchen Appliances
You can get the exact same functionality from your outdoor kitchen as you can from your indoor kitchen.  The choice of appliances is vast and quite important if you use your outdoor cooking and entertaining spaces frequently.
A simple outdoor kitchen has an outdoor grill and a landing countertop nearby.  The types of grills are categorized by fuel type with charcoal, wood, gas, propane and pellets being the most popular choices.
BBQ grills, griddles, pizza ovens, smokers, cooktops, burners and ceramic grills are all kinds of cooking appliances found in outdoor kitchens.  Brick ovens are becoming a more requested feature because of the extensive variety of food you can bake in them.  The grills themselves can be entirely manual or feature electronic ignition and LED lights to upgrade their ease of use.
Cleaning Up – Sinks and Dishwashers
More and more homeowners are opting for a sink in their outdoor kitchen builds.  An outdoor kitchen sink minimizes frequent trips inside to wash up, clean vegetables or to get a glass of water.  Luxury outdoor kitchens even incorporate outdoor rated dishwashers to keep outdoor dinnerware outdoors – from serving to cleaning up.
Weatherproof Countertop Options
Durable countertops, like those found in indoor kitchens, can be used outdoors.  Natural stone, solid surface, stainless steel, polished concrete countertops, and tile are all great choices.
Some solid surfaces don't do well in direct sunlight and stainless steel can be blindingly reflective on a bright day.  If you choose to use one of these countertop materials, it is best to consider a covered outdoor kitchen space with a gazebo, cabana, pergola or pavilion-type structure. Or, at the very least, use a patio umbrella to protect the material from fading during daylight hours.
In addition to food prep, countertops are indispensable for serving and dining.  Consider using countertop height stools and a countertop overhang to give your grill area countertop a second function.  Creating multi-level countertops, such as a bar height countertop, gives you the opportunity to use bar stools to make another dining location in your outdoor kitchen.
Laminate countertops don't fare well outdoors because moisture and humidity tend to deteriorate the substrate.
Outdoor Lighting for Function and Mood
Whether you have a modern, urban outdoor kitchen in mind or have in mind a more rustic, Italian vineyard-inspired build, good lighting will be crucial in your design.  Hanging pendant lights, track lighting and spot lighting can be employed to provide the lighting layers needed to make your outdoor spaces functional, safe and welcoming.
Outdoor Kitchen Layout and Design
An outdoor kitchen should fit into your entire backyard landscape.  It should relate to your outdoor living room and outdoor fireplace as well as it relates to your swimming pool and play area.  Outdoor spaces should work together just as indoor spaces do and flow from one to another seamlessly and beautifully.
The location of your outdoor kitchen will dictate how much space, large or small, you have to realize your ideas and achieve your goals.  Kitchen designs are as individual as their chefs and homes as each one is custom because of these factors.
A DIY Outdoor Kitchen
Outdoor kitchens are a popular project among DIYers across the country.  Depending on your level of expertise, you can build an outdoor kitchen entirely from scratch or use modular components to assemble the ideal cabinetry configuration for your style of cooking.
Some jurisdictions may require a building permit to construct an outdoor kitchen on your property.  If so, then the plumbing and electrical work will need to be done by a licensed contractor to adhere to municipal regulations.  This is something to keep in mind for the safety of your family as well as for the next owner of your home.
Care and Maintenance of an Outdoor Kitchen
While outdoor kitchen components are engineered to survive the elements, they are not indestructible and do require some level of care to keep them functioning and to keep their appearance.
Cleanliness is important in any kitchen environment, indoors or outside.  The outdoor kitchen grill should be cleaned after every use to minimize build up and discourage pests.  Kitchen countertops should be cleaned before every use to maintain a sanitary environment for chopping, cutting and other food prep activities.  Your cabinetry should be wiped down occasionally to remove salt spray, airborne debris and grime to keep them looking their best.
Outdoor appliances such as refrigerators and coolers need air flow to work properly.  Twice a season, it is a good idea to remove any debris or leaves that may be blocking the proper functioning of their condensers and air flow.
Covering outdoor kitchen appliances is a good idea to help maintain their appearance and keep the beating sun and elements from harming the finish.
Sample articles on this site to get you started:
Cooking and dining outside has enormous appeal, whether you live in a climate where outdoor living is possible for the majority of the year or in a place where spring and summer merge into a bare three-month period. Although lean-to summer kitchens were once intended to keep the house cool, we now all want to cook and live outside for the pure joy of it.
Living outside and living well is the reason for this website.