Bring the party outside and create an area that is ideal for cooking and socializing. During the months when you want to transfer the heart of your house outside, built-in grills, outdoor kitchen island grills, and outdoor refrigerators all join together to create a stunning and useful area. Make the move easy by storing all of your pots and pans, dishes, and other kitchen and grill equipment in outdoor kitchen storage solutions. Outdoor pizza ovens, spice and juice racks, and pull-out cutting boards are just a few of the unusual and useful additions to your outdoor kitchen.
You'll always be ready to entertain with an outdoor kitchen. Keep your food and drinks cold, and your dining needs organized and out of sight. When all of the pieces for your outdoor dining scene are in place, you'll find that it's a place you'll want to return to time and time again.
When it comes to cooking, anything that can be done indoors can often be done better outside. Since the 1950s, the scents and flavors of grilled meals have made barbecuing a popular component of family life and entertainment.
Barbecuing has gone a long way since the postwar era of patio culture, when charcoal grills and hibachis were the norm. Higher-tech equipment and more sophisticated components are now available in outdoor cooking centers, allowing for a more convenient and potentially elegant outdoor lifestyle.
When it comes to summer entertaining, dining al fresco is only half the pleasure. Preparation work is also made easier and more enjoyable with an outside kitchen. Aside from convenience, they can significantly improve the look of your backyard or patio area.
Just What Is An Outdoor Kitchen?
You'll find as many outdoor kitchen configurations and styles as you will find in an indoor kitchen. The standard kitchen description (below) can be used to describe the outdoor variety, too. Some, or all, of the features of an indoor kitchen can be incorporated outside depending on entertaining style, needed functions and space. The main benefit of an outdoor kitchen is that everything you need to dine and entertain outside, is right where you need it…outside.
A kitchen is a room or part of a room used for cooking and food preparation in a dwelling or in a commercial establishment. A modern middle-class residential kitchen is typically equipped with a stove, a sink with hot and cold running water, a refrigerator, and worktops and kitchen cabinets arranged according to a modular design. Many households have a microwave oven, a dishwasher, and other electric appliances. The main functions of a kitchen are to store, prepare and cook food (and to complete related tasks such as dish washing). The room or area may also be used for dining (or small meals such as breakfast), entertaining and laundry. The design and construction of kitchens is a huge market all over the world.
The main difference is durability in all kinds of weather.  Outdoor kitchen elements are heavy-duty, weatherproof and rust resistant.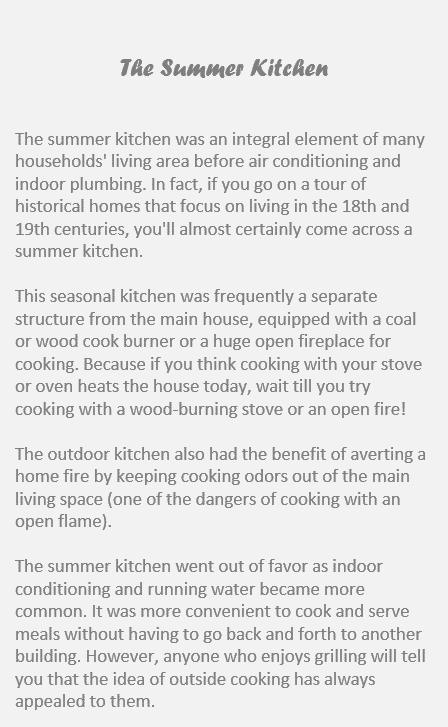 Today's outdoor kitchens have their roots in the summer kitchens of the 18th and 19th Centuries.  (see inset right)  Homeowners today have just elevated their outdoor kitchen design to mimic the style and functions of their indoor decor.
Cooking outdoors is more fun and you'll find a different mixture of appliances such as outdoor pizza ovens and gas grills with more BTUs than you can shake a stick at.  There are smokers and infrared griddles that would create a bit of an issue with your kitchen smoke detector but outside,  you can turn the dial all the way up.  Similarly, cooking outdoors keeps cooking odors outside.  Furthermore, cooking indoors only serves to increase the amount of heat in your home and drive up air conditioning costs.
Because of the lack of restricting walls, more people can participate in meal preparation that would normally fit in a normal-sized kitchen.  As for cleanup, it's much easier out of doors.  When everything you need to cook and entertain is at your fingertips, an open air kitchen eliminates trips in and out of the house to get the tool or serving tray you need.  That saves steps and stress and opening doors which only serve to increase indoor temperature.
When thinking about your dream outdoor kitchen, you have the same type of decisions to make as when designing an indoor kitchen.  Grills, refrigerators, smokers, griddles and cabinetry all have hundreds of choices in size, shape and color.  On the patio, you can have appliances, your choice of countertops, stainless steel sinks and choice of wood finishes.  You can choose an outdoor island kitchen, u-shaped, or galley style, whatever suits your taste and patio size.