Top 10 Choices for Outdoor Kitchen Countertops
Patio and outdoor kitchens are stunning complements to any yard, and they make barbeques immensely more enjoyable. No matter if you're considering the installation of an outdoor kitchen or simply replacing the counters in an existing kitchen, making an informed selection might be difficult given the enormous number of alternatives available to you. Don't worry, we've done the legwork for you and found the best countertops for outdoor kitchens.
The best choice for your outdoor kitchen countertop is stone, followed by concrete or tile.   Because countertop selection is not only based on personal preference but climate conditions, we've prepared this infographic for you to quickly compare your options.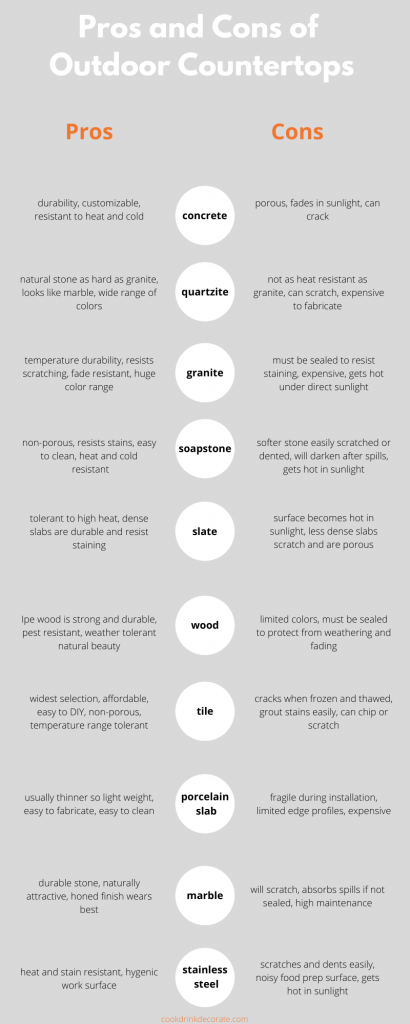 If you are still not sure about your best countertop choice, read on to discover more about each type of countertop and how they compare to your needs and design style.
1  Concrete
Concrete is a fantastic material for outdoor kitchen countertops because of its exceptional durability and resistance to fading. Concrete has the advantage of being able to be poured into a variety of shapes to precisely fit the dimensions of your outdoor kitchen, as well as being available in a choice of unique finishes. While concrete has the flexibility to be stained in virtually any hue, there are certain disadvantages to doing so. Many hues can fade and yellow as a result of exposure to sunlight over time. This is not an issue, however, if you use natural earth tone hues or if your countertops are kept in permanent shade.
If you decide to use a concrete countertop for your outdoor kitchen, make certain that it is well sealed during the installation process. Despite the fact that this material is tough and resilient, it is nonetheless porous, making it susceptible to stains and bacteria development. Sealing will also help to avoid cracking, which is a common occurrence with concrete. But don't allow any of these drawbacks deter you from using concrete because it is still low maintenance, easy to clean, and can survive most climates all year long.
2  Quartzite
Because quartzite is tougher than granite and quartz, it's becoming increasingly popular as a material for outdoor countertop applications. It should be noted, however, that quartzite should not be mistaken with quartz, which is a synthetic material. Due to the fact that the resin used in the production process will become yellow when exposed to sunshine and weather, quartz should never be used outside in an exposed setting. Quartzite, on the other hand, has many of the same characteristics as granite and has a visual appearance that is virtually comparable to marble, but it is considerably easier to maintain and clean.
When making food in your outdoor kitchen, make sure to utilize a cutting board because blades and other sharp things will leave scratches on the surface of the slab.  You won't need to use any special cleansers on this material; regular soap and water will do quite well. However, you will need to make a concerted effort to clean them up as soon as possible or else you risk having them stained.
It, on the other hand, is not resistant to high temperatures, unlike granite. While you won't have to worry about your quartzite surfaces being damaged by a hot summer day, you will need trivets or pot holders when working with a hot pan. It is recommended to seal quartzite once a year, but the durability of this hard stone will ensure that it will last for many years in the right conditions.
3  Granite
The usage of granite for outdoor countertops in cold climates is one of the most practical options available today. Granite is a popular choice for both indoor and outdoor applications because of its durability and availability in a number of colors.
Granite is resistant to the elements as well as the mayhem of outdoor dining and entertaining. It will not etch, discolor, or lose its sheen under any circumstances. Sealing granite countertops is a simple process that will keep the stone from getting stained.
Granite is a popular choice among homeowners because it is available in a wide range of colors and finishes. No matter the style you choose, you won't have to be concerned about it fading when exposed to the sun. Darker colors can become hot to the touch when exposed to direct sunlight, so if your outdoor kitchen will be exposed to the sun, you may want to choose a lighter hue. In order to achieve a more natural look for your outdoor kitchen, a honed finish rather than a polished finish should be considered instead.
4 Soapstone
In terms of outdoor kitchen countertops, you just cannot go wrong with soapstone. This deep,dark, natural stone is extremely solid and non-porous, making it an excellent choice for prep work. Since soapstone does not require sealing to provide stain resistance, it has the advantage of not requiring any further maintenance. Despite the fact that soapstone does not require sealing for upkeep, it will darken if it is exposed to liquids or grease from your hands. However, the good news is that they are easily removed with water. If you decide to use soapstone for your outdoor kitchen, you should consider putting mineral oil to it before using it to give it a gorgeous deep dark gloss.
Despite the fact that soapstone is a dense material, it is a very soft stone. It's important to be aware that soapstone can be scraped and nicked by sharp items if you're considering using it for your outdoor kitchen countertops. Fortunately, you can always buff these out with a little sandpaper if they become too noticeable. Maintaining it is also a breeze because it can be cleaned with soap and water.
Soapstone, like granite, is extremely heat resistant, allowing you to set hot pots straight on the surface without burning your hands. Because of its natural characteristics, this material is an excellent choice for outdoor applications because it can tolerate rain, sunlight, and even freezing conditions. One disadvantage of being a naturally dark tint, it can get extremely hot to the touch when exposed to direct sunlight, so it's crucial to use caution if the sun has been shining down on it all day. However, because of its well-rounded characteristics, soapstone is another great choice for outdoor kitchen countertops.
5 Slate
Slate can be used for outdoor kitchen countertops, but slate slabs vary, and the performance qualities of different slates might differ significantly. Some can be extremely sturdy and dense, withstanding discoloration and heavy use, whereas others will stain, scratch, crack, and cleave when subjected to the same conditions.
In addition, the darker colored slate, like soapstone, will produce a heated surface when exposed to direct sunlight.
As a result, unless you can obtain some assurances about the quality of the slate you intend to install, you should consider other options. Alternatively, if you manage to procure a high-quality slate slab, you will have no cause for concern. It will provide you with years of pleasure.
6  Wood
Outdoor wood countertops will need to be water-resistant, as well as useful and durable. Whichever type of wood you choose for your countertop (teak, Ipe, butcher block or any other), you will be delighted with the result: a distinctive and beautiful piece of furniture that will withstand the test of time. Small scratches and other identifying marks on wood counters have been known to improve with age, owing to the patinas that develop and the character that develops as a result of these marks.
The strength, hardness, and long-term durability of Ipe wood make it superior to other types of wood on the market, making it the greatest wood for outdoor settings when compared to other types of wood. Mold, rot, weather, and insects are all resistant to this species of wood, which makes it an excellent choice for use as a countertop for an outdoor kitchen countertop.
If you want to ensure that your outdoor wood countertop is resistant to dampness, warping, and rotting, the finish you choose will be quite crucial. The finish on your countertop should be water-resistant, so choose one that meets this requirement. You can choose from a variety of finishes, including varnishes, tung oil, and others.
Because your outdoor wood countertop will be exposed to the weather on a frequent basis, it will be necessary to have your finish redone on a consistent basis. You can select finishes that are also UV resistant, which will help to keep the vibrant hues of your wood from fading.
7 Tile
An alternative to granite for outdoor countertops is ceramic tile. It is typically inexpensive, and it is the most straightforward do-it-yourself surfacing material of the group. It is long-lasting, and the tile itself is stain-resistant.
In contrast, if you live in a cold area, the freeze-thaw cycle increases the likelihood of cracking grout and tiles.
Ceramic tile grout stains, even after it has been protected with a sealant. If you decide to take the tile route, make sure to buy freeze-proof tiles and dark grout, and hire an installation who has extensive experience in the industry. He or she will use items that are appropriate for your environment and can provide you with instructions on how to care for them.
Porcelain tile is a denser tile and a better choice for tiling outdoors as it is not as porous.
8 Porcelain Slab
Large porcelain slabs, which have become popular in Europe, are a relatively new concept that has taken off like a rocket. Individuals are falling in love with the notion of employing enormous porcelain slabs for a range of different building and remodeling projects. These projects include everything from flooring to walls to countertops and everything in between.
It is impossible to emphasize how simple the installation process is. By preparing a substrate in advance, they only need to be placed on top of it and adhered with mortar contact cement to secure them in place. An epoxy compound can be used to cement the seams together, and in some cases, the seams are so well hidden that they are impossible to detect once the operation is completed.
This can save a significant amount of time and effort as compared to having to install more traditional slabs and stone pieces. The process of erecting marble and installing stone countertops takes a significant amount of time, effort, and attention to detail. While porcelain slabs may also be cut to a certain size, they are a more easier material to deal with because of their flexibility. Almost anything may benefit from their lack of thickness and density (while still providing a high level of resilience) because they are so versatile.
9 Marble
If you use an honed finish on your marble countertops and don't worry about etching or staining, marble countertops can be a good choice for an outdoor kitchen. Because rain, snow, wind, and other elements will wear away a glossy polished finish, an honed finish is the best choice .
As a result of etching (dull patches on the surface) caused by acidic foods and beverages marble is not the ideal choice for a kitchen countertop, either indoors or outside.
Stains (liquid absorbs into the stone, resulting in a dark stain) can be controlled by using a stone sealer on the stone.
However, because you'll be dealing with stains and etching on your food prep surface on a regular basis, you'll want to be prepared to deal with them quickly. The trick is determining whether or not this is acceptable to you.
To your advantage, weather will also act in your favor by washing away stains and blending in etch lines, aging the marble organically and creating a weathered look.
While marble is absolutely robust and will last for a long time, the amount of upkeep you choose to put into it to keep it looking pristine is up to you.
If you let it to mature naturally, it will nearly completely eliminate the need for upkeep. The usual cleaning is practically all that is necessary after several years of use.
10 Stainless Steel
Stainless steel is sometimes passed over for usage in an outdoor kitchen due to the fact that it is a costly material. It is possible that the additional price will be justified when you examine how damage resistant the material actually is.
Stainless-steel countertops for outdoor kitchens have become increasingly popular as a result of their endurance. It's no surprise that these hygienic surfaces have made their way into outdoor kitchens after years of service as the go-to countertop for take-out and fine-dining restaurants.
Direct sunlight will heat up stainless steel, and the reflecting rays may be too intense in exposed regions if the material is exposed. Despite the fact that they scratch, you can't dispute how lovely they look when combined with a stainless outdoor barbecue or bar fridge.