Five Unusual Options for Outdoor Countertops No One Mentions
You've read all you can about the current popular outdoor countertop materials. Pictures of natural stone tiles, quartz countertops, concrete countertops and a pricey granite countertop or two fill your image files.
But nothing has piqued your interest that will truly customize your outdoor kitchen or bar and make it the jewel of the neighborhood.
We hear you. As many options there are to put your mark on your outdoor cooking spaces in terms of material, colors and finish, and ease of installation, there isn't much that's new or different that you can't readily get at a big box hardware store.
Never fear, we've found five unusual choices for outdoor kitchen countertops and bbq island countertops that just might be the creative and one-of-a-kind solutions to your countertop options dilemma.
1.  Live Edge Wood
With their organic shape, live edge wood countertops embrace nature. The bark side of a piece of lumber is referred to as the live edge. The tree's natural shape is preserved because the edge is not sawn.
The bark is meticulously removed so that the original tree's natural contours are preserved. The most organic effect is achieved by leaving natural holes and fissures in the wood piece with live edges.
For live edge wood slab countertops, almost any sort of wood can be used. Those usually utilized for butcher block counters, on the other hand, are some of the best species. Tigerwood, elm, maple, hickory, cherry, beech, and walnut are examples of these wood species.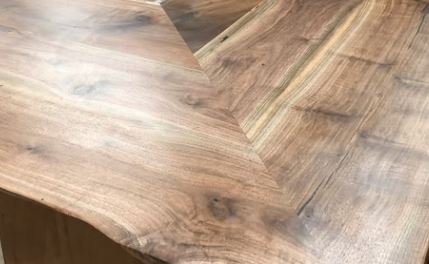 It's hard not to love the look of natural wood with its natural grain patterns that flow gracefully down a kitchen countertop. Mother Nature has a way with her outdoor elements that cannot be matched with anything man-made.  Live edge wood countertops are always one of a kind.
For outdoor kitchen countertop materials, live edge wood countertop surfaces provide a magnificent contrast to stainless steel and aluminum outdoor cabinetry.  The texture of the wood also complements the paver patterns of paving stone used to skin outdoor cabinet frames. In the world of wood countertops, live edge bridges the gap between the cutting edge technology found in today's outdoor kitchen appliances and the natural environment of the backyard patio both outdoor living spaces share.
Live Edge Outdoor Countertop Pluses
Gorgeous wood grains eco friendly
Naturally organic shape one of a kind
Long cuts mean few joints long lengths
Strong and durable
Wood is easy to work with
Patina improves over time
Live Edge Countertop Surfaces Minuses
More expensive than other wood countertops due to size and drying requirements
Live wood edges are on the higher end of the price scale. A number of factors have contributed to this price increase.
Live wood edges are highly distinctive in that they keep natural characteristics so that they can be used as countertops or other furnishings. This necessitates meticulous attention to detail and a human touch. Manufactured materials can produce a large amount of material in a short amount of time, but to acquire the necessary attributes in a live wood edge, you must take your time and make sure it is done correctly. This type of activity necessitates additional manpower and drying time, which raises prices.
Live edge furnishings are in demand for their organic appeal. This causes prices to rise. Pro tips: Find a seller on Etsy that will fabricate your live edge countertops.  There are hundreds of ideas and creative ways to personalize your live edge countertops that will make your outdoor countertops for an outdoor kitchen or bar truly unique.
Live edge wood must be sealed.
To preserve the integrity of the wood and make the surface impervious to water and grease found in an outdoor cooking environment, the wood must be sealed regularly. This is to ensure no water penetrates into the wood to cause warping. It is also to make sure no bacteria or mold can seep into the grain and become a biohazard.
There are quite a number of epoxy resin products that are used to seal live edge wood that can be used outdoors. Choose one that is UV resistant to keep the resin from yellowing. Once the epoxy resin hardens, it will be waterproof and heat and scratch resistant.
2. Epoxy Resin
Epoxy resin isn't just for sealing countertops, it is also a material that can be fabricated into countertops.
Unlike natural stone that has a fixed pattern and color developed over millions of years, epoxy can be crafted into any design and color that you can imagine.  You can mimic natural stone, you can embed natural elements such as shells and minerals, or you can blend the perfect color to coordinate with other outdoor decor.  It is one of the only countertop options that allows such creative freedom.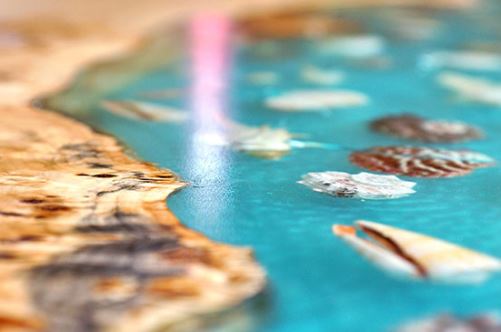 Epoxy will need a substrate overwhich it will be applied much like concrete countertops.  This can be a mdf base or another countertop that has lost its lustre.
Resin Countertop Surfaces Pluses
Attractive appearance and durability are two requirements for outdoor kitchen and bar surfaces. In both categories, resin countertops shine.
The majority of resin countertops were utilized in laboratories. Impact, stains, UV radiation, scratches, and heat are all resistant to acrylic resin countertops. Most of them can also withstand the acids present in wine, tomato products, and other acidic foods.
Non-porous resin countertops are available. They don't allow germs or fungus to thrive. With regular household cleaners, they clean up quickly and effortlessly.
Each resin countertop is unique. There are no seams to join or grout lines to keep clean.  The surface is food safe and easy to clean.
Resin Kitchen Counter Minuses
One of the biggest disadvantages of using an epoxy countertop is that it is difficult and dirty to install. To achieve a beautiful finish, it must be applied evenly to avoid lumps and air bubbles. Epoxy has a runny consistency, making it challenging to work with.
Epoxy application on a surface is not only time-consuming but also labor-intensive. As a result, we propose enlisting the help of a resin countertop professional. .
While epoxy countertops are long-lasting, they are susceptible to permanent stains. If spills are not cleaned properly, they can easily discolor the surface. Our recommendation is to clean it up as soon as possible after a spill to prevent stains.
3. Glass Outdoor Bar and Kitchen Countertop Options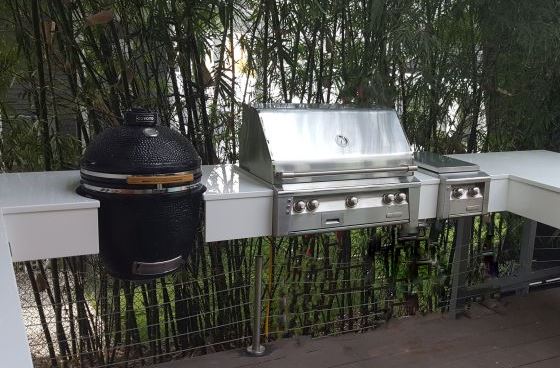 Glass countertops are an intriguing alternative for any kitchen since they offer more custom design options than other types of surfaces. Backlighting, bespoke textures and patterns, and embedded shells, stones, or other materials are all possibilities.
However, acidic foods and drinks can cause glass counters to etch and stain, but there is an alternative. White glass countertops are a form of non-etching glass countertop that is very durable, easy to clean and maintain, and won't get hot to the touch, which is beneficial in hot, sunny weather. White glass is an outstanding outdoor design countertop option.
White glass countertops are indeed the whitest, most stain-resistant, UV-resistant, cigarette and hot pan-proof,  solvent-proof, acid-proof material. It's the ideal material for outdoor kitchens since it's completely inorganic…unlike quartz, which has a plastic resin binder that can yellow in the sun.
For those that are looking for a contemporary, cool vibe for their outdoor space, white glass should be one of the countertop materials that you should consider.
4. Pool Table Slate as Outdoor Kitchen Countertop Options
Slate is widely recognized as a popular choice for outdoor kitchens and bars.  It is a natural material that withstands the high heat of grill cabinets and pizza ovens.  But it can get rather expensive, especially for the darker colors and thicker slabs.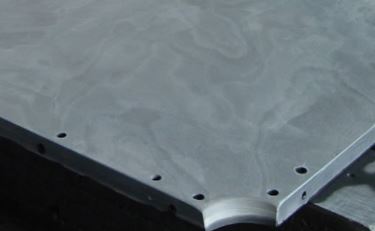 Pool table slate can be repurposed into outdoor countertops.  Yes, people do it and it is a very inexpensive option.  The best place to find used billiard table slate slabs is classified sites such as Marketplace or a local thrift shop.  You might have to wait a bit to get the number of slabs you need to complete your project.  But used slate is as good as new slate and the cost is attractive.  Many times you can get a slab or two for under $50 as people just want to unload them.
Depending on the thickness of the slate from the pool table, you might want to install a moisture resistant underlayment below the slabs to thicken the countertops.
5. Dekton Countertops for an Outdoor Kitchen or Bar
Dekton is a commercial product made by the makers of Silestone.  It is a fairly new engineered solid surface that is used both indoors and outdoors.
It's stainproof and high heat resistance are two of its most sought-after qualities for outdoor kitchens.  The manufacturing process replicates the extreme heat and pressure that nature has used for millions of years to create granite and other stone.  It's strength, scratch resistance, and tolerance of the heat/thaw cycle are reasons that it is used in both residential and commercial outdoor applications.  Dekton is also highly resistant to UV light and won't fade or degrade which is one problem with quartz and other solid surface materials.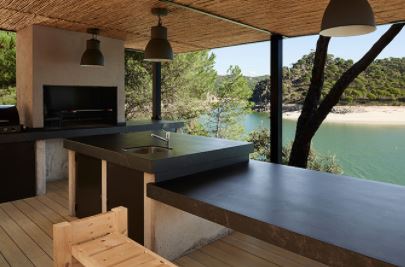 The large slab sizes help contribute to the relatively moderate cost when compared with other natural stone materials that can get quite expensive depending on color.  You will probably pay around $50-60 per square foot for a Dexton Countertop when compared with $100+ for some granites and stone.
Hopefully these outdoor kitchen countertop ideas will get you thinking beyond the norm and make your outdoor entertaining space truly unique and fun to be in.