Complete Guide to Outdoor Countertops
Choosing the best outdoor countertop for outdoor kitchens, bars, or bbq islands is a matter of performance and preference.
As with any countertop material, you need it to be able to perform a wide variety of functions such as a prep surface, food serving, cutting, storage and landing areas.  Since this backyard kitchen countertop is going to be used outdoors, it also has to perform under a wide variety of environmental conditions.  From well above 100 F. temperatures down to sub-zero temps, your kitchen countertop material  has to function in your climate and outdoor living space.
Fortunately, the number of outdoor countertop options keeps pace with personal preference and outdoor space design aesthetics. There are both man made and natural materials that will fit your style, your budget and will blend in perfectly with the natural environment that surrounds them.
Where Do You Need Outdoor Countertops?
When we think of an outdoor countertop, outdoor kitchens first come to mind.  But countertops are also used in outdoor bars, under outdoor televisions, as pull up dining spots, in islands, and counters for serving and staging.  They can be used in front yards or on a backyard patio – wherever you entertain.
Non-food related uses include countertops for potting plants and for hobbies and crafts.  
Why do you need countertops?
No matter which outdoor countertop materials  you choose, polished or honed finish, plain colored or veined, your outdoor kitchen will not be complete without a reliable surface on which to place your raw and cooked items.  
What to look for in an Outdoor Countertop?
An outdoor countertop needs to function in the outdoor environment.  Here are some characteristics that the outdoor countertops should have:
Durability – As previously mentioned, the countertop has to be as or more durable than their indoor counterparts.  That means it has to last a very long time.  It has to withstand everything Mother Nature throws at it and everything an outdoor cooking grill master might have in his or her arsenal including acidic foods. 

Non-porous – When outdoors, a countertop has to resist stains from spills.  But it may also have to hold up to rain, hail and snow and not yield to water penetration.

Sanitizable – Germs, mold and other biological hazards can be harmful if they are left to spread on outdoor countertops. The surface you select for your outdoor kitchen or bar needs to be cleanable and able to be sanitized.  Airborne debris and animal residue on countertops should not be discounted as they can spread disease on surfaces where you will be preparing food.

Sun-proof – For countertops on uncovered outdoor islands and kitchens, this is an important quality. Some countertop options will quickly lose their visual appeal if left uncovered.  Another important consideration is that dark colored countertops can quickly heat up in direct sunlight and become too hot to touch unless covered.

Heat resistant – Although your outdoor grill or smoker will have an insulating jacket surrounding it to protect the cabinetry and your countertops, you might be placing hot plates or pans on the countertop landing area next to these appliances.  This is also true of outdoor pizza ovens which get very, very hot.  

Low maintenance – Other than regular cleaning, you don't want to be a slave to outdoor countertop upkeep. A countertop should be easy to clean.  With the huge variety of options, there is an outside counter top option that will match the amount of time you want to spend on regular maintenance.

Color and pattern choices – An outdoor counter top is the surface that will tie all your other outdoor kitchen or bar choices together visually.  You want the final outcome to look good and coordinate with your patio decor and the natural environment.  This is more easily accomplished if you choose a countertop material that has a variety of options in terms of pattern, color and finishes.  
With the right selections and care, you might never need to replace your outdoor countertops.  However, accidents do happen and for some people, fungibility, or the ability to be replaced with an identical item, is an important consideration.
What Are Outdoor Countertops Made Of – What Countertop Types Can Be Used Outside
This chart illustrates the pros and cons of suitable outdoor countertop types: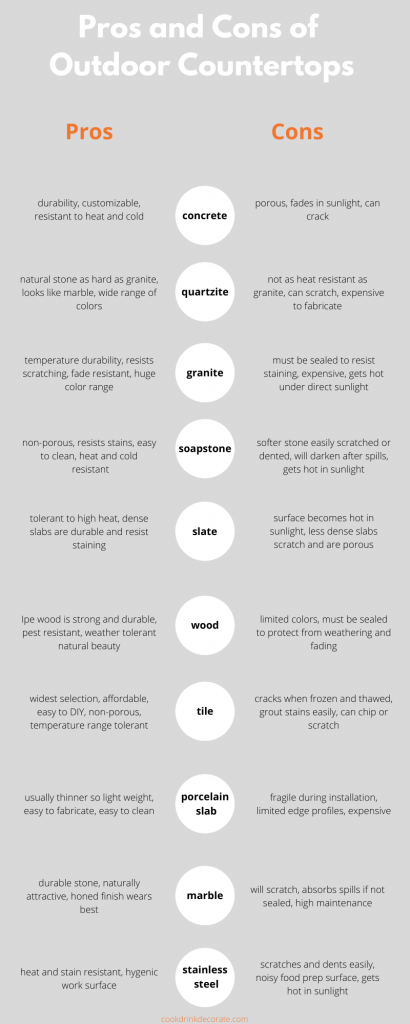 Are concrete countertops good for outside?
Concrete countertops tick the outdoor boxes for their durability, heat and cold resistance and form-shaping properties.  However, they are porous, can fade in sunlight and can crack. Because they can be a DIY project, they have gained popularity for their relative ease of fabrication and low price point in comparison with other options.
Is stainless steel good for an outdoor countertop?
Stainless steel's most appealing qualities: heat and stain resistance, hygiene, and appearance, make it one of the best options for outdoor kitchen or bar countertops.  These qualities, however, come at a price which make stainless one of the more expensive outdoor kitchen counter top choices.
Unless you have experience in stainless steel fabrication, you'll get the best results if you hire an experienced fabricator who will have the tools and know-how to do the job right the first time.
One major drawback of outdoor stainless steel countertops is that they  become hot to the touch when exposed to sunlight.
Whether DIY or professionally done, stainless steel countertops can run from as little as $20 per square foot (cost of the materials alone) all the way up to $200 or more.  
How is slate countertop material for outdoor kitchens?
Some slate slabs are very dense, making them perfect for outdoor kitchens and bars. Other slabs are less dense and thus porous, making them susceptible to staining, scratching and cracking.  Slab selection is crucial when choosing slate.
Slate is heat resistant and will hold up to weather conditions very well as well as tolerate the hottest pans from your grill or pizza oven.  
Dense slabs need to be sealed only occasionally, while less dense slabs should be sealed more frequently to resist stains.
Epoxy
Epoxy countertops are a growing solution to updating the look of indoor countertops that have lost their appeal or are outdated.  Epoxy counter tops, however, can yellow over time especially when exposed to sun and outdoor elements present in an outdoor kitchen.
Other limitations of epoxy are that it etches and stains. 
Even though there are sealants which can protect epoxy counter tops from yellowing, epoxy's high price point makes other options more attractive.
Outdoor bar countertops – What can I use for an outdoor bar countertop
Polymer outdoor countertop 
The popularity of HPDE outdoor furniture and its other outdoor applications has given rise to using these polymers in outdoor countertops.
For outdoor kitchen and dining applications such as countertops, cabinetry, cutting boards, islands, and tables, HDPE (high density polyethylene) provides the durability and performance required.
Impact, scrape, weather, and UV resistance are all features of rugged HDPE. It's also light and simple to clean. HDPE has a variety of advantages over other materials, including high design flexibility and minimal water absorption, so it won't deform, rot, or fracture due to rain or food spills. HDPE is also FDA-approved for food contact, so it's not only attractive and long-lasting, but it's also safe to use in the kitchen.
HDP sheet comes in a wide range of colors and finishes, as well as thicknesses ranging from one-half inch to 1" and custom sizes.
Which Types of Materials are a Poor Choice for Outdoor Countertops?   
Laminate Countertop
Heat, humidity, rain and sun are all enemies of laminate's particle board construction. Particle board can warp, mold, mildew and decompose when exposed to the elements.  
Although there are various sealers and epoxies that claim they can waterproof laminate countertops, there will still be voids that will be subject to the effects of humidity that will quickly decompose the particle board substrate.
Corian
Corian solid surface is resistant to environmental contaminants, humidity, and freeze-thaw conditions, and has a reduced moisture uptake.  The issue with Corian is that it is affected by heat and the sun.  When installed close to a grill, the heat will damage it.  Fabricators recommend a minimum of a 6 inch buffer between a grill and Corian.  This buffer can be stainless steel or tile or other heat proof option. 
Two other shortcomings of Corian are you can't put hot pots and pans on it and darker colors may fade in sunlight.  
Quartz is a popular choice for indoor countertops but in outdoor applications where it is sunny or exposed to the elements, it will yellow.
Who Installs Outdoor Countertops?
People gravitate towards concrete and tile countertops because they can be a DIY project.  Anyone with a bit of DIY experience can usually install these countertops with some instruction and the right tools.
Wood, such as butcherblock or live edge wood species, is also another popular option for the very same reason.  And while wood is a more difficult surface to manage long term, it does require maintenance to keep its appearance and remain weatherproof, which might be worth the effort if that is the look you want.  Teak wood, an outdoor favorite, will change color if allowed to age naturally without a sealing treatment.
Porcelain or ceramic tile countertops can also be a good DIY countertop project for an outdoor kitchen. 
Most other countertop options such as stainless steel, or natural stone slabs, will require fabrication.
When Do Outdoor Countertops Get Installed?
You know you are getting near the end of an outdoor kitchen or bar project when the countertops go in.  There are a few reasons why outdoor countertops are one of the last items to get installed. 
Countertops strengthen the framed structure that holds the kitchen cabinets and appliances. These framed sections need to be in place and anchored before countertops can be installed. Framing adjustments for appliance selections are not uncommon. If the appliance model you selected is out of stock by the time you get around to buying it, and you make a substitution, you may need to reframe part of your cabinetry and the countertop dimensions will change.  You also might have to make slight adjustments for door swings on refrigerators or wine coolers.  All of these affect the finished size of your countertops. Another issue is changing the type of countertop you want.  Stainless steel countertops weigh a lot less than granite or marble. If your original framing was built for a lighter countertop type, and you switch, you will need to reinforce the framing which may change the countertop configuration.

Some types of countertops, such as concrete and

tile

, are built "on site", not prefabricated like stone or other solid surfaces.  You need to build substrates for both of these applications and you can't do that until the final framing is in place.  

While under construction, access is important.  It is easier to run power, water and gas lines if all the cabinet boxes are open and fully accessible.  While running these after the entire

kitchen

or island is built is not impossible, it is cheaper and preferable to do this rough wiring and or plumbing before countertops are installed.

If your kitchen or bar abuts an outdoor wall, pillar or other original structure, your countertops will need to be scribed to those surfaces for a seamless and professional look.
What Types of Countertops are Best for Outdoor Kitchen Design?
Which countertop is best is based on your budget, preference and performance.  In another article on this site, we go over the pros and cons of each type of countertop in depth. Use this link to read about each kind:  LINK HERE
Concrete countertop
Quartzite (not quartz countertops)
Granite countertops
Soap Stone Countertop
Slate
Wood Countertops
Tile
Porcelain Slab
Marble Countertops
Stainless Steel
Countertop Dimensions
How high is an outdoor countertop?
 The usual height of a countertop is 36 inches. 36″-38″ is a comfortable height for most people.
  Note: It may be essential to elevate heights to 38″ at times to accommodate an outdoor refrigerator.
The height of the bar service counter ranges from 42″ to 46″. If you're going to utilize bar stools, choose them ahead of time and let the seat height determine the final height of the bar counter. Bar stools are usually 28 inches tall "tall, however the height varies greatly depending on the style and manufacturer.

If you will be using a countertop for outdoor dining with standard dining chairs, 30″ is the standard height.
How wide or deep is an outdoor countertop?
You may know that your indoor kitchen countertop has a standard depth of 24″.  Outside however, the appliances, typically grills can be much larger in depth.  30″ is a more common depth for outdoor countertops if they have a built in grill.
An outdoor island can take any shape you want.  It can be deeper to provide more prep space or a place to pull up counter height bar stools for dining.
Remember too that outdoor counter tops may have different levels for different functions, let's say a pull up bar on the backside of a grill island.  You'll want to have a counter top overhang of at least 10″ of depth for knee space if you are planning for bar stools.
On any sort of counter, cantilever a minimum of 10 inches to enable room for knees.
DIY vs Professionally Installed Outdoor Countertops
Some countertop types are more suitable for DIYers because they require specialized equipment that your average DIYer just doesn't have.
Tile, concrete and wood are countertops that can be somewhat DIY friendly.  Most other slab, stone or solid surfaces such as stainless steel,  require fabrication equipment.
How much is an outdoor countertop
Is quartz cheaper than granite, which is better for outside granite or quartz?
Quartz is not suitable for outdoor kitchens countertops.  Quartzite, however, is.  Quartz is a man-made material, whereas quartzite is a natural stone.  
Quartzite, on the other hand, should not be confused with quartz, which is a man-made mineral. Quartz should never be utilized outside as outdoor kitchen countertops ideas in an exposed environment since the resin used in the manufacturing process may become yellow when exposed to sunlight and weather. Quartzite, on the other hand, shares many of the same properties as granite and has a look that is almost identical to marble, but it is much easier to keep it clean.