Outdoor Kitchen Design: Getting Your Dream Kitchen
An outdoor kitchen enables you to enjoy the natural world's joys. Your outdoor kitchen will bring you, your family, and friends with many hours of enjoyment thanks to the incomparable flavor of outdoor cooking, the relaxed comfort of an al fresco setting, the air fragrant with sweet smoke and illuminated by candles.
An outdoor kitchen is, at its most basic level, a space where you can cook and eat outside. It could be on a screened-in porch or a patio; it could be in a courtyard or in the garden; it could be in a meadow, on the beach, or anywhere else outside your back door. Food cooked on a portable grill and served on a wooden table transported from indoors can be served on a temporary outdoor kitchen lighted by torches, or it can be a permanent installation with a built-in grill, a wood-fired pizza oven, major appliances, and electric and gas hookups. There is a world of outdoor kitchen ideas options between those two extremes.
Starting the Process of Creating Your Dream Kitchen
The first stage is to create a clear picture of your desired outcome. You can start small, like a patio with a store-bought barbecue for outdoor grilling, while planning for it to blossom into  something spectacular over time. You can also start small and work your way up, constructing an intimate outdoor kitchen that perfectly meets your needs for kitchen space.
When deciding what you want, ask yourself the following two questions:
1. What are your plans for your outdoor kitchen?
Are you planning to use your outdoor kitchen all year, both during the week and on weekends? The more ambitious your cooking, the more space you'll need for equipment, preparation, and, most importantly, a place to relax while you wait for the food to cook.
Is the majority of your meal preparation labor going to be done inside or outside this year? You'll need counter space and refrigerators if you're preparing food outside.
Will the entire family be cooking, or will one of you be the designated outside cook? If you have a lot of visitors when you cook, you might want to build in seats, and if you have help in the kitchen, you might want to create different work stations.
Is this going to be a once-in-a-while party venue with outdoor entertainment options or a regular family meal spot?
If it's for parties, make sure there's enough of counter space and plenty of electrical outlets; if it's for family dinners, make sure there's a nearby eating area. Do you believe you'll be hosting catered parties in this space?
If the whir of the blender whipping up frozen beverages isn't enough to make your patio party complete, a separate outdoor bar area with a refrigerator and icemaker might be in order. You'll almost certainly need a heater if you want to use this place all year.
Electric power outlets are required for your refrigerator and ice maker, and a heater can be either electric or gas powered to extend the backyard bbq season even longer.
2.  How big and permanent do you want your setup to be?
You should also think about scale: you might want a huge built-in kitchen with seating and/or cooking stations for visitors, as well as a larger dining space. It's also possible that your limited space necessitates a free-standing grill station and a comfortable dining area. Or maybe you're in the middle, hoping for a built-in grill, a sink with a hose connection, and a basic electrical setup resulting in semi custom outdoor kitchens.
Each of these options has a distinct price tag attached to it. A luxurious outdoor kitchen with an outdoor fireplace, wood-burning oven, built-in gas grill with side burners, refrigerator, sink with hot and cold water, natural gas lines for the grill and gas-fueled tiki torches, electric lighting systems, finished weatherproof cabinetry, stone counters, and professional landscaping, for example, can easily cost in the high five and six figures.
A kitchen with freestanding equipment (a store-bought grill, prefab wood-fired oven, small outdoor undercounter refrigerator, and freestanding sink) can, on the other hand, be set up on a deck, concrete slab, or sand-supported pavers, with a garden hose sink connected to a French drain (gravel under grass) and a pedestal electric outlet for the utilities. At a fraction of the expense, such an outdoor kitchen can perform nearly as well as the first.
Consider how long you intend to stay at your current residence while making these options. If you believe you'll be moving, build an outdoor kitchen that you can take with you – a grill on wheels and movable grill islands for serving for a casual cook, a portable wood-fired pellet grill as well as a portable gas grill and smoker for a more ambitious outdoor chef. When you select your grill, think about if you will be taking it with you.
A superb entertainer may require the largest portable grill cart possible, complete with a refrigerator and warming drawer, as well as a portable icemaker, mounted on a large-wheeled restaurant table with ample plating and serving counter space.
Planning for Now and the Future
Everything does not have to be completed at the same time. Be truthful with yourself about your priorities. If your budget doesn't allow for both, decide whether a wood-fired oven or an outdoor fireplace is more important to you. Will a freestanding fire pit suffice as a substitute for a fireplace? If you really want flagstone patio designs with retaining walls all around it, you might be able to compromise on equipment now and upgrade afterwards.
You must also plan for the future in addition to prioritizing. If you plan ahead, you'll be able to upgrade to an outdoor sink, a built-in gas grill, and an outdoor refrigerator several years down the road without having to rip out your flagstone patio outdoor decor because you forgot to run the necessary electric, natural gas, and water lines beneath it while it was being built. Plan for lighting, sound systems, electric warmers, water features, and gas-fueled fireplaces or fire pits, and other kitchen ideas all at the same time. Now is the time to dream big  and make smart plans.
Siting Your Outdoor Kitchen
If your yard is small and you have neighbors on both sides, design your kitchen to reduce the amount of noise, smoke, and light that you emit when you consider appliance layouts. You should also think about your personal desire for privacy.
With more land, your options for potential sites expand. In this scenario, transportation, preservation, and creation of views are all factors to consider. It's also vital to consider scale here to prevent constructing an outside space that's either too big or too small for the home it serves.
Consider how a kitchen area will affect the appearance of your yard or garden from both inside and outside the house. Also, consider how far or close this place should be to your home and its indoor kitchen. Both have their perks and disadvantages.
Building Next to or Onto the House
The most significant benefit of this situation is convenience, since it will be considerably easier and less expensive to run water, power, and natural gas to the outdoor kitchen.
It will also be simpler to transport food from an indoor kitchen outside. You can create a pass-through or utilize a window as a pass-through when the outdoor kitchen is connected to the home, offering even more convenience.
Another significant benefit of an attached outdoor kitchen is that the outside space is protected from the elements by the building's walls. A freestanding construction will have a noticeable advantage over an outdoor kitchen in  L-kitchen layouts formed by two wings of a building or in a courtyard protected on three sides by the house, or even an outdoor kitchen that only touches the house on one side. Winds will be more calmer, rain and snow will be less likely to infiltrate, and weather wear on the kitchen components will be mitigated.
An attached outdoor kitchen, on the other hand, could not feel like the outdoors because it is so close to the home. Due to its proximity to your home's doors and windows, it may also necessitate the installation of an exhaust fan to move heat and smoke away from the structure. Pizza ovens get quite hot and you don't want that heat traveling into your air conditioned home.
Finally, while it is vital to design your outdoor kitchen with your home's style in mind at all times, it is especially critical when it is attached to the house. Modern homes and a rustic outdoor kitchen don't work well together either in theory or practice. There are outdoor kitchen ideas for every home type and you can find one that is suited best to your type of architecture.
When designing a roof for a covered outdoor kitchen, keep the scale consistent, utilize similar materials and stylistic features, and use the roofline of the home as a guide.
Freestanding Outdoor Kitchens
If you build your kitchen away from the home, you'll have more flexibility in terms of layout, space, and overall appearance. Your kitchen might be a semi-freestanding building, such as a roof on posts or a pavilion with half-walls, that provides a picturesque shelter while also housing cooking equipment.
It might also be attached to an existing boundary wall and sheltered by a shed roof, luring you to the far end of your yard.  This arrangement extends your outdoor livings space much farther than your backyard patio.
If you want a more permanent structure, gazebos are a fantastic choice because they may be brought already erected or built on site, or you can build them yourself from kits or designs. They come in a wide range of sizes, forms, and styles in both wood and vinyl, and some manufacturers provide the option of adding screens and windows to extend the season of usage.
Alternatively, you might create a structure that is tailored to your specific site and manner of outdoor cooking and entertaining.
An outdoor kitchen island with no roof or walls is another option. When you or your visitors are outside, this will still serve as a unique destination and a magnet. An island can be made entirely of prefabricated cabinets or built onsite from bricks or concrete blocks stucco, or it can be completely finished and sent to you by a specialty manufacturer.
Because it is not protected by the mass of your home, a standalone outdoor kitchen is vulnerable to the elements. You'll also have to travel further from your indoor kitchen, so significant items like a refrigerator and cabinets may be necessary for convenience. If it's not easily accessible by truck, a position away from the house will almost certainly necessitate additional labor to run utilities and deliver building supplies and built-in components. There are ways to save money on utilities, such as installing an outdoor kitchen island that just requires a gas tank, but most people will want at least a pedestal electric outlet for lights or a blender.
Topography of an Outdoor Kitchen
If you want to install an outdoor kitchen on a steep incline, consider the cost of building a deck over the incline versus bringing in heavy equipment to level the area.
Landscaping designs will be more difficult with steep locations and landscape architects are an invaluable resource when you are challenged by topography.
Terraces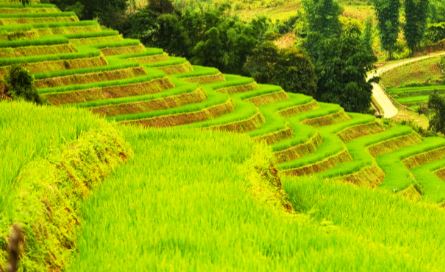 You will be moving soil if you choose to recontour the land, which may need the construction of retaining walls constructed of stone, brick, interlocking concrete blocks, or treated wood such as railroad ties to keep the levels stable and in place.
Consider how you'll get from one level to the next while planning such a recontouring. Steps, grass or dirt ramps, and walkways are all possibilities. If you'll be bringing supplies to your kitchen or dining area on a wheeled cart, ramps are ideal, but easy steps are more user-friendly because they're level and less slippery. To provide a visible and practical pathway between all parts of an outdoor series of rooms, you'll need to connect the stairs to existing or new walkways above and below the retaining walls.
Decks
Alternatively, building a deck over an unequal group may make more sense. In this scenario, you must decide on the deck's relationship to the ground. Is it going to be elevated, flush with your interior kitchen or living room door, or will it be at ground level, with stairs down to it? It could alternatively be in the middle, with large seated landings. Consider the path of melting snow sliding from the roof in those parts of the country when deciding where to build your deck, since it can stress your final construction and necessitate further reinforcing.
If your deck is going to be elevated, consider how you'll handle the area beneath it, which has a propensity to become a storage place. If that area gets enough sun, you could grow shade-loving ground cover plants there, or you could install trellising between the supports and create a living screen of floral vines and climbers.
Your options are more limited if your deck base receives little light. Many individuals simply cover the area with lattice sheets and call it good. Other than store-bought lattice, custom-designed lattice and other screening alternatives are available to blend with your backyard landscaping.
Consider installing an under deck ceiling and wall screen system that converts the ground level area into a protected screen porch if there is enough headroom. That means you could cook on the terrace above and eat in insect-free comfort down below on your covered patio, avoiding the smoke and grit from the grill.
Making the Location Choice
Budget will undoubtedly play a role in deciding on a site, but your surroundings will frequently dictate your decision by offering the ideal atmosphere. It might be against the house, at the back door, or out in the garden, where an ancient brick wall provides shelter. Take a walk around your house, taking in all of the possibilities. There's a good chance that the ideal site will present itself for your outdoor kitchen space.