Elements of Spanish Style to Include in your Outdoor Kitchen Design
Looking to add a little spice to your outdoor kitchen design? Look no further for outdoor kitchen ideas than inspiration from Spanish architecture. Adding Spanish style will make every day a fiesta when you entertain outdoors in your outdoor living, cooking and dining areas.
You can take a cue from your home decor, your style home, or the rest of your outdoor space as you zero in on an outdoor kitchen design. Just making a few key choices in materials, shapes and ornamentation will go a long way to to giving you the Spanish style outdoor kitchen you've been contemplating.
What is Spanish Style?
A Spanish style outdoor kitchen will incorporate one or more of the following elements:
red clay tile
stucco finish
ornate carved details
wrought iron
vigas and wood beams
vibrant colors
painted tiles
Spanish architecture arrive in the Americas in the 16th century when explorers sailed from Spain and colonized Florida and Central America. The characteristic red clay tile roof and stucco homes found in Florida, Texas, New Mexico, Arizona and southern California are direct descendants of the tile roofing and stucco construction found throughout the country sides in Spain at the time. These building materials suit hot climates with abundant sunshine because of their availability, durability and insulation qualities.
Spanish style outdoor kitchens and homes are influenced by Moorish architecture, Mission and Spanish Colonial Revival architecture. In California, Spanish styled homes are heavily influenced by the missions which were built there in the mid to late 18th century. Saint Augustine, Florida, site of the first Spanish settlement, is where Spanish architecture first gained a foothold in that state.
Spanish Style Kitchen vs. Mediterranean Outdoor Kitchen
Mediterranean outdoor kitchens are inspired by the villas found in Italy, Greece and Spain. They also can be identified by stucco and red barrel tile roofs. Spanish Colonial architecture is a type of Mediterranean architecture. It differs from Italian style in that it has simpler features, unlike its  more ornamental (columns, balustrades) and feminine Italian cousin.
How to Incorporate Spanish Style
All outdoor kitchen designs have one or more stainless steel outdoor kitchen appliances. They may incorporate outdoor living spaces. They will necessarily have outdoor kitchen countertops for preparing food and drink. These are the givens.
To build your outdoor kitchen with traditional Spanish style, the trick is to use as many of the Spanish style elements listed above as possible to generate your design ideas.
Follow the architectural cues from your home if it is a Spanish style home.
You can copy details such as vigas (wood beams which protrude from the stucco facade).
If your home features carved wooden doors, mimic that look with the outdoor kitchen cabinets doors you will use on your island cabinetry.
Do you have a colorful painted tile backsplash in your interior kitchen? Consider finding a complimentary painted tile for the backsplash and/or countertops in your outdoor kitchen.
Use rough wooden elements such as pavilion posts.
Use bright colors to paint cabinetry and punctuate the colors with wrought iron cabinet pulls and knobs.
Use a stucco finish on pizza ovens to match your home's exterior finish.
Gallery of Spanish Outdoor Kitchen Design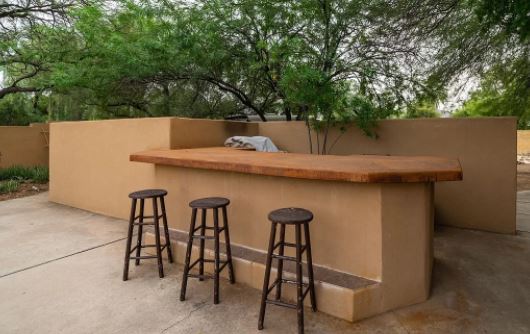 Thick stucco adobe walls characterize this Spanish outdoor kitchen design. The l-shaped outdoor cooking area is simply styled, but closely mirrors the home's southwest Spanish architecture. The outdoor fridge is located behind the seating bar. Rust tinted concrete outdoor kitchen countertops are a nod to the home's terracotta accents.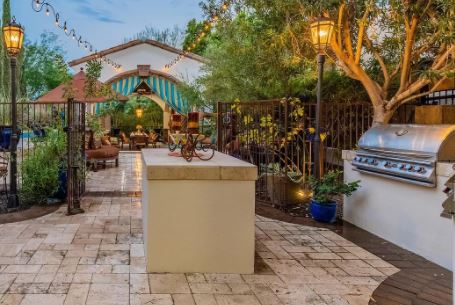 A clay tile roof and white stucco exterior are repeated in the stucco kitchen island created for the large grill. Tile countertops are used to bring another natural element into the simple design. This area mirrors the living spaces at the other end of the patio.
Bright blue stucco cabinetry, hand made ceramic tile and rough hewn posts with corbels accentuate the Spanish style of this outdoor kitchen. The corbels are a traditional Spanish style found throughout the southwest.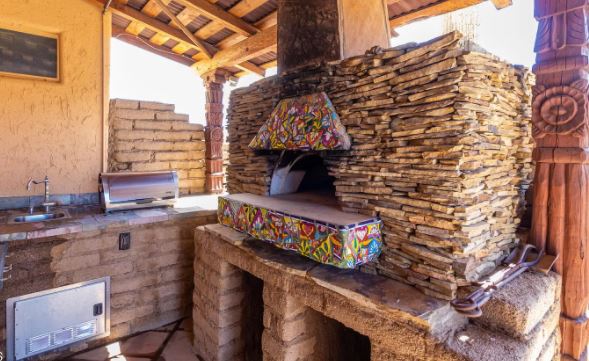 Carved wooden support beams are a hallmark feature of this Spanish outdoor kitchen. A stacked stone pizza oven is accentuated with brightly colored painted tile on the front and top of the hearth. More wood accents can be found on the underside of the roof overhang which match the tinted stucco.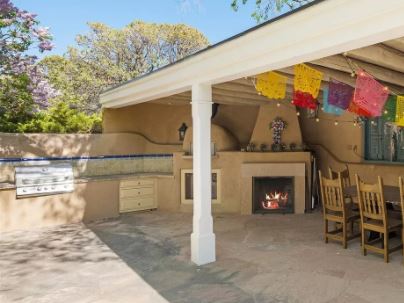 Handpainted tile on the backsplash is topped off with a bright blue tile border. The kitchen cabinet finish is all stucco, including the pizza oven and fireplace. A fiesta atmosphere is created with the paper flags which hang over the outdoor dining table.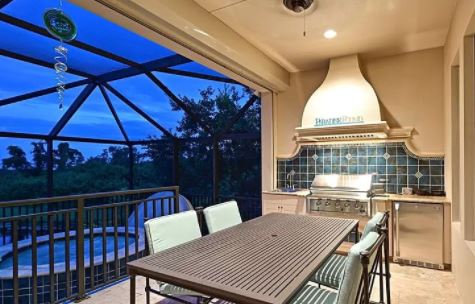 This kitchen reflects understated style with its muted blue handmade tile backsplash. The embossed medallion tiles give the impression of hand carved wood among the field tiles.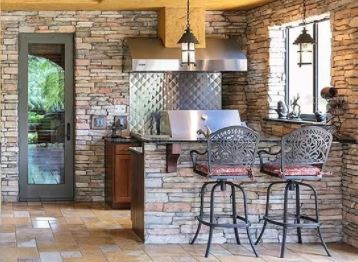 Natural stone and ornamental wrought iron lend Spanish flair to this stone outdoor kitchen. The lanterns are a traditional colonial style and hang in contrast to the cast wrought iron bar chairs.
Rustic wooden posts and a clay tile roof are indicative of the Spanish style architecture of this house. The outdoor kitchen has been built with blue-painted rough hewn cabinetry. Wrought iron open shelving and cabinetry hardware cement the Spanish style.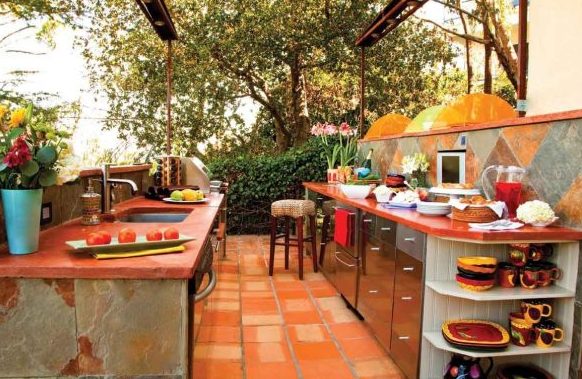 A terracotta tile floor and matching concrete countertops signal the style of this outdoor kitchen. Bright color choices in accessories and serve ware pull in the colors of the slate tile backsplash and cabinetry facing. Source: Well Styled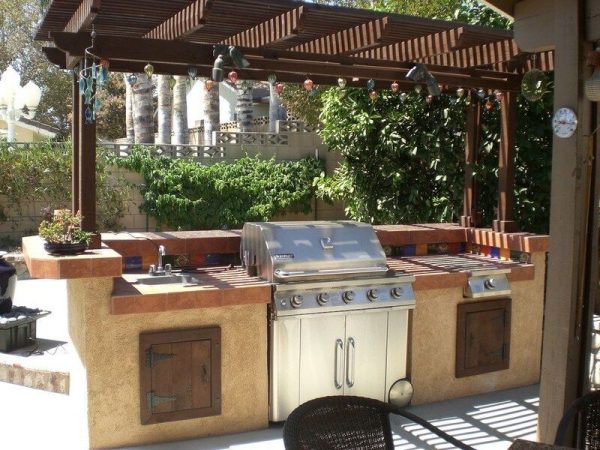 Rustic wood and tile give this Spanish style outdoor kitchen its distinct personality. Terracotta tile used for the countertop and bar counter contrasts to the stucco island finish. Wrought iron cabinet hardware and blue handmade tiles on the backsplash add charm and definition. Source: Wild Bloom Landscaping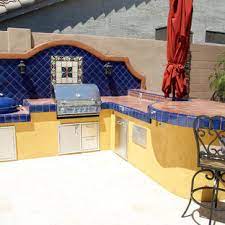 Bright yellow stucco and blue handmade tile give this outdoor kitchen its Spanish vibe. Wrought iron sconces and bar stools accent kitchen outdoor space with rustic elements. Source: Houzz