Elements of Modern Style to Include in Your Outdoor Kitchen Design
An outdoor kitchen may appear to be a luxury, but it has so many practical benefits that it's difficult not to consider it once spring has settled securely outside your house walls. An outdoor kitchen may provide you with additional cooking alternatives such as a built in grill, or a wood-fired pizza oven, in addition to looking and feeling cool.
The beauty of modern outdoor kitchens is that they hold up well over time, both physically and visually. Stainless steel, concrete, and HDPE plastic are modern materials that can survive the elements while still looking sophisticated and attractive.
What is Modern Style
The modern appearance refers to shape and design simplicity. Clean lines, basic shapes, and forms are used to achieve abstraction in modern architecture. Modern architecture is characterized by simple, plain geometric forms, rectangular shapes, and linear components.
The usefulness of  modern construction also influences its appearance. Functionality refers to the ability to operate for a specific goal. The emphasis on functionality in modern design is best expressed by the motto of 'form follows function.'
Modern Outdoor Kitchen Defining Characteristics:
Decorative moldings and intricate trim are removed or considerably simplified, resulting in a clean aesthetic in which materials meet in simple, well-executed joints.
Rectangular forms and horizontal and vertical lines are emphasized: Cabinetry comes in two shapes: boxes and linked boxes. For dramatic effect, materials are frequently used in well-defined planes and vertical forms positioned against horizontal elements.
The emphasis is on horizontal planes, with a low, horizontal massing. Modern outdoor kitchens are usually rather large.
Modern materials and systems are used: Stainless steel is employed, and concrete becomes a finishing material.
Traditional materials are repurposed in new ways: Wood, brick, and stone are used in innovative ways that reflect a modern aesthetic. Simple vertical board cladding is used in vast, smooth planes to replace traditional clapboard siding. Simple, unadorned brick and stonework is used in rectilinear masses and planes.
The emphasis is on material honesty: to convey its inherent character, wood is frequently stained rather than painted.
How to incorporate Modern Kitchen Design Outdoors
1. Begin with a Neutral Color Palette
What color palette comes to mind when you think of a modern outdoor kitchen? A neutral color palette, such as black, white, beige, and gray, is a staple of contemporary design.
The key to creating a modern kitchen is to choose soft, neutral hues for the worktops, cabinets, and any other surfaces. Colorful pastels and other bright colors should be avoided because they will detract from the modern appearance you're going for.
Play around with different textures and metallics, but keep the colors neutral. You're probably just interested in a two-tone outdoor kitchen, with two main neutrals providing a pleasing contrast. A gray stone countertop, for example, would look great with beige cabinetry.
The finish on your appliances should match the finish on your countertops and other major elements of your outdoor kitchen. For your appliances, choose an unobtrusive stainless steel in a hue that fits the rest of your kitchen.
2. Focus on Shapes
Sharp edges, straight lines, and clean-cut shapes define a modern outdoor kitchen. Rounded corners should be avoided at all costs. Cabinetry should have square corners, crisp and clean lines.
This rule applies not only to the cabinets and appliances, but also to accents such as cabinet knobs, which should be elegant and in cool, neutral tones.
3. Light it Up
Consider minimalism your best friend when it comes to adding light to your outdoor kitchen. Low-key outdoor lighting, especially recessed LED lights, transforms your property into a much cozier environment. Avoid large, dangling pendants that flood the outdoor room with light.
Adding discrete lighting under counters or along walkways leading to your kitchen is a great idea.
Gallery of Modern Outdoor Kitchen Designs Ideas
Beautiful Outdoor Kitchen with Solid Surface Cabinetry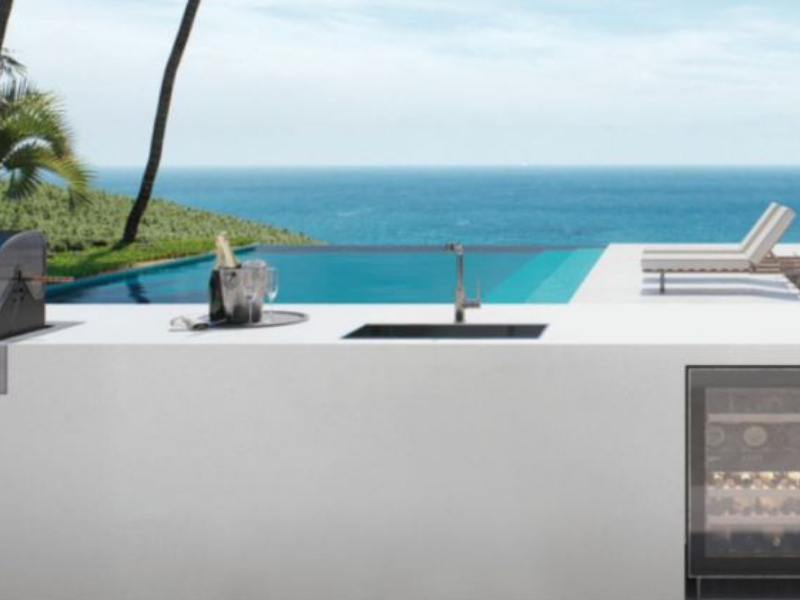 This Caesarstone outdoor kitchen is a study in simplicity. The island is constructed of the solid surface material, both for the structure and countertops. An undermount sink ensures that the clean lines are not interrupted. The white shade of solid surface material mirrors perfectly the concrete patio in both color and form.
Modern Modular Outdoor Kitchen Against Natural Stone Wall
This outdoor kitchen is a study in contrasts. The vintage stone wall sets the backdrop for solid surface countertops, backsplash and face trim in a light gray tone. The wood panels have a vertical grain orientation which contrasts with the long horizontal line of modular kitchen units.
White Modern Outdoor Kitchen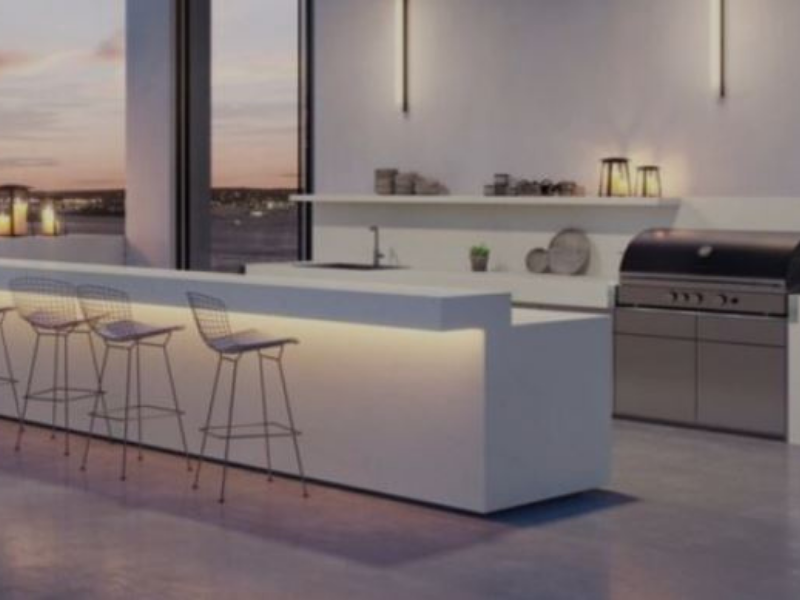 To complement the contemporary home design, a galley style outdoor kitchen has been clad in white solid surface Caesarstone on the tops, sides and fronts of these linear cabinet runs. The bar height countertop has lighting mounted under it which casts a soft glow on the backside of the island.
Modern Outdoor BBQ Kitchen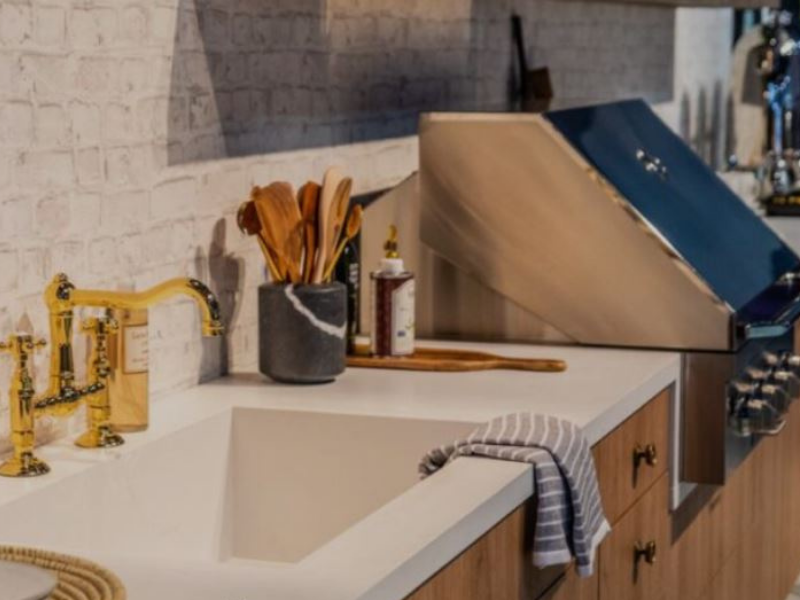 This straight run outdoor kitchen features two staples of contemporary design: the use of white surfaces mixed with vertical wood grains. The integrated outdoor kitchen sink reinforces the theme of clean lines and sharp edges which are also indicative of modern design.
Modern Outdoor Unique Kitchen in Blue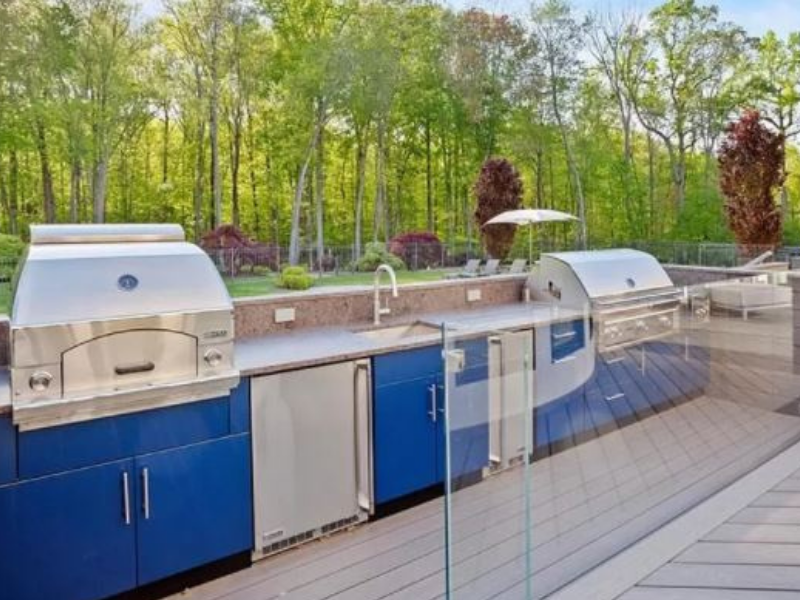 If neutral colors aren't your thing, but you crave the clean, crisp lines of modern design, this outdoor kitchen may appeal to your creative instincts. Flat paneled cabinets which have been powder coated in marine blue, feature strong horizontal and vertical lines. Contemporary cabinet pulls in stainless steel reflect the finish on the kitchen appliances while the organic pattern in neutral beige outdoor kitchen countertops add a natural element to the mix.
Modern Contemporary Outdoor Kitchen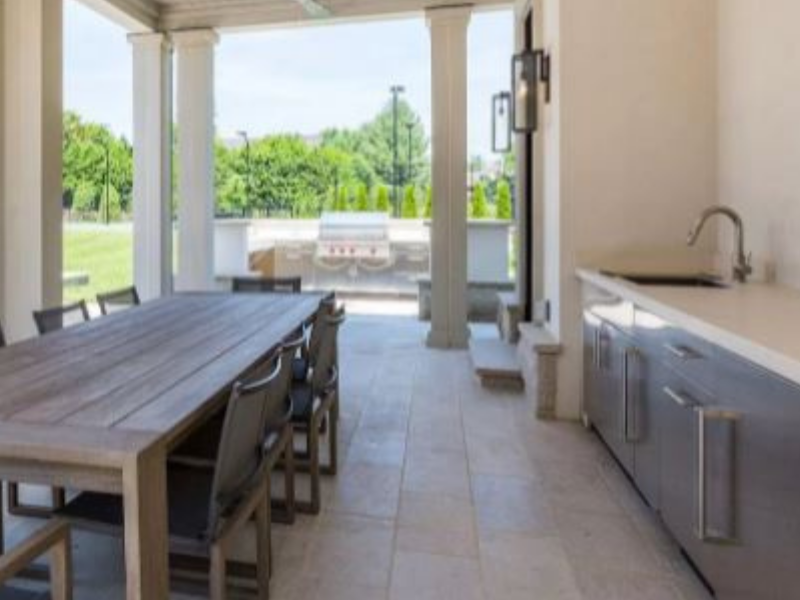 This outdoor kitchen has been divided into a covered wet and cold zone, and an uncovered hot zone grilling station. There are just two finishes, white sold surface and stainless steel which is what the modular cabinet units are made from. The home's contemporary stucco color is replicated in the countertop to make a seamless transition to the outdoor kitchen unit.
Modern Terrace Outdoor Kitchen Design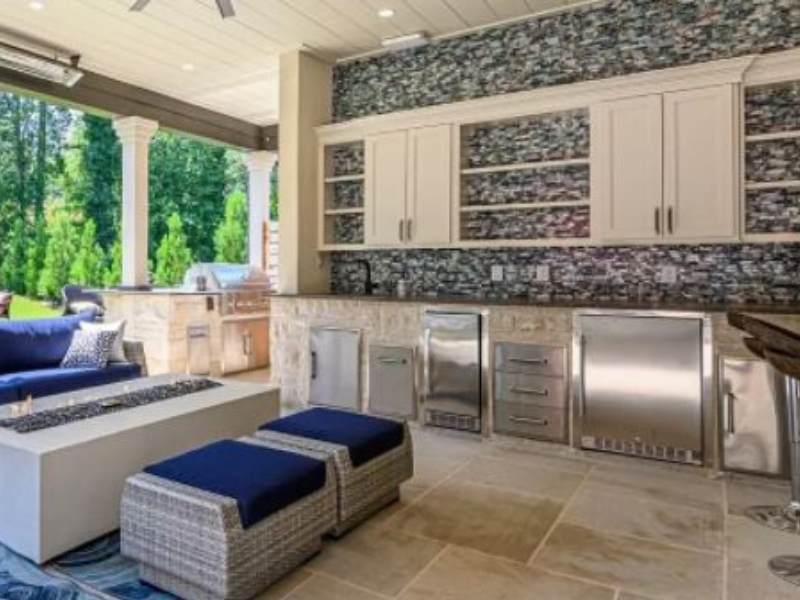 All the neutrals are featured in this kitchen: black and white, beige natural stone and grey countertops check all the boxes for modern design. The addition of metallic hues from the stainless steel appliances completes the checklist. The outdoor grill is located away from the seating area which is situated near the cold and wet zones.
Small Modern Outdoor Kitchen
This outdoor kitchen design features a straight line of cabinetry tucked into an backyard patio niche. The wood finish is clean and unadorned. The countertop pattern, in neutral colors, adds visual texture and the rest of the surfaces are stainless steel. There's a lot of design in this 30 square foot space and a lot of functionality.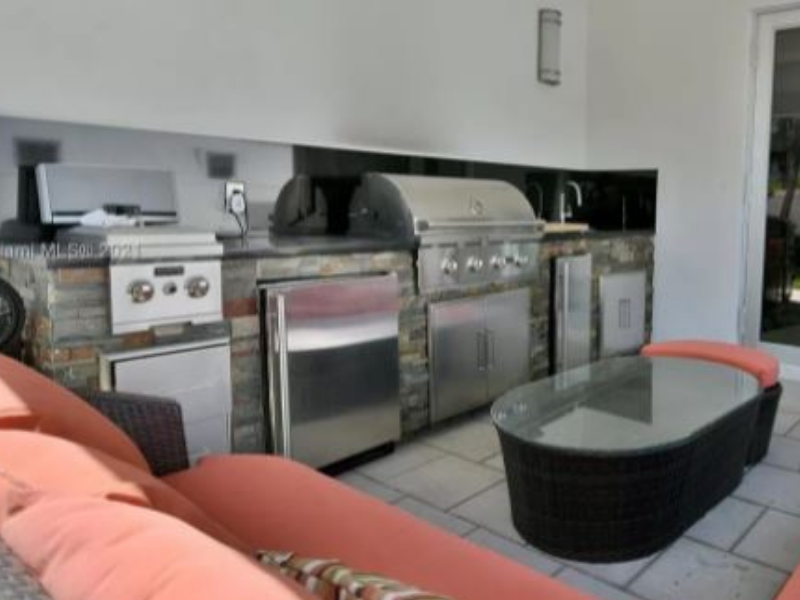 Modern Outdoor Residential Kitchen
The use of reflective surfaces help make this patio kitchen seem larger than it really is. Everything you need for outdoor cooking is within arm's length including side burners, refrigeration, an outdoor grill and a fully-plumbed sink. Behind the grill island is a mirrored backsplash which helps expand the space visually while it reflects light from outside.
Modern Stainless Steel Modular Kitchens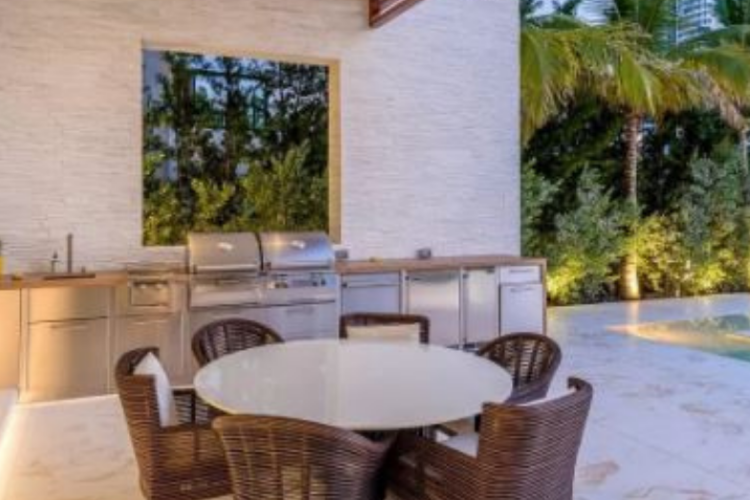 Just two materials, stainless steel and tan countertops are all that is needed to create this contemporary outdoor space. The stacked stone wall behind the kitchen island adds a bit of the texture that makes the smooth surfaces work so well together visually. Al fresco dining is close by with a table that echoes the white tones in the stone floor.
Rustic Modern Outdoor Kitchen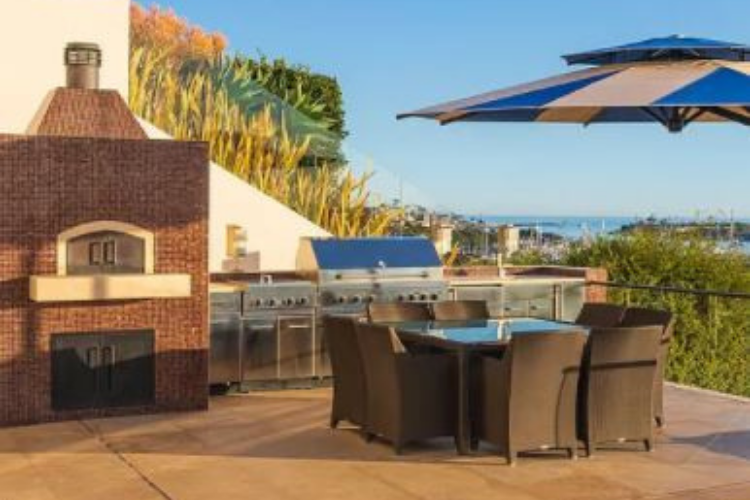 The organic and rustic nature of the brick pizza oven and half wall in this outdoor entertaining space stands in marked contrast to to the stainless modular kitchen units which comprise the rest of the cooking space. A hearth, in light stone to match the walls on this terrace, ties the structure to the kitchen with a visual connection.
Small Modern Outdoor Kitchen Design with Outdoor Bar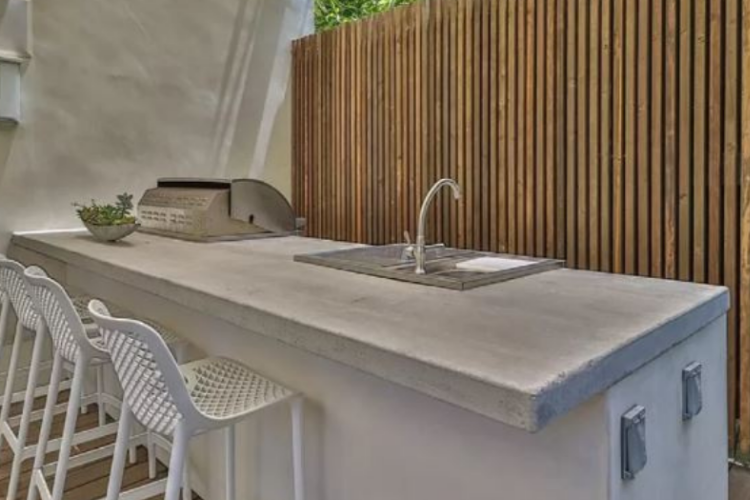 Concrete isn't just for floors anymore. Concrete countertops work well in a contemporary outdoor kitchen space paired with stainless steel appliances for a clean, streamlined look.  Using grey concrete provides a bit of contrast to the white surfaces and adds an organic look to the space.  The vertical wood screen behind the kitchen adds another modern element to this outdoor kitchen.