Your outdoor kitchen planning is almost done, but have you considered an outdoor sink in your kitchen's layout?
It is easy to get caught up in selecting the perfect grill, smoker or undercounter refrigerator as these are the showpieces of a typical outdoor kitchen. You know they will work perfectly out of doors as that is what they are made for. Sinks, which are by their very nature accustomed to being in wet conditions, will tolerate rain just fine. What about other extreme weather conditions?
As you consider an outdoor sink for your al fresco cooking space, keep in mind these decision points and you will be able to easily narrow down the perfect sink for your entertaining style.
1. Outdoor Kitchen Sink Location
Where your kitchen is located on your patio or deck is an important consideration when selecting an outdoor sink. Is the sink going to be positioned close to the house? In a sheltered structure out in the yard? Is it part of a u-shaped or l-shaped configuration or will it be a stand alone sink station?
The importance of the location factors into the choice of materials, size, and plumbing options which are detailed below. Also importantly, the farther the outdoor kitchen is away from your in house kitchen sink, the more use it will get for more tasks than just hand washing. More tasks means a larger sink.
2. How will the kitchen sink be plumbed outdoors? What installation type should you choose?
A typical sink has two different plumbing functions. The supply of water is typically sourced from the household source, whether well, city or cistern.
The waste water from a sink typically drains into the city sewer system, a septic tank, a grey water holding tank or even a french drain or dry well. What goes in the sink has to drain out in equal proportions.
How do you run plumbing for an outdoor sink?
If the sink is to be located on an outer wall of the home and there is a kitchen or bath on the inside of that wall, then it will be possible to get water (both hot and cold) from that same water source and also tap into the waste drain. It is also possible to run new hot and cold water lines and drain line if you have an unfinished basement and the plumbing is easily accessible. It will take some work to feed the lines without compromising building structure but it can be done.
If there is no option to tap into the home's plumbing system, then all is not lost. Many outdoor sink
faucets have special supply fittings that allow it to be attached to a garden hose. Of course you
will only have cold water, but that suffices for many sink tasks.
Where do you drain an outdoor sink?
As for draining when there is no plumbing, you still have options. Connect the sink's drain to a pailor catch basin located underneath the sink. If you have a closed kitchen sink cabinet to hide the pail, all the better. Another option is a french drain which is simply a sloped trench which is filled with gravel and a perforated pipe which directs the water to the area where you want the water to be emptied, usually a fair distance away from the house. A dry well is a similar concept and will work as a catchment for your sink waste water.
With clever outdoor kitchen design, you can hide both the garden hose and the hook-up to a french drain or dry well.
3. Outdoor Sink Uses Dictate Sink Size
Should an outdoor kitchen have a sink? A fully equipped outdoor kitchen should have a sink unless itis located just outside, meaning very close to, your indoor kitchen. Too many trips indoors to wash hands, clean vegetables or fill water pitchers is tiring and disrupts efficient workflow for the cook.
If your outdoor sink is only for bar use, it doesn't have to be too large. A bar sink might be used
just to rinse glasses and a smaller sink will do just fine.
If you are preparing full meals for a crowd or entertain outdoors often, then you will need a larger sink to wash vegetables, rinse off a roast before putting it on the rotisserie or clean up a few glasses. These multi-functions mean you will be using the outdoor sink more often for more tasks.
Another consideration is that this outdoor sink might be used for more purposes than just cooking or bartending. Will the sink also be used for gardening activities such as filling watering cans or cleaning garden implements? Then it will be used as a utility sink and size is important here with an extra deep single bowl kitchen sink being preferable.
4. What is an outdoor sink made of?
The primary materials for outdoor sinks are stainless steel, quartz, soapstone, cement, and plastic resin. There are also sinks made from copper and nickel. As metal is prone to scratches, you can choose a hammered finish for your metal sink to help it look better longer or consider a brushed nickel finish. Bottom grids are available for stainless steel sinks to protect the finish from scratches.
Can you use any sink outdoors? If the indoor sink is durable and made of any of the above materials, then you can use it outdoors. Beware of using a porcelain coated cast iron sink outside. The porcelain can easily be damaged and when it chips, it can rust.
Outdoor sinks should be easy to clean, durable in all kinds of weather and wide ranging temperatures and low maintenance.
A stainless steel sink is a popular choice because it meets the criteria above. Stainless steel, however, comes in many different grades. When you are selecting a steel sink, make sure that you are getting one that is durable enough without denting. The chart below shows the various grades of stainless and which are suitable for outdoor kitchen or bar sinks.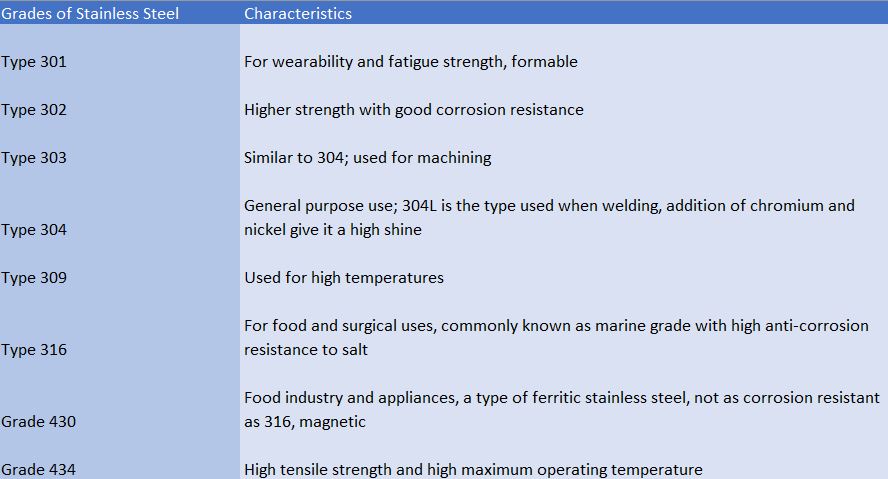 Quartz is a hybrid of natural stone and resins. It is extremely durable and will withstand the elements. Likewise soapstone is also natural but unlike granite and marble, it is non-porous so it won't stain. Soapstone is impervious to chemicals and heat and is a suitable surface for food preparation as defined by the FDA (Food and Drug Administration).
Cement sinks are molded. You can either buy a standard sized cement sink or your can undertake a DIY project and build your own. Concrete is not only impact, scratch and heat resistant, but it can be tinted in a variety of colors. When building your own sink, you can customize it to the exact inches deep, sink features and basin configuration you want.
Plastic resin sinks are usually found prebuilt and are also used for gardening, cleaning fish and stand alone sink stations. Portable folding outdoor sinks are a perfect solution for an outdoor sink when you need one in a hurry or your current outdoor kitchen doesn't have a built in sink.
5. Sink Styles
Now that you have a better idea of the installation type, location, how you will use your sink and your preferred sink materials, you can think about the style sink you want.
A small outdoor bar sink can be square, round, or oblong and can be a dropin bar sink (top mount) or an undermount kitchen sink type. An outdoor bar sink can be a single basin or double basin sink and it can have a drain board and may come with a protective cover. How you will use your sink defines its size, depth, and configuration.
The latest trend in stainless steel kitchen sinks is to turn the sink into a prep area with the addition of cutting boards, strainers and utensil trays. This trend extends to an outdoor sink top, as well, and helps expand the usable counter space on an outdoor kitchen counter top or bar counter top.
As with many indoor sinks, you can outfit your outdoor sink with soap dispensers or choose an apron sink with a stainless steel outdoor faucet. Hook up an instant hot water dispenser and you have everything you need to get your hands, dishes and barware squeaky clean.
Follow these simple steps and you will be able to narrow down your choices for an outdoor sink that will do everything you need it to do. All that's left is to find a budget you are comfortable with and you'll be on your way to the perfect outdoor sink.