Looking for Ideas for a Small Outdoor Kitchen and Bar?
Need a few ideas that maximize function and minimize space?
It's almost time to begin constructing the outdoor kitchen bar you've always wanted. We've assembled eight outdoor kitchen bar ideas that you can use right away. Instead of going out to eat, drink, and have fun with your friends and family, you can now do it in your own backyard.
For individuals who organize parties, barbecues, and social gatherings, and entertain guests, an outdoor kitchen with bars are a must. You can easily serve all of your guests while they eat delicious cuisine and mingle with other partygoers.
If you're not the kind to constantly ask people over, the outside bar might simply serve as a soothing spot to rest and enjoy the sunshine. An outdoor kitchen can be where you pursue your hobby of outdoor cooking and trying great new recipes.
There isn't just one way to construct outdoor kitchens and bars; you have a lot of alternatives to truly make the outdoor room your own. We'll go through eight different ideas to personalize your backyard kitchen and bar in order to get you ready for outdoor entertaining season. We'll also go over some things to think about before constructing your outdoor kitchen and bar design, as well as what you'll need to include in order to create your ideal outdoor space.
1. L-Shaped Outdoor Kitchen and Bar
It is amazing what you can fit into a small, 10×10 space.
For storage and use, the kitchen is split into zones. The hot zone takes up two arms of the kitchen, which is appropriate for an outdoor kitchen and bar that is all about diverse outdoor cooking techniques. The wood-fired oven is located on the rear wall, while the opposite arm has the electric smoker, gas grill, and side burners, as well as the Big Green Egg.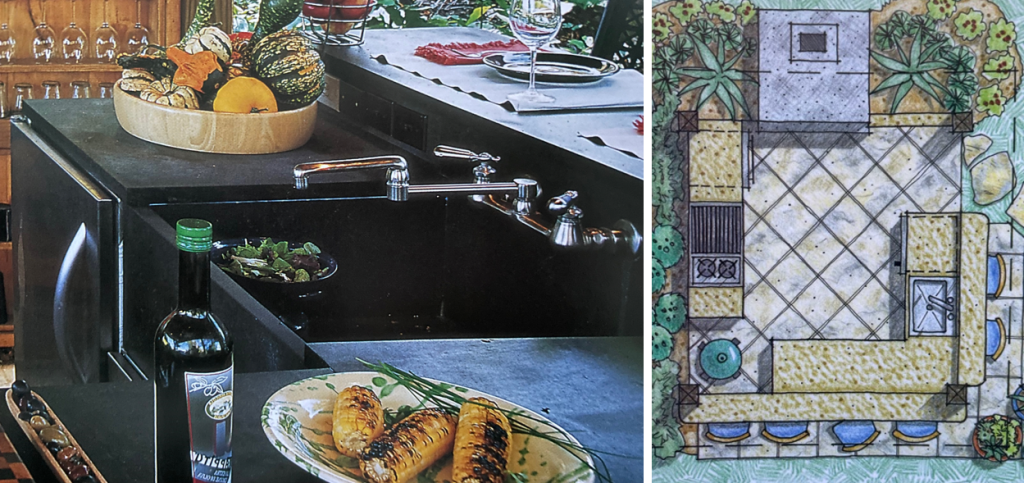 The dry zone is the only section without any cooking equipment; it features storage for plates and utensils, as well as a pull-out double garbage bin and numerous drawers in the cabinets. The food processor, blender, knives, and cutting boards are all kept on the dry zone counter, which also serves as the major food prep zone and has a service counter.
The last arm houses the wet zone sink and the cold zone under-counter refrigerator. There is an elevated service counter in the outdoor bar area with pull up bar stools. There is also narrow beverage glass storage nearby to keep serveware close at hand.
2. Nine Foot Long Linear Patio Kitchen
An indoor kitchen outside? Yes, it's possible if you have a covered gazebo or other outdoor structure you can close off from the elements. The design build of this outdoor structure is a nod to the summerhouses and pavilions which have been staples of garden and landscape design throughout the centuries.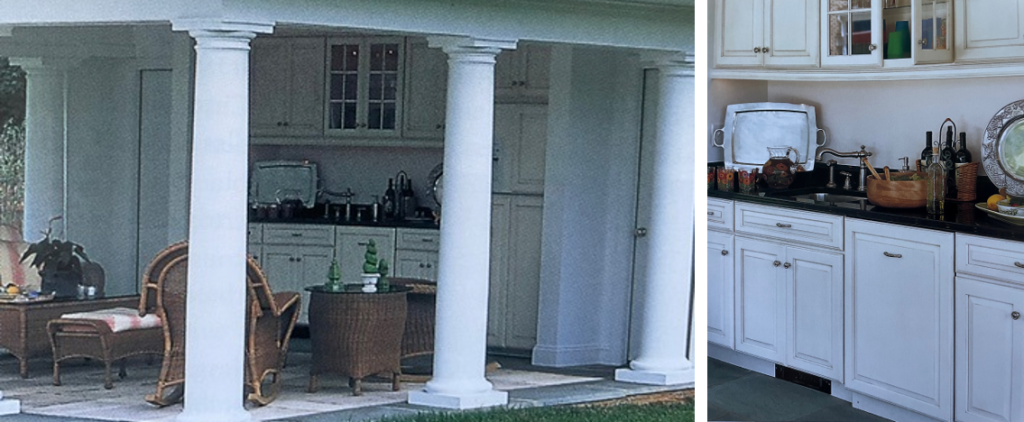 This outdoor kitchen and bar are made with indoor cabinetry. When the weather gets cold or wet, the kitchen gets sealed up with retractable doors. To maintain temperature in the kitchen area, electric heat mats are installed to keep the cabinets at a warm enough range that will ensure they don't crack or freeze. Although this patio kitchen is located in a mild climate, because indoor appliances and cabinets were used, the heat is necessary in case temperatures get below 40 F.
3. Outdoor Kitchen and Bar Built Inside a Gazebo
A gazebo can be the focal point of a well-designed landscape. These lush and private outdoor suites are full of comfort while also providing access to nature's many pleasures.
No matter what size gazebo you have, you can turn it into an outdoor sanctuary for entertaining and relaxation. When entertaining and visiting with family and friends, they will transform a landscape feature into a beautiful destination and gathering area. The benefit of having a gazebo as a destination is that it invites people out into the countryside and into nature while simultaneously reducing tension.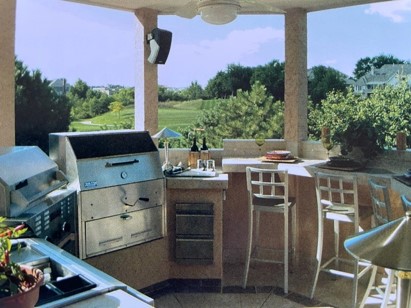 This compact kitchen and bar gazebo fits the wet zone, cold zone, hot zone and dry zone all in a 12 foot diameter space. Whereas most counter seating is located on the outside of the counter area, this gazebo incorporates it inside the space while still allowing for adequate room to work at the grilling station or sink.
If you have a little used outdoor covered space, take a few tips from these gazebo kitchen ideas and you will add hours of enjoyment to your outdoor living time.
4. Refreshment Center Island
Proof that an outdoor bar doesn't have to be big to be complete with the creative outdoor use of space shown in this stainless steel bar unit.
Beverage or refreshment centers are multi-purpose units that include a small sink, condiment bins, cap-catching bottle openers, bottle and glassware decks and shelves, additional storage, and trash cans. Surprisingly, all of this is contained within this 6 foot bar island.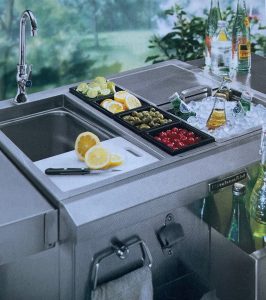 You can find outdoor bar sinks as freestanding multipurpose beverage centers or refreshment centers as both builtin units and portable units with wheels.  Consider including a speed rail and ice bin, as seen in this bar island, to make your bar more functional in a compact space. An integrated chopping board that slides onto the sink saves space while providing more prep area.
The advantages of this bar unit are many, but if you already have an outdoor kitchen and want to add bar functionality, this type of bar kitchen island is a quick solution.
5. Bar Island with Tile Countertop
When entertaining, this beverage refrigerator in this diy outdoor bar comes in handy. The countertop provides plenty of serving and prep space all in a 6 foot wide footprint.
Mirror this backyard bar island with bbq islands on the opposite side and you have all the function you need for outdoor cooking and beverage service in a very small footprint.
6. Limestone Outdoor Kitchen with Wet Bar
Outdoor kitchen ideas that embrace organic materials are an excellent place to start when deciding among several outdoor kitchen designs. This kitchen bar combo follows the contours of the home and its flagstone path. The soapstone counters provide contrast to the stacked stone limestone and pulls in the darker shades of the homes' brick façade.
The three arms of this kitchen include a hot zone with a gas grill and side burner and dual pizza ovens – one that is wood fired and another electric model. The wet zone includes a double bowl stainless sink. The cold zone features an undercounter refrigerator and wine cooler.
The fact that this kitchen and bar have been built on a city lot make it all the more inviting as an outdoor living space. Narrow as it may be, it has all the features of indoor kitchens in a secluded, small backyard retreat.
7. Not Exactly Builtin Small Outdoor Kitchen Bar
Using freestanding elements to complete your kitchen and backyard bar is a time and money-saving option. As this kitchen illustrates perfectly, your gas grill doesn't need to be builtin to create a builtin look for your kitchens, bars, and seating areas.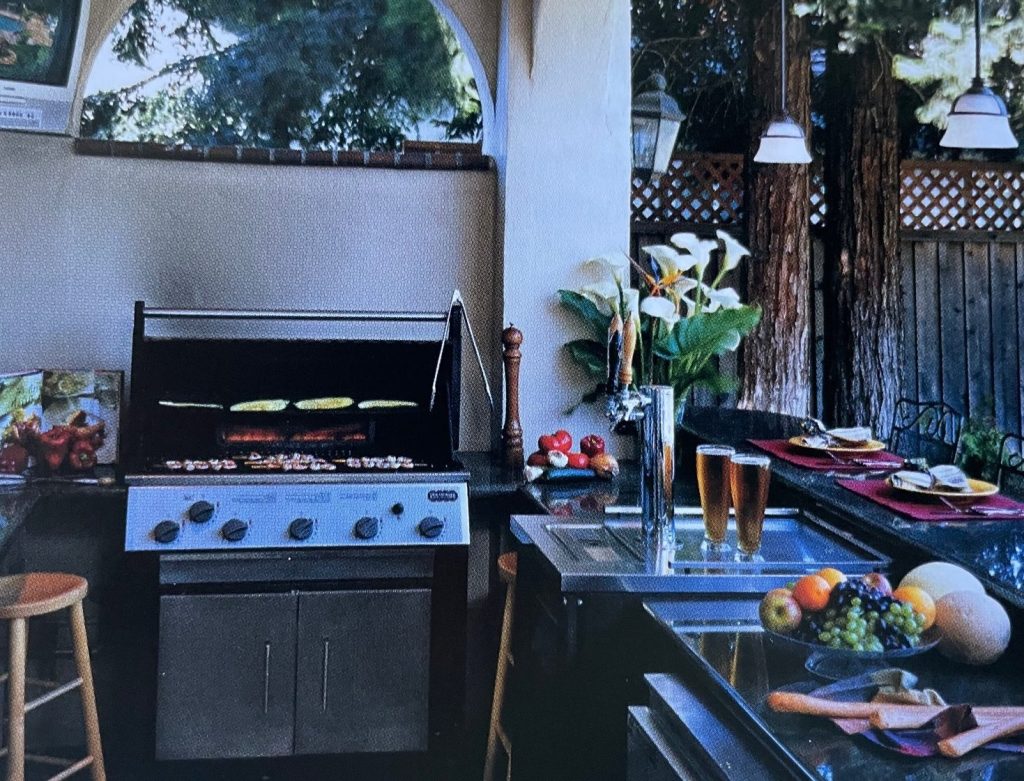 Arranging the undercounter refigerator in a short run of cabinets gives the appearance that this kitchen is a totally builtin space. Look closely and you'll see a few different freestanding prefab outdoor elements (such as the kegerator) which, when placed next to one another, give the appearance that they are built in. Tying all the disparate elements together is a bar height counter used for serving and dining.
Anchoring the apex of these kitchen designs is the homeowner's grill with a cabinet underneath for storage of pans, pots, grill utensils and a propane tank.
There's even a television tucked in under the roof line for convenient outdoor entertainment for guests while waiting for dinner to be served.
8. Small Footprint Outdoor Kitchen Designs
If you are looking for outdoor kitchen ideas or outdoor bar ideas and you are short on space or budget, then there is a solution.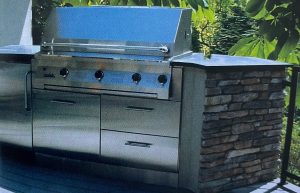 In less than seven linear feet of space, this bbq island incorporates a grill, storage, and an undercounter refrigerator. And lest you think that seven feet is hardly enough space, look again.
There is ample counter space on either side of the grill to stage and plate food items. The countertop over the refrigerator can double as a bar top before dinner or for game days when all you need is access to cold beverages and dips. And, as a bonus, this pint-sized backyard patio kitchen follows the cures of the deck to become an organic part of the outdoor living space.