Costs Involved in Building an Outdoor Kitchen
Outdoor kitchens are a common addition to any project involving outdoor living. The purpose of any outdoor living project is to keep people outside by eliminating the need to go inside and out of the house—and outdoor kitchens achieve just that.
Cooking outside and dining al fresco at an included or nearby seating area are options for homeowners. Because outdoor kitchens have become such a popular amenity, some homeowners will later decide to add one to an existing outdoor space.
While you may already have some ideas for the type of outdoor kitchen you want in your ideal backyard, you're undoubtedly curious about the outdoor kitchen pricing range. What can you acquire for the money you've set aside?
Outdoor kitchens vs. Indoor kitchens per square foot
The fact that outdoor kitchens are substantially more expensive than their indoor equivalents is a good place to start the discussion regarding outdoor kitchen cost. Building an outdoor kitchen entails weatherproofing it, protecting it from insect and rodent infestations, and ensuring that it can withstand high temperature and moisture swings.
This implies that components and cabinetry are made from different materials and in a different way so that they can withstand the elements and last for generations.
There have undoubtedly been projects when homeowners have chosen less expensive equipment or materials to reduce costs. Similarly, some homeowners have chosen all of the bells and whistles, which raises the expense. When it comes to outdoor kitchen prices, however, addressing the prevalent assumption that outdoor and interior kitchens are priced equally is a good place to start.
National Average Cost of Your Outdoor Kitchen by Build Type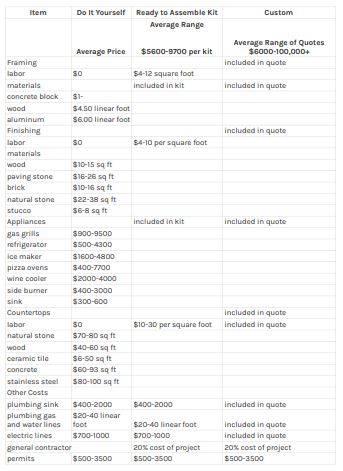 Outdoor Kitchen Designing and Building Process
Site Planning
If you're planning outdoor kitchen projects of any size or complexity, or if the surrounding landscape needs a lot of work, you should start by consulting a landscape architect or garden designer about how the kitchen will fit into the overall design of your home and outdoor space. Landscape designers are frequently referred to by contractors who specialize in outdoor kitchen construction as a first step because there's no use in building a kitchen unless landscape plans, routes to run utility lines, and planning permits are in place.
Often, such experts can give recommendations that will help you save money. Decide if you want them to prepare a thorough plan, complete with planting choices and location, and discuss their pricing (they may work on an hourly basis or charge you a fixed fee for design work). They can analyze and offer comments if you have created your own design strategy. A landscaping professional or garden designer will want to inspect the site for themselves, so you should have a good idea of what you want in terms of aesthetics and where you want your outdoor kitchen to go.
Some landscape designers also implement hardscapes, patio ideas and gardens, while others may design them but delegate all or part of the installation to a contractor or landscaper.
You can consult an architect on any custom-built pieces, such as a deck, poured concrete patio, pergola, or pavilion, once you have a landscaping plan. An aerial view, an elevation, and construction details will be included in the architect's sketched or computer-generated drawings which should include hot and cold zones, food prep and counter space areas.
In terms of an architect's time, the types of tiny projects that make up garden structures are often affordable especially with today's design software. For a sophisticated deck or modest shelter, expect to pay several thousand dollars. Alternatively, if you desire a small, traditional construction, you can save a lot of money by ordering a prefabricated structure instead of hiring an architect.
2. Methods of Completion
You have a few options for getting the work done once you've decided your site strategy and design.
Custom with a General Contractor – Most Expensive – Costs Range from $6000 – $100,000+
Design/build firms handle all aspects of a project, including outdoor kitchen design, construction, and installation, for a single fee. There are more and more design/build companies that specialize in outdoor kitchens, frequently in collaboration or consultation with a landscaper. The benefit of using such a company is that you can get a fixed price for the entire operation, knowing that they are experienced in dealing with the problems and surprises that come with outdoor kitchens.
You can engage a general contractor to complete all of the work after you've established your plan, or you can collaborate with a contractor to develop a plan. Permits must be obtained by a contractor. Zoning and building codes may exist in some areas, and the contractor should inform you of these local codes, though they should also be triggered by the permitting procedure. The contractor will order supplies and organize deliveries, as well as plan for the building and installation of all of the project's many components.
The contractor constructs the actual kitchen components and, if one is not already present, any structures such as a deck or patio. He or she will construct or install site-built or manufactured cabinets, as well as appliances. He or she will also be in charge of coordinating the electrical and plumbing contractors.
A contractor who has erected several outdoor kitchens and has chosen to specialize in their construction is known as an outdoor kitchen specialist. As a result, he may be more comfortable with the types of difficulties that such initiatives entail and how to solve them.
You should keep in mind that good contractors are frequently booked up to a year in advance, so you may have to wait. Also, some contractors will only work on jobs of a specific size – if yours isn't large enough, you'll need to locate someone who works on smaller assignments or is less well-known or experienced.
A contractor can be a one-person operation doing mostly carpentry, or a larger group with masons, electricians, plumbers, and carpenters.
The person you hire will be able to inform you whether he is subcontracting parts of the task or if he has the capacity and licenses to take care of everything himself.
When you employ a contractor, you may have the option of paying for labor and materials plus a defined markup, or your contractor may offer you a fixed contract price that includes a profit. A contract price is higher than a time and materials agreement at the outset of a project.
This may not be the case in the end, as unforeseen events might significantly boost your final labor costs if you pay by the hour rather than by the hourly rate. Even a contract pricing agreement will have stipulations that allow for price hikes if the design is changed, as well as disruptions or surprises.
Make sure you and your contractor go through all of the design details to ensure you both understand what is being done. A contractor may wish to make changes to the design for aesthetic or functional reasons, as well as to save you money. Take these suggestions into consideration and consult with the designer and architect to make an informed conclusion about these alternative kitchen ideas.
Make sure the contractor is prepared to accept responsibility for any changes by ensuring that the change will work or that he will correct it if it does not, especially if the change is structural. To ensure clear communication and to document your agreement, get all modifications written down and signed by all parties.
The contractor should give you a list of supplies and their cost estimates, as well as an estimate of labor costs. You should have done some research on the costs of appliances, supplies, and installation labor, and then added them all together to get an estimate of the building cost. It is recommended that you add 10 to 20% to this figure as a contingency cushion to account for unanticipated modifications, additions, or material price hikes.
The complexity of a custom project is one of the many reasons why a custom outdoor kitchen is the most expensive option for getting an outdoor kitchen built with costs averaging in the $20,000 range. A small outdoor build can cost as little as $5600 and a larger build can easily top $100,000.
Ready to Assemble/Prefab Outdoor Kitchen Kit Costs
You've calculated the cost of outdoor kitchens and are experiencing sticker shock. Kitchens that are custom-built typically start at $6,000 and go up from there — by a lot. An outdoor kitchen kit, usually with a few simple hook-ups, can be a more economical option for the DIYer with some basic skills. While you can still spend a lot of money on an outdoor kitchen kit, the wide selection lets you choose your own budget.
Doing the assembly and connect ups yourself is a great method to save money when you build your outdoor kitchen from a kit.  If you are not handy, you can hire a contractor to do the assembly and hookups for you.
A ready-to-assemble kit may be the best option for your outdoor cooking space if you're trying to find a less expensive and easier way to install an outdoor kitchen. Because it is a kit, think of it as a design tool and material supply all rolled into one.
Manufacturers have simplified the engineering and manufacturing processes to make putting up your outdoor kitchen with outdoor grill set as straightforward as possible.
Bbq island kits come with a high-quality finish, countertops, and appliances and are shipped directly to you. It is truly a one-stop-shop experience when working with ready-to-assemble outdoor kitchens.
Everything you'll need to build your perfect outdoor kitchen arrives in one box, ready to assemble in your garden.
DIY outdoor kitchen kits are a terrific way to get started on your own outdoor kitchen. You can construct an entertaining room in days rather than weeks with these kitchen and fireplace kits.  You must, however, have a surface to construct the prefab kitchen on such as a concrete patio or deck built beforehand.
Precut concrete blocks, wood, or aluminum frames are included in DIY outdoor Kits. They also come with granite, limestone, or pre-cut countertop space, making it easier and less expensive if you don't have the skills (or knowledge) to cut your own materials or know how to install the sink, drawers, builtin grill and storage space.
Outdoor kitchen kits, prefabricated outdoor bar kits, DIY BBQ islands, and outdoor kitchen island kits may all be constructed in an afternoon or less. And, there are so many configurations and different manufacturer price points, you can certainly find the kit that hits your budget exactly.
The kit you choose will cost the same whether you assemble the kit yourself or hire someone to assemble it for you. The big difference in price is labor costs which can amount to 30 to 40% of the kit installation costs if you hire out the kit assembly. Add to that cost utility lines such as gas lines, water lines, and electrical lines which are not included in a kit.
Complete DIY Outdoor Kitchen Build
Clever DIYers have built basic outdoor kitchens for under $500 cash out of pocket. These individuals have serious DIY skills or are contractors or tradespeople themselves. Having an outdoor kitchen built entirely of their own labors is a creative pursuit and one they take great pride in.
Salvaging materials from prior jobs, using recycled raw materials and just plain ingenuity saves these individuals thousands on the cost of an outdoor kitchen build. Typically, they use existing patio space or a backyard deck to save on costs.
Where the DIYer and non-DIYers are on the same level is the cost of purchased new materials, price of an outdoor grill and other appliances which are where they spend most of their budget. If one is using salvaged lumber to frame a small grill island, and leftover tile or stone to face the frame and are doing all the labor oneself, then the only real costs are the cost of propane grills. You can see why so many DIYers gravitate towards building outdoor kitchens – they are a low cost home improvement for them that can return up to 200% of their value in increased home value.
Location Factors that Affect the Cost of an Outdoor Kitchen
There is a significant cost difference between an outdoor kitchen near the house vs. away from the house.  The closer the kitchen is to the house, the less it will cost to run utilities from inside the home to the patio kitchen.  You might also need fewer appliances outside if you intend on using your indoor sink or indoor refrigerator which saves on costs.
How Much Did You Pay for Your Outdoor Kitchen?
Estimates and ranges are good for the planning stage when you are gathering information about what is involved in building your outside kitchen.  There is nothing like seeing real-life examples of what people actually spent on their projects.
Below, we've assembled a few real life examples of outdoor kitchens which should help you zero-in on a reasonable budget for your outdoor kitchen project.