Does an Outdoor Kitchen Add Value to Your Home?
Outdoor Kitchen Value Guide – Is the ROI Worth the Investment?
Nearly all home improvements carry a positive ROI, but should you spend your home renovation budget on an outdoor kitchen? Does an outdoor kitchen add value to your home?
According to remodeling industry statistics, an outdoor kitchen yields an average return 60% of its cost in an increase in home value.  The National Association of Realtors statistics put the ROI higher, at 71%.
In recent years, however, this number has been as high as 100%. Projects that once paid for themselves are no longer adding as much value due to escalating real estate and construction prices. According to the Remodeling research, homeowners will only recoup 56 percent of their renovation costs on average for a home improvement project. As recently as 2017, the average was 64 percent.  That makes adding an outdoor kitchen, at 55% ROI,  just average in terms of financial return on investment.
The Outdoor Kitchen – A Lifestyle Choice
One of the most desirable home features for potential home buyers is an outdoor kitchen. Popularity of outdoor kitchens is growing and not just in the warmer climates of the country.  Many folks choose an outdoor kitchen for its entertainment value, not just for ROI.
Over half of all Americans are using their spaces for cooking, according to an International Casual Furnishings Association January 2021 survey.  Half of those people are looking to get a positive ROI on their investment in an outdoor kitchen living space.
The Intangibles vs. the Tangibles
There are tangible returns on investment and intangible ones – both apply to outdoor kitchens and any other home improvement project.
Tangible returns are things like an increase in the value of the home, that is, money you can put in your pocket.  Intangible returns are those that you can't put a dollar and cents value on such as time spent with family when you enjoy and install an outdoor kitchen.
Here are the top tangible and intangible returns on investment in an outdoor kitchen:
Outdoor Entertaining Fun
When you have a get-together with family or friends, the outdoor kitchen becomes the focal point of the festivities on outdoor patios.  We questioned outdoor kitchen owners, and the response was overwhelmingly positive. The number one advantage of having their own outdoor livings kitchen is that they have more fun entertaining.
You'll want to invite guests over to show off your new outdoor kitchen and demonstrate how delicious food can be when properly cooked. When you enjoy your outdoor spaces, cooking is fun.
Return on Investment (ROI)
Outdoor kitchens provide the best return on investment of any product in the "outdoor renovation" category. Outdoor kitchens return 50 percent to 200 percent of the cost of remodeling. The ROI formula, like any other upgrade, works if you design and install a kitchen that is proportional to the home's worth and location.  The key word is proportional. You can over-spend on an outdoor kitchen just like you can over improve an indoor kitchen. When figuring out a budget for your outdoor kitchen, keep in mind home values in your neighborhood and if an outdoor kitchen is a desired feature among potential buyers in your price range.  Prospective buyers will expect an outdoor kitchen if all the other homes in your area have one.  Your resale value will suffer in comparison if you don't have one.  This is a cost vs benefit analysis your real estate agent can help you put a number on.
Cost Effective
It is not inexpensive to eat out at a restaurant. The cost of transportation, food, tax, and tip can quickly mount up. Outdoor kitchen owners spend their money on high-quality seafood and meats to cook on a professional grilling surface. The food will be on par with, if not better than, that of your favorite high-end eatery for a fraction of the cost.
Consume a healthier diet
Another problem with eating out is that you never know what ingredients were used to make the cuisine taste delicious. We all know that restaurants use a lot of butter, oil, salt, and other ingredients in their meals that add extra calories and fat. You have complete control over the components that go into your dish when you prepare it. Your meal will be just as wonderful without all of the unknown and unneeded additions.
Saves money on energy
New infrared grills reach maximum cooking temperature and cook food in half the time. As a result, a propane tank can go a long way. You may move the entire cooking procedure outside by using the side burners on your barbecue.
Consider how much it would cost you to use your kitchen stove and/or oven 3-5 times per week. There's also the advantage of not having to heat your air-conditioned inside space every time you cook.
Visual Appeal
An outdoor kitchen is the perfect addition to your lanai. Whether you add a small kitchen, a bar-height island for entertaining, or an L-shaped island, your outdoor space will receive a visual upgrade.
Increase Usable Square Footage
Your kitchen (as well as your outside gathering area) and your property values will grow in size. Consider how many times you've fantasized of having a larger kitchen in which to cook, spend time outdoors with family and friends, and entertain. While upgrading or enlarging your indoor kitchen is a viable choice, building an outdoor kitchen is usually a more cost-effective solution.
Backyard kitchens are becoming increasingly popular because they increase the area of your property (and essentially increase your kitchen size). When you invest in an outdoor kitchen, you are creating a new area in your house – one that is outside but yet completely functional for eating, playing, and relaxing. Why rush in and out of the house when you can have everything you require outside?
If you like to entertain, an outdoor kitchen will not only increase the size of your outside space, but it will also impress guests. Your new outdoor kitchen can provide an intangible return on investment for your outdoor kitchen cost – hosting dinner parties and gatherings at home suddenly becomes more tempting than dining out.
Building an outdoor kitchen is more than a luxury: these backyard gems can increase the value of your home and that's on top of your own enjoyment of outdoor dining.
If you are considering an outdoor kitchen, you'll be comforted to know that the dollars you spend will convert to a positive ROI for your project.  As a comparison guide, here's a rundown of the ROI of other home remodeling projects you may be considering: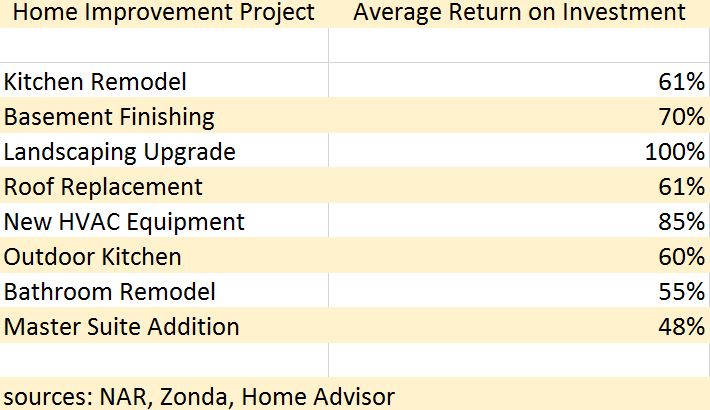 If your goal is to increase home value when selling your home, then adding an outdoor kitchen falls somewhere in the middle of potential ROIs for home improvements.  But when you calculate both the tangible and intangible benefits of an outdoor kitchen, you might be surprised at how valuable those intangibles are to your quality of life.  That, of course, is priceless.