How to Stock a Backyard Bar and Full Bar Liquor List
Now that you've got your outdoor bar finished, have you thought about how you are going to stock it to make sure you have everything you need for family and guests during your next happy hour?
The advantage you have over a commercial establishment is that you know who your guests are, what they drink and how they like their drinks mixed. Unlike public bars, you will never have to say that you are out of such-and-such when someone pulls up a bar stool at your bar. A good host or hostess has planned to stock their bar with everything they need to make sure each guest has their favorite libation.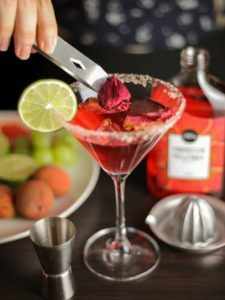 Stocking a bar involves more than just the liquor, beer, mixers and other beverages.  There are other supplies that are needed to prepare and serve each type of beverage and you'll want to consider your options for these accessories as well.  And, there are also appliances which will help reduce the number of trips you have to make indoors.
This article will outline the types and quantities of beverages you will need to fully stock your bar or bar cart. We'll also delve into the optimal number of serveware and tools needed.
Before we get into the numbers, you'll want to consider your bar theme, or look or design.  There are so many options out there for each tool and type of glassware, that it is easy to get distracted and buy a lot of items that totally ruin the look of the bar  and outdoor space you just built.  Keep in mind if your bar is rustic, contemporary, tropical tiki bars, or traditional when you select accessories.  You want to reinforce your look and feel, not conflict with it.
Another topic to consider is clutter. You have built your wonderful outdoor bar so you have enough room to store, mix and serve your guests. If you clutter up your space with too many accessories and knick knacks, you will lose your work space, your guests' personal space, and defeat the whole purposes of having a backyard bar.
This doesn't mean you can't have fun with your choices, it just means that you should be consistent. Take a cue from your favorite watering hole. You'll notice the consistency in their choices for glassware, tools and decor.
Bar Tools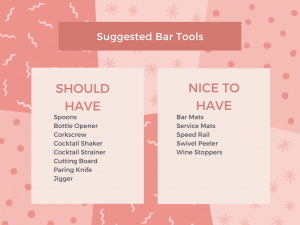 There are many bar tools and bar set which shopping guides tell you that you have to have in order to have a fully functioning outdoor bar. We've broken down the tools into two groups:  'should have' tools and 'nice to have' tools.
Again, we don't tell you which to buy or which are best.  We leave that up to you. But there is a certain level of quality and durability and a price point at which you will be happy, and that is where you should keep your selections when you entertain outside.
Liquor Selections
Unlike a commercial bar, you really don't need to categorize your liquor selections into well, call and premium.  Buy what fits your pocketbook and your preferences. Unless your guests are frequent and you know their brand preferences, it is not necessary to have their exact brand on your shelf.  Most guests will be happy with whatever brand gin you have if they ask for a gin and tonic.  However, if you are a frequent guest at someone else's home and they specifically stock your brand, you should do the same for them.
People understand when you are entertaining lots of guests, it is not possible to know everyone's drink preferences and favorite brand. Small, regular groups of friends is another thing entirely.
Here are the spirits you should have on hand:
vodka, gin, rum (light, dark), tequila, whiskey (bourbon, rye, Irish, Scotch), vermouth (sweet, dry), triple sec and bitters (old fashioned, orange)
How many of each and the brands you prefer are completely up to you. Space is always a consideration.  Pub sheds have more space than the average bar patio, and you can greatly expand your bottle inventory if you have the space.
Wine Selections
When it comes to wines, you'll want to keep your selections as simple and recognizable as possible.
Choose one light bodied red wine such as a pinot noir and another full bodied red wine such as cabernet sauvignon. You can get caught in a rabbit hole adding too many varietals.  Keep it simple.
The same goes for white wines.  A good mix is a light bodied pinot grigio and a more full bodied white such as chardonnay.
You can add a selection of sparkling wines as well.  Choose a sparkling option that can be enjoyed on its own and that can be used in cocktails.
Beer Selections
It's your choice whether you want to serve been on draught or in bottles or cans.
Most commercial establishments pull from four different kegs ranging from light lagers, amber ales, IPA and stout beers.  Cans or bottles are completely up to you whether you want to stock more than one popular brand and in regular and/or lite.
Serving Ware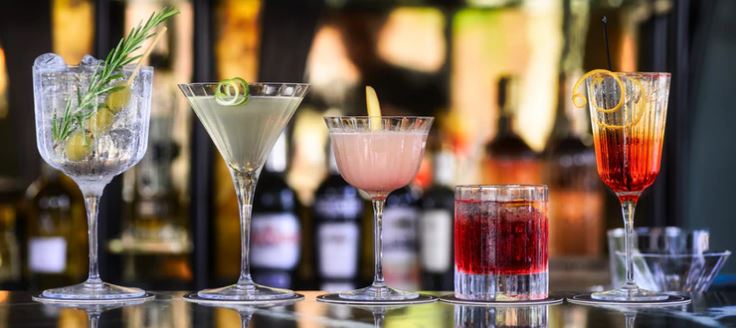 The most difficult decision you have to make when choosing serving ware for your outdoor bar and entertaining area is whether you will use glass, acrylic or disposables.
Glass has its advantages.  When properly cleaned, it looks and feels familiar to your guests.  Glass drinkware, especially outdoors, elevates your event from picnic-level to dining experience.  If you are not worried about an occasional broken glass, and you like to keep your outdoor entertaining on par with your indoor parties, then by all means, glass is your best option.
You will have significantly more choices in looks and styles if you choose glass.  And, glass also has the advantage of not having an aftertaste that is sometimes present with plastic glasses.  Further, if your outdoor patio bar has an outdoor kitchen nearby, there might just be a dishwasher handy to keep those glasses sparkling clean for your next party.
Acrylic drinkware is becoming more and more popular because of its ability to look like glass and because it is unbreakable.  Acrylic's wide range colors can liven up your bar decor and outdoor decoration.  And, acrylic can be formed into interesting shapes, which can complement your bar's theme.
If you are concerned about breakage on your patio deck, or are having an especially large gathering where you will need more than a normal amount of drinkware, then disposables can be a lifesaver.  Plastic cups, tumblers and even champagne glasses are available in party stores near you.  If your pool bar entertaining area includes a swimming pool, plastic might be the best choice to keep broken glass or acrylic shards from becoming a danger to bare feet.
Finally, remember that you can always rent glassware for large gatherings if you don't entertain huge groups that often.  Not many outdoor kitchen bars have enough space to warehouse enough glassware for crowds of 25 or more.
What you Will Need
It has been said that over ninety percent of all drinks can be enjoyed from a rocks, collins or cocktail glass.  Specialty drinks have their own traditional drinkware such as margarita glasses or tempered mugs for hot buttered rum drinks.  Unless you serve these specialty drinks, you really don't need to have these types of drinkware on hand.
We recommend these glasses for a fully stocked bar:
Glassware is usually sold in sets of 4.  Depending on the size of your typical guest list, 8 of each type of glass will suffice nicely.  Glassware takes up shelf space and unless your bar is quite large, you don't want to be storing glassware that you will only use rarely.
Outdoor Decoration for Your Backyard Bar
Whether you have a bar counter, outdoor kitchen bar, bar cart of dedicated diy bar, your bar should reflect your entertaining style and coordinate with your home's architecture.
Many diy bar builders forget the importance of lighting when designing their bar.  Entertaining out of doors doesn't stop when the sun goes down.  You can choose to add led lighting to your bar which won't attract bugs after dark or add a string light or two which will help set the mood.  Neon signs are a popular decorative item that entertain as they illuminate.  We've seen bars with metal sign behind the bar counter spotlighted for drama and ambient lighting.
Happy hour can include some bar tables or wine barrel bar stools or even take the form of a tiki bars near your pool.  These items will set the theme for your outdoor entertaining venue.  Your outdoor patio should have enough seating for all your guests and a place to set their drinks.
We hope these outdoor bar ideas will inspire bar designs that are uniquely your own and complement your entertaining style.