Shade Strategies for Decks and Patios
When entertaining indoors, the weather is not a primary concern. Guests are sheltered and temperature is controlled. Outdoor entertaining poses challenges that good hosts anticipate and solve before invitations are sent out.
When hosting guests during daylight hours, access to enough shade for everyone is very important to the overall enjoyment of the event and to the well-being of guests. Shade is important no matter what the temperature as the sun's UV rays can become uncomfortable after even a short while.
There are three principle strategies for providing shade on your patio, deck or lawn when you are entertaining.
Natural Shade– Nature's solution to shade is a well-placed tree or two. Landscape designers will include shade trees not only to shade houses from the beating sun to help save energy costs, but also to shade outdoor spaces such as patios, decks and areas of the garden. Shade can also come from vines which can be strategically planted for arbors and pergolas.
Purchased Shade– Items such as umbrellas, shade sails, awnings, tents, outdoor curtains, roller shades and canopies fall under the category of shade solutions that can be bought and integrated into your outdoor room design. These solutions are typically the quickest way to shelter your entertaining spaces from the sun's harmful rays. Additionally, these solutions can be lifesavers when the occasional unexpected rain shower occurs.
Build or DIY– Outdoor structures are more permanent solutions to shade your outdoor entertaining rooms. Pergolas, roofed enclosures, gazebos, tiki huts, palapas all fall under the heading of structures which have a roof to shelter outdoor living areas. Homeowners can choose to hire a contractor to construct these structures or if handy, choose to DIY their outdoor project.
Natural Shade Solution Ideas
Shade Trees
When selecting trees to shade your entertaining spaces, you will want to check to see which species of trees are appropriate for your region and climate.  Choosing fast-growing trees is a way to save money and provide for a permanent solution to shade your outdoor rooms, deck or patio.  Other than feeding the tree and providing the right soil, an occasional trimming is all you need to do to keep the tree healthy and manageable in size.  Trees are a permanent shade solution that enhance your landscape.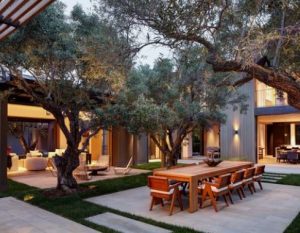 Vines
Vines can quickly fill in the gaps in pergolas to provide more complete amount of shade than the pergola can on its own.  They are also very useful to enhance the shade on open fencing, walls, lattice structures and arbors. Common vine options are grapes, wisteria and bougainvillea.   Some species of vines are known to grow 10 feet per year making them ideal choices for quick shade solutions.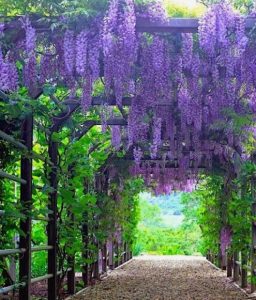 Instant Shade You Can Buy
Patio Umbrellas
Patio umbrellas are one of the first options you think of when you need shade and shelter on your deck or outdoor room. There are so many outdoor umbrella styles, colors and sizes to choose from, there will be a perfect umbrella for your entertaining space.
Keep in mind these purchase options when selecting a patio umbrella:
The umbrella should be sized to cover the entire dining table or conversation area.
Cantilever umbrellas are much larger than traditional patio umbrellas, but they have the added advantage of having their support completely out of the way.
Remember when selecting a patio table umbrella that you will be raising and lowering the umbrella. A crank mechanism may be easier to reach than a market style umbrella for ease of deployment.
When purchasing several umbrellas for a large space, consistency is preferred. All the same size, shape and color will provide a cohesive look to your outdoor spaces and provide plenty of shade.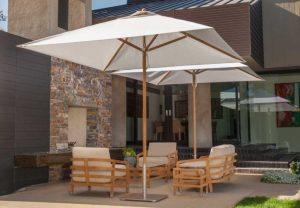 Shade Sails
For a decidedly modern twist, consider shade sails for your outdoor living area on sunny days. Sails are primarily rectangular or triangular in shape. They are supported by poles or attached to permanent structures. They must be angled to provide the most shade as well as to shed water during a rain storm.
Shade sails are pocketbook friendly and are available in cotton, nylon, and polyester fabrics. All shade sails have a UV protection rating which indicates how well the fabric performs. Shade sails are generally larger than other shade options and because they are suspended, don't have center supports which can interfere with traffic flow or furniture placement.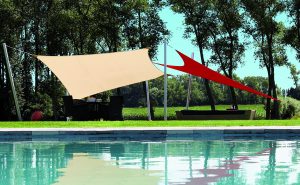 Awnings
Awnings have come a long way since their early origins in ancient Egypt. The metal awnings of the 1940s have given way to modern versions made from cotton, polyester, and canvas which can be stationary or motorized.
Because awnings are attached to a structure, they are sturdier and provide a clear span, that is, no support posts to interfere with furniture placement or outdoor structures such as kitchens or outdoor bars.  Retractable awnings give you the option of shading your patio or not depending on the time of day.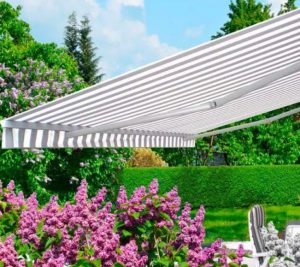 Tents
Tents and pop-up canopies are perfect options when you need shade only occasionally. For large gatherings that spill out into your yard, such as backyard weddings, a tent or series of pop ups will provide the necessary shade for a limited amount of time.
Tents can be quite expensive to purchase and you need to be skilled at the rigging and staking to secure the tent properly. Most people rent large tents for those reasons. Pop ups are a nice alternative if the crowd is not too large and you want to have the pop up for parties you have more often. Remember too that some communities require a permit if you want to erect a tent for special events.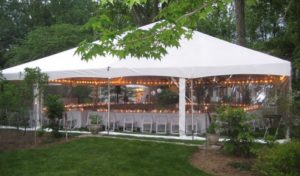 Outdoor Curtains
At different times of the year, the sun moves to different positions in the sky. Your fully shaded porch or patio may not be fully shaded at other times of the year. That's when outdoor curtains come to the rescue.
Outdoor curtains, just as inside the house, can be pulled or opened as needed. In addition to shading an area, they can also provide wind protection which can be especially important when entertaining outdoors.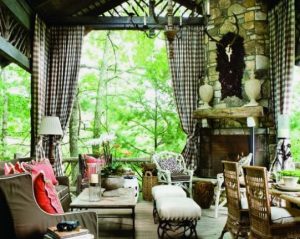 Roller Shades
There are times when you need more sun protection than your covered porch or balcony provides. Especially early in the morning or late afternoon when the sun is low in the sky and no amount of overhead covering will do.
Outdoor roller shades are the answer to shading your entertaining area. They can be hung from a patio or balcony roof. Outdoor rolling shades can be purchased in various degrees of "openness". Openness describes how much light is allowed through and how much privacy the fabric provides.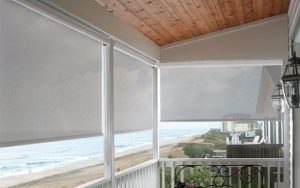 Build or DIY
If entertaining outdoors is part of your DNA, then more permanent shade solutions might be your best option. Here are the typical structures homeowners have employed to provide permanent backyard shade solutions.
Pergolas
Pergolas are a versatile solution for a shade structure that can be DIY built, professionally built or even ordered online as a kit. The amount of shade they provide is dependent on the position of the sun and how the roof members are positioned.  Kits help make this type of DIY outdoor project much easier for even novice builders.
In very hot or sunny locations, you can install fabric covers over the roof to provide supplemental shade for your pergola. There are even pergola kits which have mechanical, retractable fabric coverings which help shade the space underneath as they provide rain protection.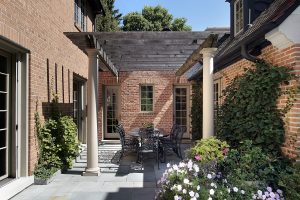 Patio Roof
A permanent structure might be your answer to shading your patio entertaining space effectively. If your lifestyle dictates a lot of outdoor entertaining or you spend a great deal of family time outside, a roof over your patio will also protect the hosts as they work in an outdoor kitchen or tend bar behind an outdoor bar. This type of shade cover can also improve your home value but may require a building permit in your community so it is best to check with your city building department to see if one is required.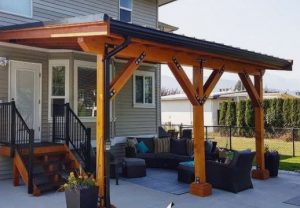 Shade is an important consideration when entertaining outdoors.  With so many options, there is a surely a shade option that fits your timeline, budget and decorating taste.  Don't forget that you can use your gazebo or tiki hut or palapa freestanding structures as entertaining space for a shade solution that is uniquely yours.