Types of Outdoor Patio Umbrella Stands and Bases
If you've chosen to shade your patio or deck with a patio umbrella, then you need to have something to hold the umbrella upright safely. Safety is one of the reasons to get a patio umbrella stand or base.
Most all outdoor umbrellas come with a canopy and a frame which includes a pole. What holds the umbrella vertically, a stand or base, is a separate purchase decision and is not included with your umbrella purchase unless you are buying an offset cantilever umbrella.
What is the difference between a patio umbrella stand and a patio umbrella base?
An umbrella stand is a heavy weight the umbrella pole is inserted into which secures the umbrella pole in the base, holds the umbrella vertically, and is heavy enough of an anchor to prevent uplift.  Typically, a stand is required when the umbrella is free standing on your patio or deck.
An umbrella base's sole purpose is a place for the umbrella pole to terminate in.  When used with a dining table or other decorative table with an umbrella hole, the table's hole actually keeps the umbrella vertical.  Generally, an umbrella base is shorter and doesn't have a vertical cylinder to support and guide the pole vertically.
All that being said, people use the terms interchangeably.  But now you know the technical difference.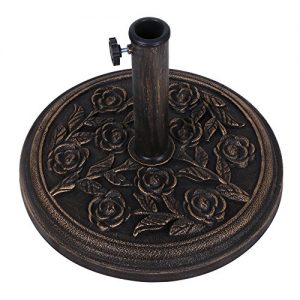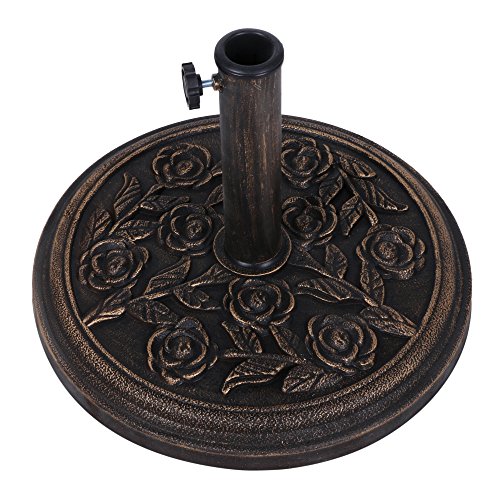 Which Umbrella Type?
Most all outdoor umbrellas, including garden/parasol, cantilever (offset) and market umbrellas, require either a stand or a base.
There are exceptions to the above. Beach umbrellas have a spike on the end of their poles to make it easier to shove the pole down deep enough in sand to hold it upright. Another exception is chair umbrellas which typically have a c-clamp to hold the umbrella to the frame of the chair.
You can purchase receptacles that you can have embedded into a cement patio to hold an umbrella.  These are obviously permanent and can't be moved.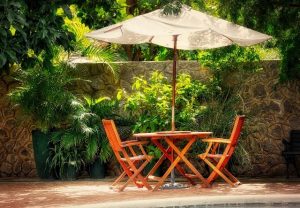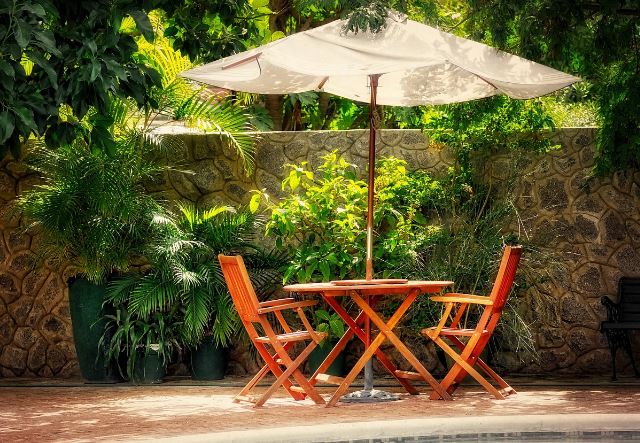 Where Will the Umbrella Be Positioned?
If the patio umbrella will be for a dining or side table and you are using the center hole to thread the umbrella pole through, then you need – at a minimum – an umbrella base.  In a protected area, you may not need anything more than a lightweight receptacle to hole the bottom of the umbrella pole.
A free standing patio umbrella, to shade your outdoor kitchen or a seating area, will need an umbrella stand. The stand will need to be heavy enough to secure the umbrella totally to prevent canopy uplift. 
An offset or cantilever umbrella needs a specialized stand of extreme weight.  Cantilever umbrellas usually have very heavy canopies and extend over a wide area. The base needed for this type must have a large footprint and significant weight. Most cantilever umbrellas come with a weighted base.  However, there are some that have an X-shaped base which must be bolted into a deck or patio.  These are not sufficient on their own.  
What Height and Weight Should My Stand or Base Be?
The ideal weight of your umbrella base or stand is dictated by the diameter size of your umbrella's canopy.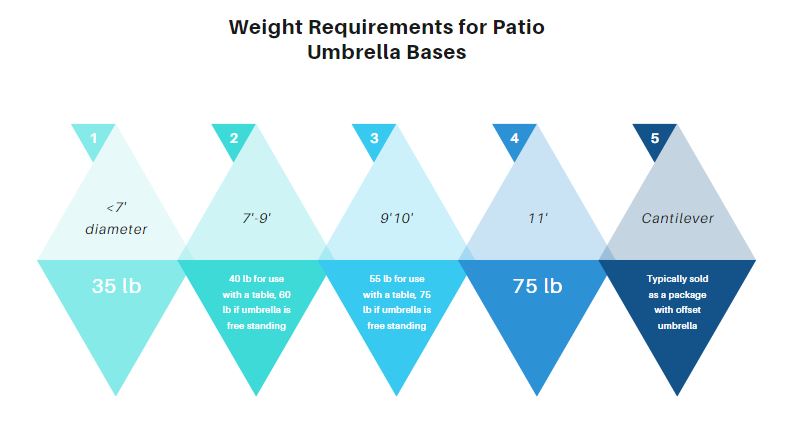 Cantilevered offset patio umbrellas are typically supplied with a base because of the different support structures each manufacturer designs. A base not only has to hold the canopy, but also allow for its offset weight and not tip over.  Bases for offset umbrellas  start at 100 lbs.
If your existing umbrella base is not heavy enough for your new, larger umbrella, there is an easy solution. Manufacturers also make weights (much like you'd add to a barbell) which can be added to your existing base to improve stability of the larger canopy.
How tall your umbrella base is depends on whether it is free standing or for use under a table where you have height clearance considerations.  Some bases come with dual height stems so you can use your base with a table or by itself.
Umbrella Base Construction
To provide the needed weight to anchor an umbrella, umbrella bases and stands are made from heavy weight materials. The most common base materials are steel, cast aluminum, cast iron, concrete, stone, cast stone and cement. The material doesn't matter just so it is weather resistant. The weight of the base is what matters.
There are also molded resin bases which are extremely light weight. To add weight, you add water or sand to the reservoir to provide the ballast weight.
If you are ordering your base stand from an online source, be aware that shipping weight will add to your cost of the umbrella stand and that could be pricey. A resin base might be a better alternative if shipping is involved in your transaction.
Price Ranges of Umbrella Stands
The least expensive patio umbrella bases are the hollow resin type. Other composite materials bases start around $80 and go up to $1000 for the heaviest bases for cantilever patio umbrellas.
Other Patio Umbrella Stand Considerations
You should measure the inches in diameter of your umbrella and make sure that the base tube is large enough to accept your umbrella's pole.  Aluminum patio umbrella pole diameters and wood market umbrella poles can have different pole diameters.  
The shape of your backyard patio umbrella base is not as important as its weight.  Choose a design or style that goes well with your overall decor.  A round base that weighs 55 pounds will do as good a job as a square base that also weighs 55 pounds.
If you are choosing a steel base, make sure it is powdercoated steel.  Steel will rust if not coated and will leave rust marks on your patio surface. Cast iron umbrella bases should also be coated to protect your surfaces and prevent rust.