Everything You Need to Know About Fire Pit Tables
One of the basic tenets of decorating is that every space needs an focal point. In your living room, it might be a fireplace or armoire. In your outdoor living spaces, it can be an outdoor gas fireplace, a media center, a dining table, gas fire pit or an outdoor sculpture. If your current outdoor furniture scheme seems to be missing something, it is probably a focal point, something which anchors the space. Increasing in popularity, fire tables fit the bill as focal points which can anchor the gathering spot on your patio or deck.
This fire pit guide covers the broad range of options available today for fire pit tables. When selecting outdoor fire tables, form and function must marry well for your outdoor patio space to not only look amazing, but perform the duties you need it to. Is the table going to be used for dining, as a coffee table or serve as a bar? Learn more about the options available to make your buying decision easier.  (above: copper square gas fire table)
What type fire pit table do you prefer?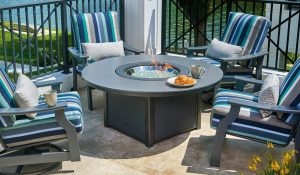 Patio Coffee Table with Fire Pit
Your deck or patio conversation grouping can be centered with a rectangle fire table. In front of a sofa, you want to consider an oblong shape that doesn't float in the middle, but rather is substantial enough to gather around. Two chairs or four is better suited for a round or square or round fire pit table.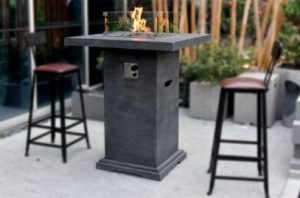 Bar Height Fire Pit Table
Bar height chairs and tables are just more festive and comfortable for some people. You needn't sacrifice this level of comfort or style if you want to have a gas outdoor fire bowl on your table. Not just for dining, bar height fire tables can substitute as a serving bar for beverages for large gatherings if you don't have a backyard bar.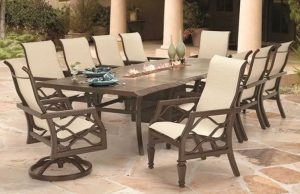 Dining Height Table with Fire Bowl
No centerpiece required when you have dancing flames to entertain your dinner guests. As with all fire tables, if you need the center space of the table for serving pieces or candles, this table also comes with a cover to hide the fire bowl. Rectangular gas fire pits on oblong tables create linear gas fire drama that is hard to beat.
Fire Pit Table Fuel Options
Various fuels can be used to power a fire pit table, each with different characteristics and burning properties. Read on to learn more about each type of fuel and how to choose the best one for your situation and lifestyle.
Liquid Propane
In addition to patio heaters and outdoor grills, fuel type propane is the most popular fuel for out-of-door heating  appliances. The clear flame produced by propane is ideal for use in fire pit  tables. The propane is stored in lp tanks, which can simply be attached to the table and  hidden. Most fire tables have hidden tank storage. Despite the benefits of propane over other fuel sources, the cost of replacing tanks on a frequent basis can be high.
 Natural Gas
For customers who frequently use their outside space, built-in fire pit tables will reduce their need to replenish propane tanks since built-in fire pits are connected to a natural gas line. A permanent outdoor gas line means customers don't have to worry about power for their fire pit table, but they lose the portable nature of a portable fire pit table. In contrast, a built-in fire pit table requires the use of a professional to connect a gas line safely, which can be quite costly.
 Wood
Among the simplest ways to generate warmth and light outside is to burn wood. It may be more cost-effective to use this natural alternative instead of propane tanks and there's nothing to compare to the look and heat of a real flame.
Charcoal
The flame produced by charcoal is even and regulated. Fueling your fire pit table with this method is practical, quick, and simple. 
Bio-Ethanol
Families are drawn to bio-ethanol because it produces no smoke, ash, or embers, making it a safe source of fuel. Environmentally friendly and safe, this fuel is a great choice.
 Gel
Another fuel option that doesn't produce smoke or odors is gel.
Fire Table Materials
The material you choose will make a big difference in terms of longevity, maintenance, and overall cost. Powder-coated steel fire pit will have a much shorter lifespan than one made from concrete or cast aluminum. If weather is a persistent issue where you live, the best options would be highly durable and weather resistant materials such as stone, concrete or GFRC (glass fiber reinforced concrete).
Aluminum
Aluminum offers several advantages, particularly in outdoor uses. It's low-maintenance, light, and significantly, it won't rust when exposed to the outdoors.  It is easy to maintain and if aesthetics are important, it will coordinate well with outdoor appliances with the same finish.
Cast Aluminum
Cast aluminum a more versatile option for outdoor aficionados. It will not rust and is suited for usage in any climate. The design options for cast aluminum are endless. The heavier weight of cast aluminum make it suitable for windier locations.
Copper
Copper is one of the most durable materials since it is long lasting and does not rust. Its gleaming surface will develop a distinctive green patina with the passage of time. The original copper look can be maintained with surface treatments.
Concrete
Concrete has the distinct advantages of being heavy and supremely weather resistant. It can also be molded and formed in any shape. Concrete can be stamped to simulate stone shapes and tinted to look like natural stone or left to weather grey for a more contemporary feel.
GFRC
GFRC is a lightweight yet durable material that has the same strength as concrete but weighs less. This faux-stone look is a popular option for contemporary spaces as it presents a distinctive aesthetic.
Polyresin
Polyresin looks like natural stone, but it's lower cost and lighter weight make it a favorite among budget-conscious homeowners. It is a sturdy alternative to natural stone and can be shaped to suit the designer.
Stainless Steel
A favorite among homeowners for their indoor spaces, stainless steel is one of the more costly options. It will not rust and is very tolerant of extreme weather conditions and heat as well as coordinating well with most outdoor appliance finishes.
Steel
The two types of steel fire pits are unprotected and powder-coated. Unfinished steel is a favorite of artists who admire the way it rusts as it weathers. Powder coating protects the steel underneath from the elements and has more color versatility than other finishes.

Patio Fire Table Accessories
Personalizing your outdoor fire pit table will not only make it your own, but can provide more function and safety as well. This is the job of fire table accessories.
Most fire tables come equipped with integrated fire pit table covers which increases the amount of usable space on the table. It also helps protect the burners and other components from the elements. Some manufacturers even offer glass lid covers which protect the mechanics without hiding their appearance.
You may want to consider a glass wind guard. These glass wind shields allow you to enjoy the flames without worrying about if it is too windy to maintain the level of flame you want. These glass wind guards are made from tempered glass which ensure that the wind guards won't pose a danger if they become damaged.
There are a variety of choices when it comes to what is called "fire media". Fire media consists of the decorative items such as fire glass, lava rock and log sets that hide the source of the flame in order to make the flames look more realistic. Gas long sets, in particular, come in many different forms including fire pit branches and vented gas log set styles. There is one that will fit your fire bowl and give you the exact look you are searching for.
Glass rock, also known as fire glass, comes in many sizes, shapes and colors. The decorators among you will appreciate all the ways you can give your fire table a distinctive and creative look with the myriad of choices available in fire glass.
Don't forget to look for fire pit stones and even faux charcoal for a more natural look. Design fire and flames that will complement your outdoor living design style.
Warming Trends – Which Fire Pit Table Fuels Give Off the Most Heat?
To use your fire pit table as more than a decorative object, you'll probably want to consider how much heat it throws off. More heat means that you can use your outdoor spaces for entertaining or family time in the cooler seasons of the year. If you enjoy being out of doors, having a more comfortable temperature in which to drink, dine or converse is priceless.
Wood burning fire pits are hands down the number one option for creating the most heat output. Correctly seasoned wood, and dense woods such as oak and hickory, will produce the greatest number of BTUs. Another consideration is that you can build much larger fires in wood fire pits than you can when you are limited to the mechanics of natural gas, gel or lp fuel delivery systems.
Both natural gas and LP gas patio fire pit tables can yield from 40,000 to 60,000 BTUs
per unit. These cleaner burning fuels are eco-friendlier than wood and require less maintenance than a wood fire.
Gel fuels, depending on the type, are capable of generating from 3,000 to 5,000 BTUs of heat. Their limited burn time, due to the canister size, makes this a more expensive fuel source than the others mentioned above.
Another consideration is the type of fire pit table you have. Rectangle fire tables position guests fairly close to the source of the flame than do round fire tables. The closer to the flame, the warmer.
An outdoor lantern, which can be fueled by the same sources, produces a limited amount of heat because of its size and proximity to people. If outdoor heating is your goal, a wood fire pit or a table with many burners will give you the most heat.