Which Outdoor Entertaining Dinnerware is Best for Your Style of Entertaining?
Entertaining outdoors is different, and your tablescapes should reflect that fact. The best outdoor dinnerware is the choice that supports your party theme and the style of entertaining you do outside and is durable enough for the purpose.
We confess to having dozens of sets of dishes. But using a good dinnerware set outdoors poses a problem when it comes to breakage and integrating those dishes into our party theme. There are some very good options for outdoor dinnerware that won't break the bank while helping reinforce your party theme.
There are six common choices for dinnerware you can choose for your outdoor get together:
1. Paper
2. Plastic
3. Breakables (china, ironstone, ceramic)
4. Enameled tin
5. Melamine
6. Bamboo
Each has their own advantages and disadvantages for the type of party you are going to throw.
Paper: Cost effective and Easy Clean Up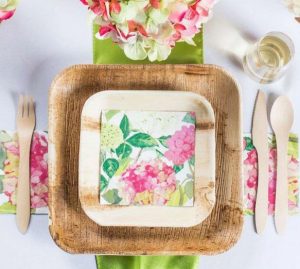 Paper plates have come a long way since the first versions were introduced more than a century ago in 1904.. Patterns, shapes, and construction have all improved to the point where people have themed their outdoor entertaining around the paper party plates they have chosen.
A paper plate set is great for barbecues, casual buffets and huge outdoor gatherings where you need as much value outdoor as you can get for your dollar.  However, when you just need salad plates,  paper is a great solution because you can buy just the dinnerware you want without having to buy a 12 piece set that includes mugs, plates and bowls.
Sitting down on the patio to a table set with paper plates for outdoor parties, no matter how colorful and festive, just doesn't convey 'specialness' for more formal occasions such as weddings, anniversary parties, welcome home parties and dinner parties.
Paper has its place for sure. Kids' parties, picnics, pig roasts in the backyard, a pool party and the like.  Your guests won't expect anything more. For backyard sit down dinners under the stars, something more durable is required to make the evening, and the table, much more memorable.
Hard Plastic: Durable But Can Crack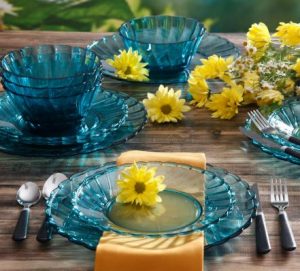 Plastic or acrylic dinnerware can be quite attractive. It has the advantage of being break-resistant in most circumstances. Some plastic dinnerware is dishwasher safe so check to make sure yours is before you run it through the wash/dry cycle or put it somewhere other than the top rack.
Many hard plastic plates and dip bowls will break or crack if dropped onto a hard surface such as a pool deck or cement patio and especially if it is dropped from a high spot. And while this will cause leakage issues for your au jus, it won't pose as much of a safety hazard as glass or broken shards of ceramic will.
The softer types of plastic, such as those colorful stacking tumblers that have been around for decades, will become scratched and marked over time. Those are fine for kids at a pool party, but probably won't impress the adults.
A plastic or acrylic outdoor 12 piece dinnerware set will include plates and bowls. This type of set includes enough to serve 4 people and will either include a mug or salad bowls or salad plates to complete the 3-piece setting.
Breakables: An Unexpected Luxury but Yes, Breakable
As we previously pointed out, we love dishes. Fancy dishes, casual dishes, chunky dishes – it really doesn't matter. At a sit down al fresco supper where you will be serving and removing the dishes from the table yourself, go for it and use the good stuff. No one will be balancing the plates on their knees or standing up and trying to negotiate a knife and fork while holding a plate or walking around your property with a china plate in their hands which is usually when accidents happen.
Using your indoor tableware outdoors opens up all kinds of creative avenues for your tablescape. What you usually use inside with your china or placemats can take a back seat to wildly colored tablecloths or outrageously patterned placemats. The bold colors which might just be a bit too much in your dining room, are strangely appropriate for outdoor entertaining. Perhaps it is because outdoor dining is much less stuffy or because nature calls for a riot of color in any backyard location.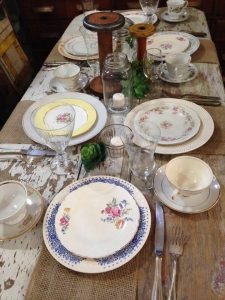 And if you've tired of your wedding china or your everyday dishes are looking well-used, then our favorite thing to do is thrift store shopping. For a song, and that means $1 or under a dinner plate, you can mix and match dishware to your heart's desire. A terracotta plate here, a cerulean blue plate there, you'll be surprised at what's available if you look with a discerning eye.
Another nice thing, other than the ridiculously low price, about thrift store china plates is if they break, not much is lost. But the look of mismatched, but coordinated, plates on an outdoor table is a showstopper and a conversation starter that no outdoor dinnerware sets could possibly match.
When we look for thrift store dinnerware, we make sure we stick to a theme. All chunky plates. All square plates. All floral plates. All shades of blue plates. That common theme is what will tie your tablescape together. And because they are dishwasher safe, you can make sure they have been thoroughly cleaned and sanitized for their reuse in your household for dinner parties.
Think about how vast the options are for choosing mix and match dinnerware. Boring white just doesn't make the grade outdoors. This is truly where you can have fun with your selections and you will surprise your guests with something unexpected and creative. And they needn't know how inexpensive the effort truly is.
Enameled Steel: Reliable Standby Making a Comeback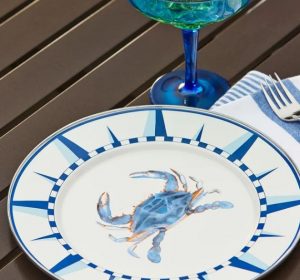 Tin dinnerware has been a staple for camping forever with its characteristic blue speckled background which you no doubt have seen. These plates are actually made from a metal core which is enamel coated. The process is also knows as porcelain enameling. It is made by firing powdered glass which melts on the plate and flows to yield a smooth coating for the metal.
Enameled steel's popularity for camping is because it is relatively light in weight and unbreakable. Its other benefits include that it is a hard and chemically resistant surface which is also scratch resistant and color fast.
Tin dinnerware is available in most any kind of serveware including serving platters, plates and bowls,  and in 24 and 12 piece dinnerware set configurations.  You can't put it in a microwave but it does hold up very well in abusive conditions.
At one time there weren't many choices for enameled outdoor dinnerware other than the standard blue speckled or plain ivory patterns that have been around for years. But clever designers have elevated the look of enameled dinnerware to an art and this chip and impact resistant outdoor option is growing more popular year by year.
Melamine: Design Versatility and Practically Indestructible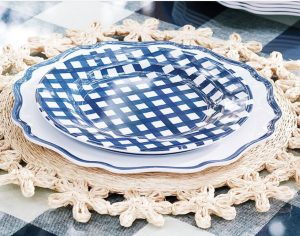 Melamine dishes are everywhere when you are looking for outdoor dinnerware. If you are stuck on the idea of one outdoor set of plates, then melamine might be your answer.
Melamine is a type of plastic. If you have used a dry erase board, you've used a melamine product. When melamine is added to other chemicals, it produces a plastic resin which when placed under pressure, shapes the forms you see in plates, bowls and mugs.
Melamine contains formaldehyde as one of its principle ingredients. The FDA notes that the formaldehyde will not leak into foods served on melamine. However, the FDA does caution against using a melamine dinner plate  in a microwave oven to heat prepared foods or putting very hot foods, such as boiling water, into melamine. Both of these activities could cause melamine particles to become absorbed by the food which can be toxic.
The versatility of melamine is an artists' dream.  It is easy to colorize and create patterns and designs on plates that look just like china, stoneware and ceramic.  Melamine dinnerware has become so popular, that huge online retailers such as Pottery Barn and Williams Sonoma have developed their own patterns.  You've probably even seen melamine dinner plates sets in Southern Living, the Pottery Barn catalog or on Meredith sites.
Outdoor melamine is not the least expensive option for your next pool party. A melamine set can be pretty pricey, but will last forever if handled and cleaned properly.  You will get your money's worth out of a melamine 12piece dinnerware set if you choose that option and you will get an energetic and impressive tablescape from melamine inspiration.
Melamine dishes are dishwasher safe and easy to clean. Look for the symbols on your dinnerware that denote the limitations such as dishwasher and microwave safe to be sure what you are buying is safe for your intended use.
Bamboo: Natural but Limited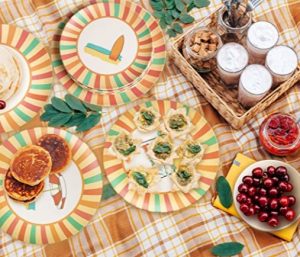 Bamboo's popularity has risen exponentially because of its sustainable qualities. Check bamboo tableware's list of materials carefully as many of the products coming from Asia have melamine as an additional component. Some bamboo plate makers use rice flour as a binder instead of melamine and this process is safer and non toxic.
The disadvantage of bamboo serveware is the fact that it is not dishwasher or microwave safe because these processes will produce hot spots and cracks. These limitations make it a tough choice for backyard entertaining if you don't want to spend time hand washing your outdoor dishes.
Remember to check if your bamboo melamine dinnerware can be used the way you intend to use it and always check for microwave or dishwasher safety when buying any outdoor dinnerware.
---
When selecting outdoor dinnerware, think about how you entertain first. If you are very casual and only entertain close family and friends, you can use any of the choices we've profiled here.  If you do more formal outdoor entertaining such as sit down dinner parties or al fresco fiestas, then a more durable and permanent option will create the memorable event you want your guests to experience.