What Are Your Prefabricated BBQ Island Options?
With interest in having an outdoor kitchen at an all time high, it's no wonder that prefab barbecue islands are at the top of most folks' wish lists for outdoor living space.  A prefab kitchen grill island is the answer to getting you outdoors and grilling for family and friends as quickly as possible. And with the number of built-in grill options available, you can choose the type of grill and island finishes you want without having to wait for a custom island to be built.
Building an outdoor kitchen with prefab kits is a fast, cost-effective method with ease of installation and durable construction to withstand the elements.
All the appliances typically found in an indoor kitchen are included in prefab outdoor kitchens and grill islands. You'll never want to leave your patio with the help of an outdoor kitchen island unit that features a high-end BBQ grill with additional island components like an outdoor refrigerator,  infrared rotisserie and 4-burner side burner.
Manufacturers have made getting that outdoor entertaining and living space you've always dreamed of as easy as they can.  And the design options for finishes have never been better. From rustic to urban contemporary, you'll find the appliances you need, the look you desire and within the time frame you have.
Configuring an Outdoor BBQ Grill Island
Outdoor islands are delivered pre-assembled or with minimal assembly required.  Your grill island is ready to use once your utilities are hooked up (water, natural or propane gas, electricity).   They can have all the features you might expect in a custom unit such as warming drawers, trash bins, ample cooking surface, and even ice makers. Some feature a pellet grill and pizza ovens, with storage for grill accessories.
There are basically three different types of grill island categories - each with varying levels of completion and the ability to customize.
Completely Finished Outdoor BBQ Grill Islands in a Kit
Providing an all-in-one solution for designing and building an outdoor kitchen is about as convenient as it gets.
Almost all design decisions are made for you-from the included countertop, to preparation space, to siding finishes to appliances and grills. It is so easy to assemble that most people can do it themselves. Imagine having a totally pre-fabricated outdoor bbq grill island island package delivered one day and entertaining guests the next!
These elements make them the easiest to choose and, feature-for-feature, the least expensive.
What's Included
Grills are the most basic and central elements of any outdoor kitchen. As the host, or the chef cooking for your guests, you will be situated here preparing all the delicious treats.
An outdoor grill kitchen island can be as simple as a grill and storage cabinet, or it can include multiple grills and ovens, a refrigerator, sink, storage cabinets, and seating space. For example, roofs for shade, special lighting to entertain by night, and media centers with outdoor televisions are among the more expensive options.
Start by focusing on the grill as the main component for selecting one of these grill island kits (sometimes called barbecue island kits). Be sure it has enough burners and is large enough to accommodate your outdoor entertaining requirements and cooking accessories.
If you need to fuel your grill, be sure to check the options. How will you connect the grill to the natural gas line? Are there options to use liquid propane tanks, giving you more flexibility in where you can build your kitchen?
Then, see what additional features are offered. Among other options, there are countertops for food preparation, outdoor refrigerators, beverage coolers, cabinets for storing food, sinks, and other amenities. An outdoor bbq kitchen pre-fabricated island includes everything you see in a well-thought out kit.
Advantages
The advantage of having an bbq island grill is that it can be placed anywhere you choose on your patio or in your backyard. You don't have the same limiting factors as you would indoors where there are walls that restrict how big your island is and where you can put it. Your outdoor spaces are generally bigger than your indoor ones and thus can handle more cabinetry in any configuration.
Check out this Cal Flame BBQ Island. Compact in size, it has most everything you need including a refrigerator, grill and propane tank storage.
Cal Flame Outdoor Kitchen BBQ Island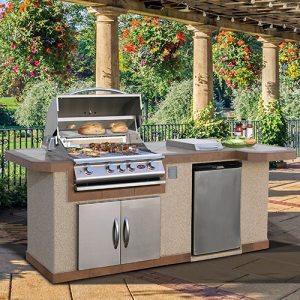 Modular BBQ Grill Island
It is at this point that you begin to explore some design options for your outdoor kitchen. Each section or module of an outdoor kitchen (refrigerator, grill, sink, storage cabinet) is a separate component.
Modules match in style and fit together in various configurations.
There are two major benefits:
You can choose the modules you need; you do not have to purchase all of them.
There are many ways to arrange them.
Is it better to have the 304 stainless steel refrigerator on your left side of the grill than on your right? In that case, you can arrange it where you need it.  Is the indoor kitchen close enough that you won't require an outdoor refrigerator? The refrigerator section is not for you.
Instead of a straight island, would you prefer an island in the form of an L or a V? It is likely that an existing module will fill in that blank for you.
How It Works
A manufacturer of outdoor kitchen appliances usually creates and sells these modular outdoor kitchen island kits.  This means that you are limited to one brand for everything from your outdoor fridge, grill, oven/stove, smoker, cooler, etc. But it isn't necessarily a bad thing. A solid brand assures you that you'll be able to match and coordinate, and it makes the decision easier.
This type of modular design is usually pre-finished. This means that it has an outer surface that is nicely finished for the sides, drawer cabinet, undercounter storage and the back. For example, it could be stone, wood, or stainless steel. Other options include buying it unfinished or ready to finish, something which is ideal for DIYers.
What's Included
Basically, you get the appliances with the framework, but not the counter top or siding. This is basically the structure that holds up the counter, the grill, the cabinets, the fridge, etc., which are all perfectly fitted into each other.
By selecting a countertop material or pattern and choosing colors and textures for the sides later, you or a designer can refine the details of the finish.
Another benefit of modular units is that you can create satellite islands such as bar islands with bar seating or serving islands for outdoor buffets.  Since you are the one selecting the modular components, you can arrange them to perfectly suit your style of entertaining.
Modular 304 Stainless Steel BBQ Island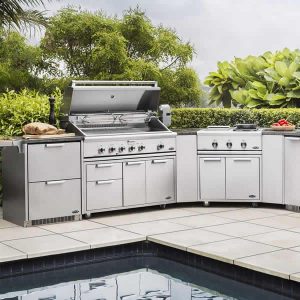 Pre-Framed Prefab Outdoor Barbeque Island Kits
These kits allow for much more customization than the previous two categories.
What's Included
They consist of several base units consisting of aluminum framing with concrete board. You can finish the sides with wood, stone or stucco the surfaces with high-strength concrete. These units are built to hold the weight of the components you select and hold the weight of your countertop choice.
You should choose one of these BBQ island frame kits if you know precisely what you want-from appliances to layout and function-and you're willing to spend some extra money and time to get it.
You can choose the finish of the kitchen island, and fit the material to your outdoor space.
The choice is yours. You can choose your preferred 15,000 BTU grill, refrigerator, sink, cabinets, countertop space, and so forth, regardless of brand. Then, you purchase a set of pre-framed cabinets to accommodate them.
It makes the process of putting together your kitchen easier by providing a framework for you to structure all your appliances, access doors, and countertops.
Construction
For strength and stability, cabinet frames are crafted from steel or aluminum, and the sides are covered with high-strength concrete cement board or other structural panels.
A variety of grills and components can be fit into the cutouts due to the adjustable rails and arms.
Despite the need for precise measurement and work on the cutouts and adjustments (as well as the countertop and siding), the cabinet frame itself can be assembled very quickly and easily with simple tools.
Most companies can help you select the cabinets that you need. It can even be customized and cut before shipping, which means that assembling your kitchen will be less challenging once it arrives.
Ready to Finish BBQ Island Frame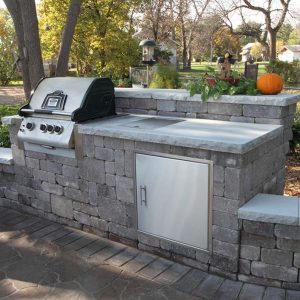 Creating Functional Outdoor Living Spaces
It is not generally in our nature to want to wait very long for something once we've decided to take the plunge.  Not all of us have the skills to build an outdoor bbq kitchen island from scratch ourselves.  A prefab kitchen kit is the answer to getting outdoor grill islands up and running without waiting for a custom made solution.
Fortunately with the myriad of options available in  kitchen island outdoor grill kits, you can most likely come pretty close to what you would have designed and built with a custom outdoor kitchen contractor.
Unfinished Prefab BBQ Island Kit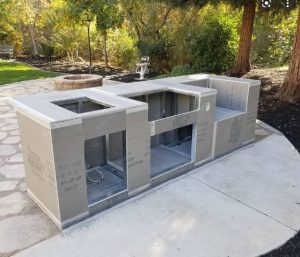 Prefab Island Kit With PreCast Panels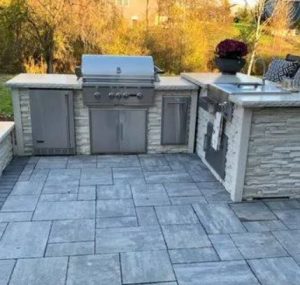 Mont Alpi BBQ Grill Island