How to Use Outdoor Lanterns: Decorating Ideas for Outdoor Lighting
Outdoor lanterns are the answer to two outdoor decorating ideas and outdoor entertaining questions: how to light the patio space and how to add charming outdoor character to your table and patio decor.
(For now we'll just discuss lanterns that are used with candles or battery operated flameless candles. We'll leave the electrified lanterns, wall lights, outdoor light fixtures, solar powered lanterns and other types of lights for other articles.)
Any time you add glass hurricane lamps, a metal lantern, or paper lanterns to a space you are elevating your outdoor decor.
You've heard of bringing the outside in with regards to interior design, well this is akin to bringing the inside out. Psychologically and aesthetically, you are telling your guests that your outdoors is just as nice as your indoor spaces without actually saying a word. These interior touches brought out of doors also help extend the use of your interior accessories – you really don't need to go out and buy lanterns (and other outdoor accessories) for your outdoor patio if you have lanterns or other home decor accessories you'd like to use somewhere in your house already.
Lanterns don't have to be weatherproof to be used in your living space outdoors. You can bring them outside as needed and return them to their interior spots when the garden party is over. Not only does this save money, but it allows you to use your favorite things in a new way.
Here are 7 tips and tricks for outdoor lanterns that will decorate your outdoor spaces to set the stage for delightful evenings.
1. Light pathways
2. Showcase garden features
3. Centerpieces
4. Setting the mood
5. Setting a theme
6. Help deal with mosquitos
7. Lighting for conversation areas and prep areas
8. Provide an activity for guests
1. Light pathways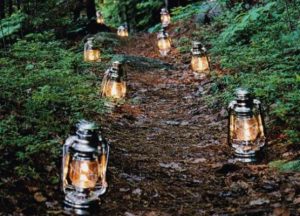 Entertaining in the evening will bring your guests up your front yard walkway or around your home to the backyard. These are pathways that you use everyday, so you know exactly where they are. Your guests are most likely unaccustomed to your sidewalk, garden path or driveway, especially in the dark. If your pathways don't have landscape lights or other light fixtures, use can use lanterns.
A series of lanterns placed alongside the entryway to your patio or deck space will not only
illuminate the path, but will also guide your guests exactly where you want them to go. This is
especially important if your pathway has steps or uneven spots that aren't easily seen when it is dark and you don't have other backyard lighting.
Outdoor lanterns send your guests a welcoming message of 'we've been expecting you and we're glad you're here' before you've even had a chance to greet them.
2. Showcase Garden Features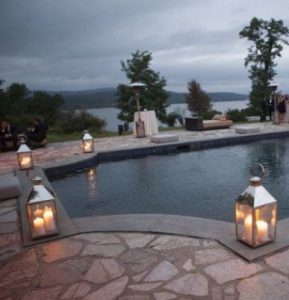 We especially like the contrast of fire and water when we decorate with lanterns for exterior light. If you have a pond, a pool, a stream or a fountain, putting groupings of lanterns by the water creates hypnotic and calming reflections. A candle flame, or several, draws the eye to points in your backyard that might not be noticed otherwise. And, importantly, guests feel more at ease moving to other parts of the yard if you have "invited" them there with your lighting.
3. Table centerpieces
There's no need to fret about what kind of centerpiece your outdoor dining table or buffet table
should have. Lanterns are a statement element no matter what kind of outdoor entertaining you like to do.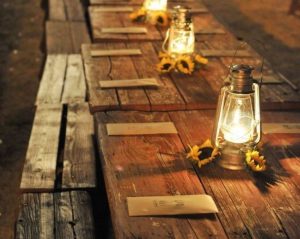 You can embellish your lanterns as simply or as fussy as you want. If you opt for simple, consider repeating your simple design over and over which will make more of a statement and tie your table together visually from end to end.
If you really want to go to town on your table decor, think about a larger lantern with more decorative items inside of it and spilling out of it.
Remember to keep in mind that there should be unobstructed sight lines for people sitting across the table from one another when you choose your lantern height. A small lantern with a votive candle can provide the effect without the height.
4. Setting the Mood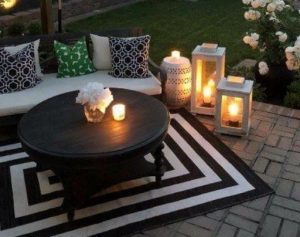 Candlelight, either from a real flame or a battery-powered candle column is a great way to set a warm, welcoming mood for your backyard get together. Candles always signal that there is something special happening and you can use this to your advantage when preparing your decor for your next outdoor get together.
Candlelight glow is flattering and can set a romantic, quiet, elegant or joyful mood. The light from flickering candles can relax people that are over-stressed from the day's activities and calm their spirits.
5. Setting a Theme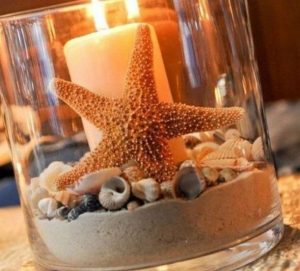 Outdoor lanterns are easily adaptable to any party theme. From a casual outdoor barn party to a formal backyard wedding, lanterns can set or reinforce the party theme. Choose a railroad-type lantern for a casual BBQ party. Choose a stylish stainless lantern for a backyard wedding. Or channel your inner Haunted Mansion and use black metal lanterns for a Halloween bash.
You can fill the glass lanterns with thematic accessories such as shells or rocks for a beach themed party. Your barn party can look festive with gingham ribbons and white daisies. Backyard wedding? Adorn your lanterns with white satin ribbon and a spray of white tea roses.
6. Help deal with mosquitoes and other insects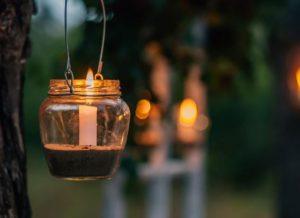 Lighting citronella candles can help reduce the number of pesky mosquitoes that can ruin an outdoor dinner gathering. The more the better but most commercial available citronella candles can look pretty ugly and can spoil all your hard work creating a festive table design.
Our solution to this problem is to buy citronella scented candles in as plain a form as possible, preferably without a container or any add-ons. Just the candles. These are available in different sizes of pillar candles and in different widths. Make a DIY lantern with a citronella candle by putting one in a mason jar, tie with ribbon and you'll have a solution that doesn't cost a lot but adds a lot of style.
Place your lantern decor around your entertaining area – as many as possible. Group two or three candles in a lantern. Group several lanterns around your seating area, the bar top, outdoor kitchen counter and as table centerpieces on the dining table. Let your lanterns do double duty and no one will be the wiser.
7. Lighting for Outdoor Bars, Outdoor Kitchens and Conversation Groupings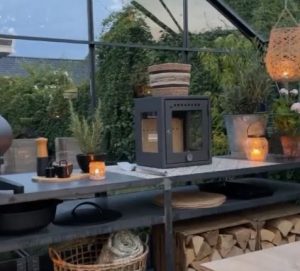 Not every patio or deck has electricity nearby to plug in pendant lights or floor lamps. If your entertaining area is well away from your house, lanterns can provide much-needed illumination for cooking and mixing drinks. Use several candle lanterns on the outdoor kitchen counter-top near the grill or on the bar top so you can see what you're doing.
Next to a sofa or a group of patio chairs, using a dozen candle lanterns will provide enough light to illuminate a small area outdoors. The more the better. Make sure you get candles that will last through the night so you're not sitting in the dark at midnight if your guests are still around.
8. Provide an Activity for Guests
When we entertain, we like to have things for our guests to do other than enjoying a drink or two and waiting for dinner to be served.
Releasing sky lanterns is one such activity. (We preface this discussion by saying that sky lanterns are not permitted in certain municipalities, so check with your local authorities to see if they are allowed.)
Sky lanterns are like miniature hot air balloons. The lantern balloon is made of bio-degradable paper. A heat source, commonly a candle, provides the heated air that makes the lantern float and rise up in the sky. (Using short candles will prevent the lanterns from traveling too far as the candle flame will go out quickly while you can still monitor their progress across the sky.)
A night sky full of these sky lanterns makes for an unforgettable evening.
---
If you don't want to have to depend on exterior wall lights, pergola ceiling lights or string lights to light up the night, you won't be disappointed if you use candle lanterns to provide light and attractive decoration for your outdoor spaces. Their charm, versatility and adaptability to any decor make them a popular option for outdoor hosts and hostesses.
Editor's note: Safety first when children are about. Make sure you keep your flame lanterns safely away from where kids will be playing.