Outdoor Table Décor Ideas for the Perfect Outdoor Setting
Discover the Best and Creative Outdoor Dining Table Ideas
It is difficult for me to remember a time when I was not fond of setting a pretty table.
Setting a table is so much more than merely placing down knives and forks as I discovered early on. It's about establishing the tone for food and conversation, creating an atmosphere and a mood that lasts long after the details of what was served and who said what are forgotten.
I remember the ambiance of the table, the patina of the wood, the candlelight, the colors, and the sense of harmony and order more than the taste or smell of the food when I think back to our family meals.
When I remember memorable meals, the taste or smell isn't as important to me as the ambiance of the scene; the patina of the wood, the candlelight, the colors, and the sense of order and harmony.
Elegant heritage and our modest living create a great contrast in our home. Today, I embrace that same incongruity as the heart and core of any table setting. This is the stuff that fashion is built of. As a result, dining became an art form for me, with the notion that the ambiance of a table was crucial to a meal's success.
It's just as vital to set the table as it is to prepare the cuisine.
Of course, delicious food is essential; without it, no meal would be possible. However, there are certain wonderfully amazing delicacies that can be purchased in a gourmet shop and require minimal preparation or cooking abilities. However, once the table is set, the mood and mindset for the encounter are as well.
Thankfully, fashion no longer necessitates a large financial investment. People who are compelled to exercise their creativity often produce better outcomes - or have more of a personal flair - than those who can buy the matching set.
To be a successful table setter, whether inside or out, attempt to build your own personal style by having your lovely things close at hand and in continuous usage. Setting a lovely table for outside guests based on the basic, feasible, and economical is the attitude and spirit of these frantic times.
Even the most mundane meal can be transformed into a party, a delight, or a joy by the atmosphere and style of the table, which is set artistically and uniquely. In most outdoor settings, it is not about the table itself, it is how the table is dressed.
A well-set table should tell a story.
Tablesetting Elements
Tablescapes inspired by themes and seasonal occasions are lovely, but they run the risk of becoming cliched. A table setting is sometimes a process, a creative synthesis of several events and influences, some planned, some artificial, and some serendipitous. Being receptive to them fosters not only creativity but also originality.
Interesting tables are set in layers.
Tableware
I'm not aiming to catalogue the vast array of tableware on the market today. My goal is to demonstrate the components that I enjoy and that perform well in a number of settings and are easily adaptable.
To begin with, I prefer large, bold, white plates, bowls, and platters. Simple white tableware complements any cuisine and highlights colorful sauces and garnishes. It provides you complete creative freedom when it comes to table linens, glasses, flatware, and flowers. Simply told, it's the ideal setting for any aesthetic you want to create.
Whites don't have to match; in fact, varied hues of white look good together.
Baskets are practical, elegant, and multifunctional dinnerware that look great stacked or empty.
Glassware
Almost every glass, plain or fancy, stemmed or not, can be pressed into duty for any occasion. Consider iced tea in a wine glass or a tumbler full of wine. The perfect glass is often determined by the setting and the dishes you use.
Napkins
Napkins, more than any other single element, alter the appearance of a table. If you count all the bandanas, scarves, dish towels, and washcloths that I use as napkins, I have hundreds of them. If you want to change up your table settings, it's much easier to store ten sets of napkins than ten sets of plates. Napkins can be folded, draped, tucked into glasses, pulled through bangles, and tied with ribbon or raffia.
Flatware
Flatware, whether antique or modern, plated or silver, ornately turned, plastic-handled or sculpturally plain, is the crowning glory of any table.
Outdoor Breakfast
Morning environments are infinitely changeable, not only to one's mood, but also to the season and weather.
Breakfast foods are naturally attractive, and one need only look to the food for decorative ideas. Voluptuous muffins baked in a brick oven, a vibrant rainbow of jellies cooled in an outside refrigerator, glass pitchers gleaming with juice freshly squeezed from a countertop juicer - such dishes don't need much else.
Whether it's a bowl of scrambled eggs hot off the griddle, a footed compote packed with lemons, or a basket of oranges, like-items form stunningly attractive compositions.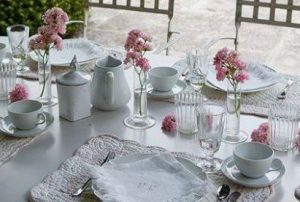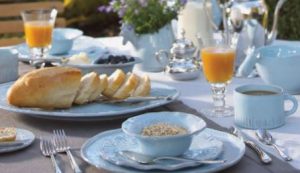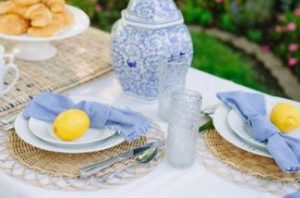 Outdoor Luncheons
Because we Americans don't have the luxury of two-hour luncheons, the midday meal takes on a special significance on weekends and holidays.
Our lunchtime table arrangement can be straight forward, fanciful, stylishly formal, or just plain fun, depending on the circumstances of each outdoor dining gathering.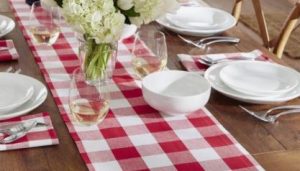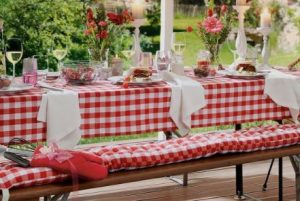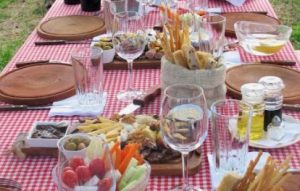 Al Fresco Evenings
Night brings with it a unique type of magic. Outside, the sun sets, twilight stars shine, and the moon glows. On evening tables, dimmed lights, spotlights, and candlelight create beautiful patterns, imparting a shimmer that is distinctive to a nighttime scene.
Dozens of votive candles, massed or spread on an outdoor dining table are my favorite nighttime accessories. The faces at the table appear softer and prettier as they cast their flattering light upward.
The glitzy nighttime setting amplifies and heightens the sense of anticipation and excitement that surrounds the evening meal.
A setting for this hour should be one to enjoy, to ponder, to savor, and to linger over since the evening is imbued with a mood of anticipation and an enchanted glow.
Candles, champagne, and flowers are appropriate at this time. Even the most basic or rural environment can express the convivial aspects that are particular to a dinner gathering of family and friends.
Dinner is, after all, the usual time for family and friends to gather together and enjoy each other's company. It's a time for unwinding, reflecting on the events of the day, and making preparations for the next day. It is, more often than not, the day's high point.
Dinner is, in some ways, a reward for getting through the day – a daily, tiny celebration.