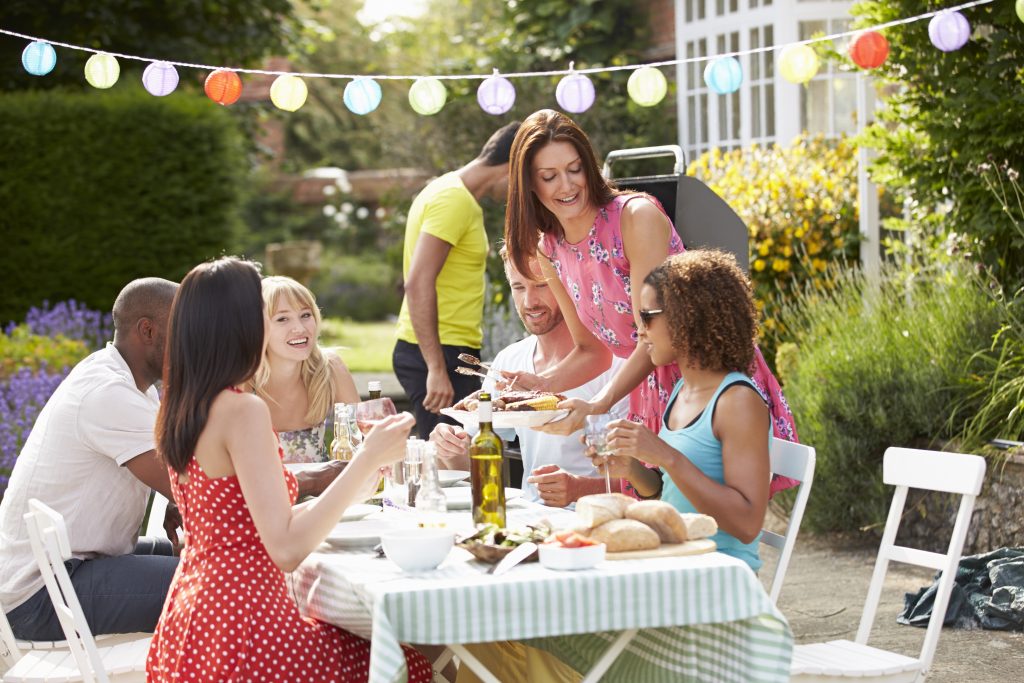 Warmer weather is officially here, which means it's almost time to get out the patio furniture and spruce up our outdoor spaces for the summer.
Patio furniture and decor serve as an extension of your inside living space as well as a place to eat and rest outside. The greatest patio furniture is comfortable and long-lasting, and it enhances the appearance of your outdoor environment.
Aluminum, all-weather wicker, teak, and resin patio furniture sets are constructed to resist the elements and are simple to maintain. Resin furniture holds up well in wet environments and is available in a variety of styles to suit any taste. Wrought iron is also a low-maintenance material that can tolerate a hot, humid atmosphere.  You'll find wrought iron bistro sets on small apartment patios all over the world.
Look for outdoor cushions made of fade- and mildew-resistant fabric for patio chairs and sofas. On hot, sunny days, patio umbrellas give lots of shade, and adding outdoor heaters to your seating area will help you make the most of it. Use patio furniture covers to protect your outdoor furniture from the elements when it's time to store it during the off-season and protect it from the elements.
Garden furniture, also called patio furniture or outdoor furniture, is a type of furniture specifically designed for outdoor use. It is typically made of weather-resistant materials such as aluminium which is rust-proof. The oldest surviving examples of garden furniture were found in the gardens of Pompeii. https://en.wikipedia.org/wiki/Garden furniture.
Outdoor furniture today is not only gorgeous, but also sophisticated in design and made of incredibly durable materials. Outdoor rooms go beyond porches and patios, and indoor luxuries reign supreme. Outdoor furniture collections in resin wickers, teak, and metal ranging in design from cottage to contemporary. While industrial and technology advancements have given us more options than ever before, history tells us that the first outdoor furnishings were constructed from woven grasses, stone slabs, and even the ground itself.
What you value in choosing indoor furniture will be the characteristics you will use to evaluate furnishings for your outdoor patio or deck. Most people look for comfort, durability, and style when selecting chairs, tables, and couches. Price is always a consideration and homeowners are constantly on the alert to get the right balance of price and quality available.
There's durability in indoor furniture (construction, materials) and then there's durability in outdoor furniture. Frames, upholstery cushions and finishes need to hold up for many seasons outdoors through all kinds of weather conditions. The amount of rain is an important consideration. Moisture leads to mold, mildew and rot, rust and corrosion, wood warping and wicker splitting.
The sun can damage or fade fabric on conversation sets and will affect the finish and color of wood furniture. Heat can cause cracking in wood furniture dining sets and metal seating can become uncomfortable to sit on if it has been in the sun too long.
If you live in a windy area, you have to consider the weight of the patio sets you will be buying. Heavier pieces won't blow around and cause damage to nearby plantings and windows.
The durability of your patio furniture selections will also depend on how well you take care of them. Covering furniture will undoubtedly help each piece last longer and protect from excess UV exposure and wind and rain.
Having enough patio conversation chairs or seating for large crowds is a consideration when allocating space on your outdoor patio or deck.  Same goes for seating around a dining set. We love the idea of retaining walls that also double as seating. Adding an outdoor fireplace with an outdoor television mounted above creates a focal point and helps your outdoor space do double duty as entertaining and family space. Don't forget lighting and outdoor decorations and accessories in your plans. Just make sure they are weather proof.
Other outdoor furnishings can  be more permanent in nature.  An outdoor fireplace, fire table or firepit are not only decorative focal points, but can help extend your outdoor season into the cooler months.   These items are not usually movable, so careful planning of your outdoor space is necessary to get the full enjoyment out of the features.
Patio & Deck Furniture Articles
Importance of Outdoor Furniture: Enhancing Comfort and Style in Outdoor Spaces
Types of Outdoor Furniture
Materials Used in Outdoor Furniture
Factors to Consider When Buying Outdoor Furniture
Outdoor Furniture Accessories
Popular Outdoor Furniture Brands
Seasonal Maintenance and Winterizing
Outdoor Furniture Trends and Innovations