Amazing Outdoor Bar Designs
Would you like a backyard area where you may have drinks with your loved ones? Take inspiration from these amazing outdoor bar ideas!
You can make a special one in your yard with the aid of our incredibly cool outdoor bar ideas and photographs!
---
Outdoor Bar Ideas 
1. Wood and Metal Outdoor Bar Shack
Corrugated metal panels provide a striking backdrop to the simplicity of the natural wood elements of this backyard bar.  The same metal is used for the roof to help make the build quick and waterproof.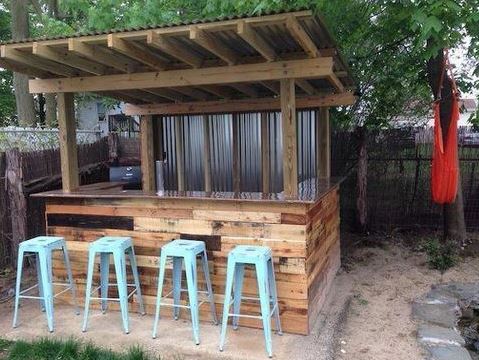 2. Outdoor Platform Bar
Providing a sense of enclosure and to keep the party contained, this wood bar is built on a wooden deck.  No wet feet and the decking defines the function of the space.
3. A Movable Bar
This versatile bar build is the best of all worlds.  It can be moved to wherever you are entertaining – in this case, under a roof so guests can enjoy their drinks despite the rainy weather.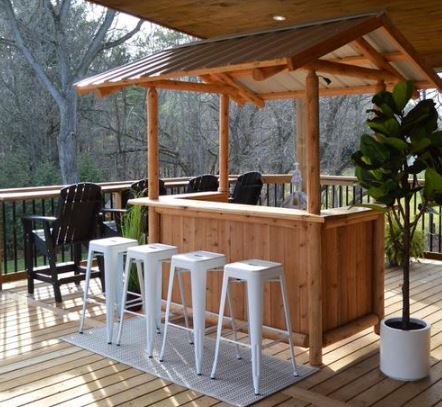 4. Outdoor Bar Extension
Using the side of the home as the backdrop for a bar makes building easier and provides access to utilities such as power and water.  The framing of the bar is designed to complement and match color-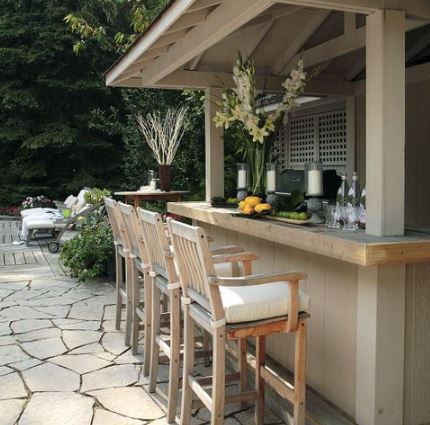 5. Over the Top Outdoor Bar
Just the type of place you'd want to hang out in – outdoors or in.  This backyard bar closes up when not in use thanks to the front awning which is hinged and drops down to seal the interior.

6. Outdoor Covered Bar with Tropical Vibe
Bamboo, reeds and banana leaf plans lend a South Seas air to this outdoor bar.  The Bar is made from poured concrete and uses decorative elements to set the theme.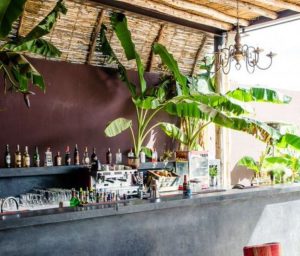 7. Double Duty Bar
Short on space?  Want to have your own urban garden and need a serving bar too?  This space saving solution provides the best of both worlds.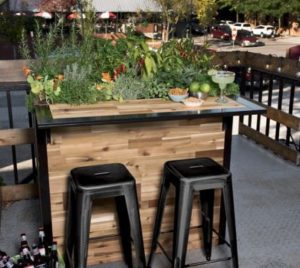 8. Murphy Bar
Another space saver.  You've heard of murphy beds that hide by day and flip out at night?  How about this clever bar that is an unassuming cabinet by day, fully functioning prep and serving bar for entertai