How Do You Illuminate a BBQ Area? - A Guide to Illuminate Your Outdoor Grill
When it comes to outdoor lighting, the appropriate lighting may help with food preparation as well as mosquito control. Installing the correct lighting fixtures may substantially improve your outdoor cooking/dining experience, whether you have a small and intimate outdoor space or a large outdoor kitchen. Here are some suggestions for where to put different lighting fixtures to liven up your outdoor kitchen and dining area and provide a safe, functional area for outdoor cooking.
Uncovered Barbecue Grills
Nothing beats a perfectly cooked steak over an open flame, but it's tough to see if your meal is undercooked or overcooked when you're cooking after dark. Spotlights positioned near the grill will help you to maintain a close eye on the food, allowing you to spend more time socializing rather than checking if it's done.
Electric wired spotlights can be mounted on posts or a nearby fence if you have a standalone grill. Nearer to your home, a spotlight or two installed on the eaves of your home can be directed at your cooking station and provide enough light to see what you are doing. Spotlights are a solution for lighting yoru barbecue by getting task lighting directed to your cooking area.
Some grill manufacturers have integrated lights under the hoods of the grill. These barbecue grill lights are usually LED lights and will provide plenty of light to check on the grilling progress of your food items.
There are portable grill lights which are battery powered and have magnetic bases. Attach one or two of these LED lights on your grill housing. Many have a flexible gooseneck so you can direct the light at the cooking surface. Check to see if your model is waterproof and weatherproof as many manufacturers recommend bringing these inside during inclement weather. This type of portable lighting is perfect if you don't have an electricity source near your grill for electric light options such as the spotlights discussed above.
Other options are battery powered lights that attach to the handle of your grill and solar lighting on a pedestal. These task lighting options will give you enough stored power for extended grilling times when the sun goes down.
If your grill is located some distance away from your patio, consider path lighting to help you navigate the route in the dark. You don't want to trip with your hands full of trays and grilled food. You can get a landscape lighting kit which has a transformer to provide low-voltage pathway lighting you can connect to your house power. Absent a convenient source of house power, solar pathway lights can provide plenty of illumination to guide your way to and from your home.
Lighting Options for Covered Outdoor Grills
When your grill is under a shed roof or another type of roofed structure, your options for lighting your grill area are greatly expanded.
Installed recessed lights can provide general, or ambient, lighting to the entire area under the roof. A single ceiling fan with light can also be utilized to provide ambient light throughout the outdoor kitchen space. This type of general lighting will make the safe space to walk around in during the evening and provide enough light for entertaining guests and dining.
Pendant lighting can be a source of task lighting for your grill area. The height and exact location of the pendant lights should not be in the direct line of heat or smoke from the grill. Similarly, if your grill backs up to a wall, wall sconces placed to the left and right of the grill will light your grilling area and not interfere with rising greasy grill smoke.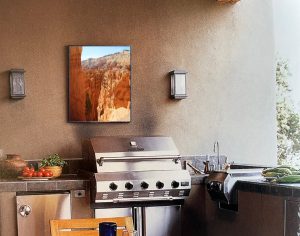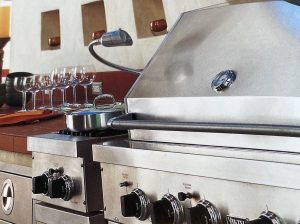 The rafters, beams and corner posts in a covered outdoor grilling space are good places to install spot lights which can be directed at your grill working space. You can install track lighting on a beam and get task lighting directed at several areas of your work space including your grill. This is a cost effective way to install several directed lights with one track row.
Installing a grill hood has more benefits than just a way to exhaust grill smoke from your outdoor kitchen. These powerful fan units also have integrated task lighting which shine directly on the grilling surface below. Many manufacturers will use LED lighting above the grill to provide a good deal of illumination with energy efficiency.
Layer Your Outdoor Kitchen Grill Lighting
To get the most out of your grill lighting, consider layering all of the lighting types mentioned above.
The mood that you typically see in the most costly homes is created by layering recessed lighting, pendant lights, then some accent lighting. The good news is that to achieve the same impression in your outdoor kitchen, you don't need to spend a lot of money on light fixtures.
Related Articles in Outdoor Kitchen Lighting